CO-Z
CO-Z 4L Home Water Distiller Purifier Machine 750W Stainless Steel
Features:
DURABLE STAINLESS STEEL: Stainless steel case and interior makes our product solid and durable, guaranteeing long-term use.
LARGE CAPACITY: A large capacity of 4L/1 Gallon can meet you and your family's daily drinking needs. 
PROTECT YOUR HEALTH: Distilling 1 liter in 1 hour, our efficient distiller is the safeguard for your health, it removes contaminants such as bacteria, particles, dissolved solids, and VOCs to provide you clean and purified water.
USER-FRIENDLY DESIGN: Two buttons for easy operation, press the green one to start and the red to stop, with a red light indicating the working status. The distiller also has a handle, which is easier to carry. 
SAFETY: Our product has an overheat protection function to ensure safety, once the temperature reaches 320 deg. F/160 deg. C, it will automatically power off.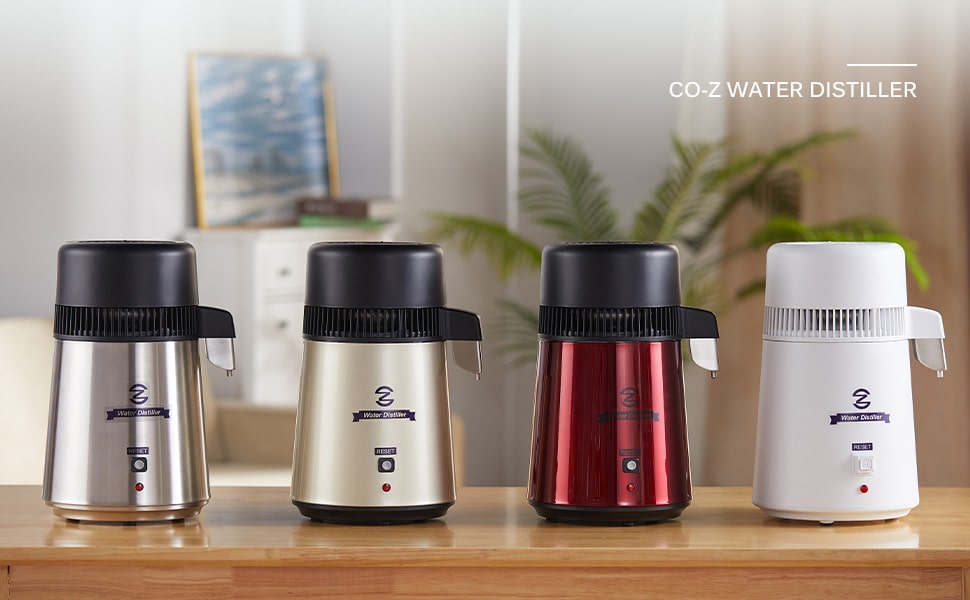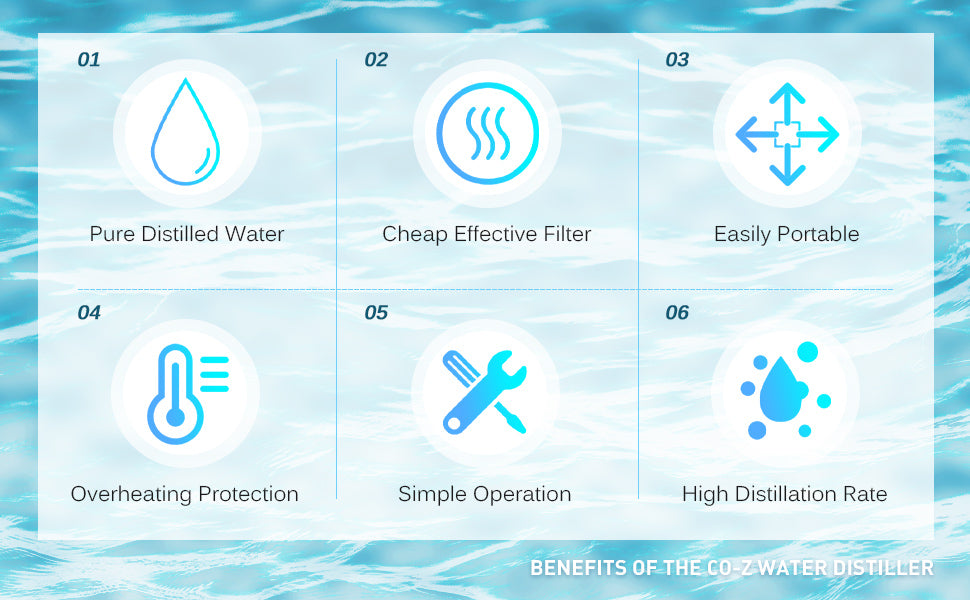 Fan Condenser

 The integrated fan condenser speeds condensation while protecting the machine from overheating, prolonging its service life.




Reset Button

Our water distiller starts working once turned on. When your water is too low, the machine stops automatically. Refill and press the reset button to start again.




Powerful Port

This water distiller runs at American standard voltage (120V). Don't use with incompatible power sources.



Gallon Pot

 This big 1-gallon vessel works as a pot or cup, readily slaking your thirst while its ergonomic handle provides a sure grip.




Stainless Steel Interior

The interior of this water distiller is made of food-grade 304 stainless steel to endure high temperatures, resist corrosion, & clean easily.




Customized Detergent

With the help of our included detergent, you can easily clean the interior when needed.
Package List:
1x Distiller
1x Glass Water Bottle
1x Main Power Cord
1x User Manual
1x Chamber Cleaning Powder
1x Bottle Cap
1x Handle
2x Clamp
3x Charcoal Package