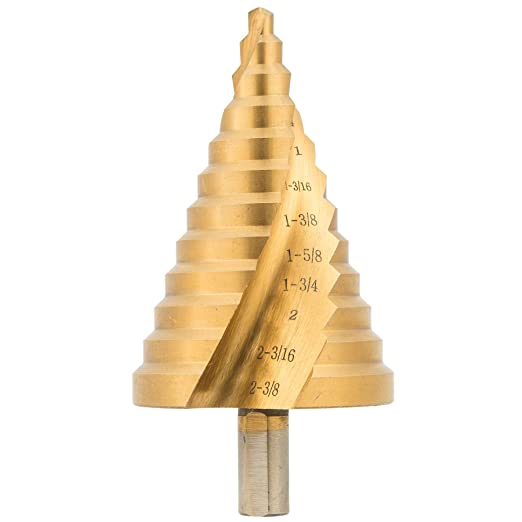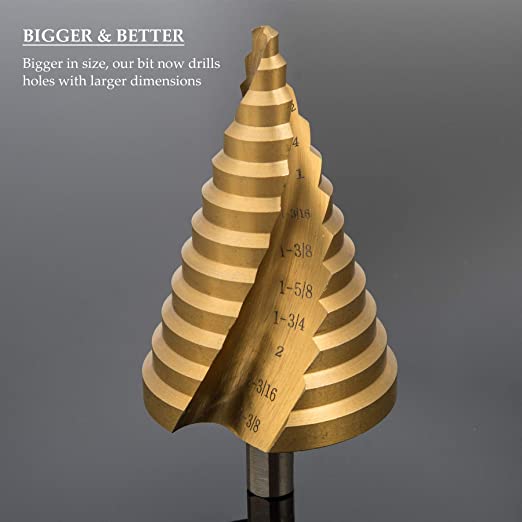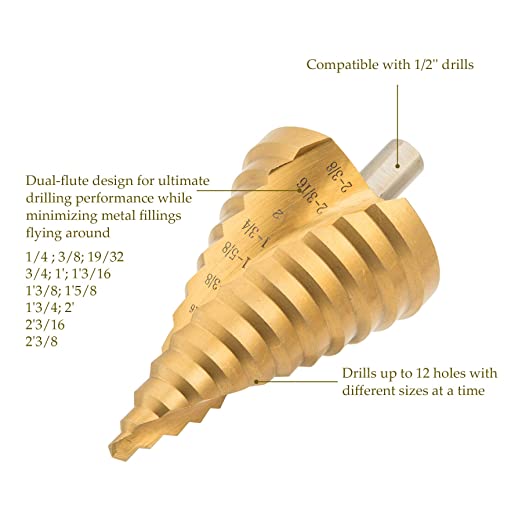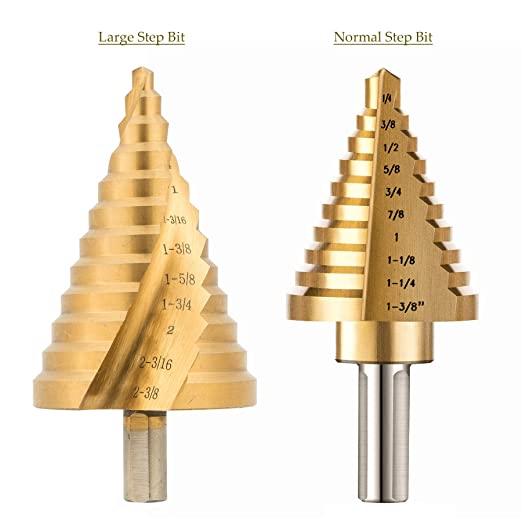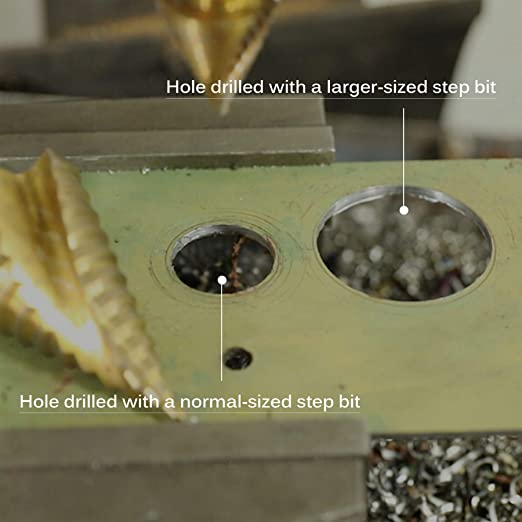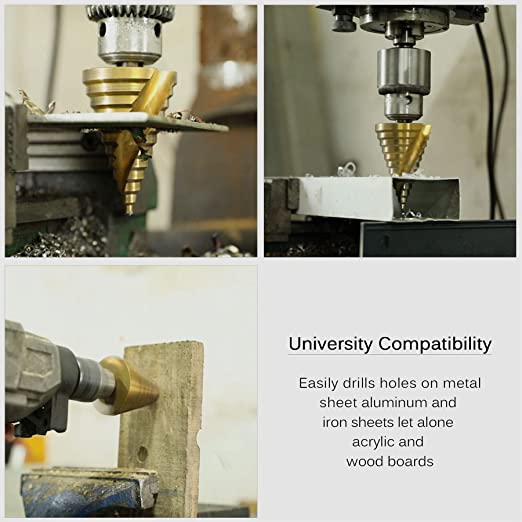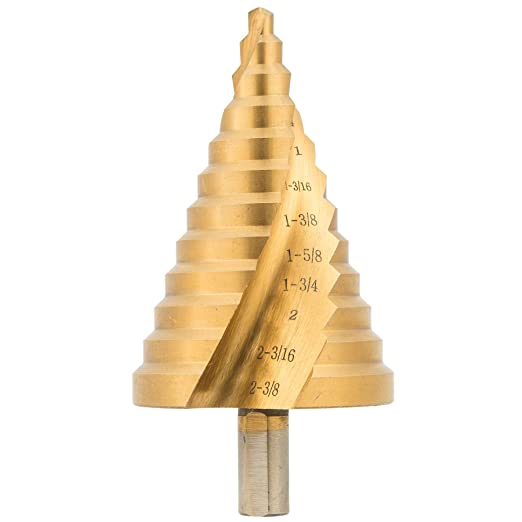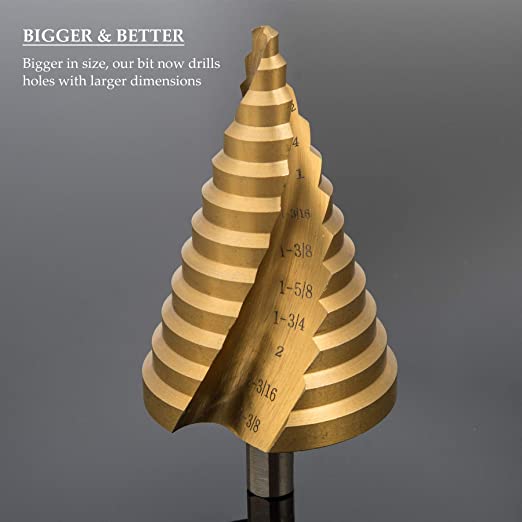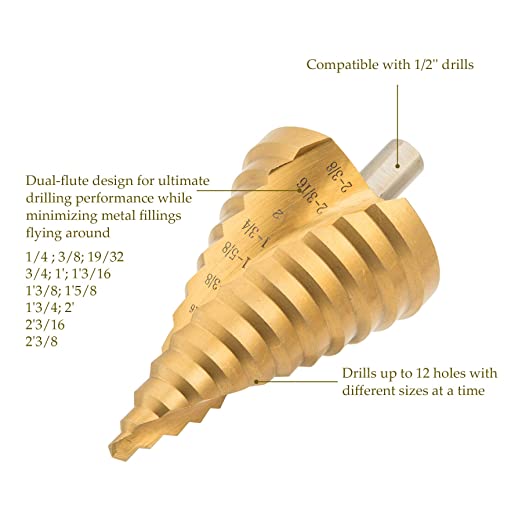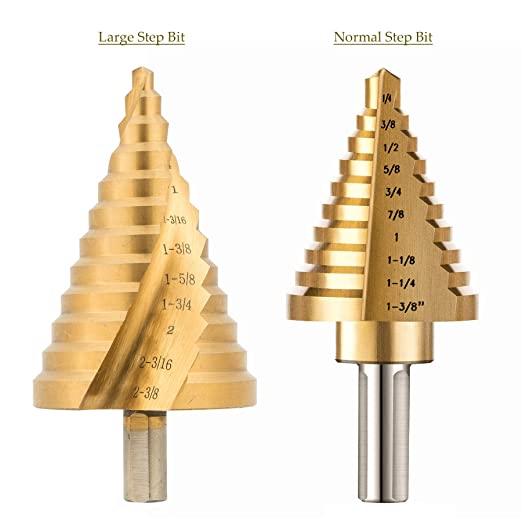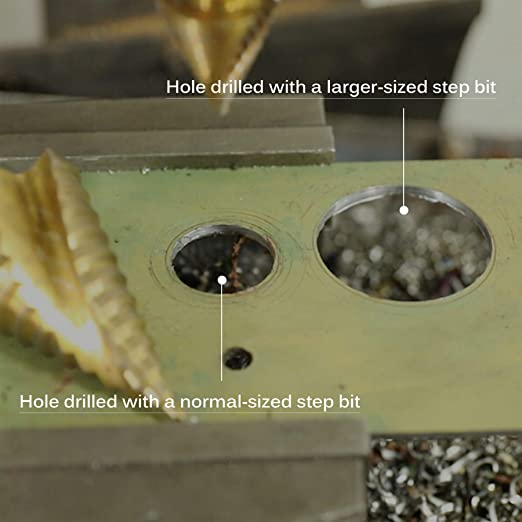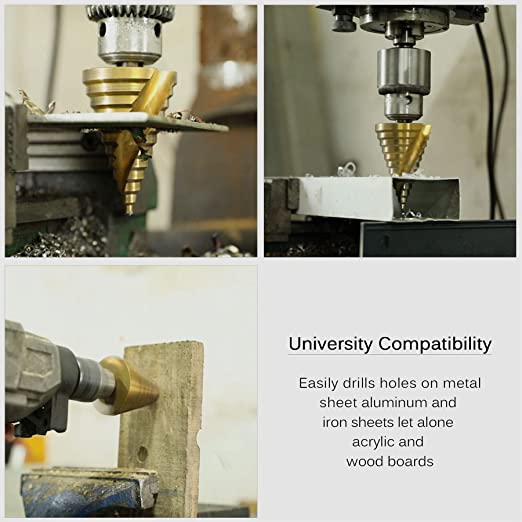 CO-Z
CO-Z Large HSS Spiral Groove Step Drill Bit, 12 Sizes Titanium High Speed Steel 1/4" to 2-3/8" Drill Bit for Sheet Aluminium Metal Wood Hole Drilling, Big Multiple Hole Stepped Up Bit for DIY Lovers
Features:
Upgraded High Speed Steel: The step drill bit is made from upgraded high speed steel characterized by well-balanced toughness, wear resistance and red hardness properties for better and faster hole-drilling performance. The titanium coating makes the drill bit more durable so that it can last for years with uncompromised quality.
BELOW HRC30: The drill bit is only suitable for steel plates with hardness below HRC30, drilling steel plates over HRC30 or heat-treated will damage the drill bit.
Dual-Flute-design: The dual-flute design prevents metal fillings from flying around and clears chips faster thus it can drill more smoothly without heating up.
Rapid Strike Tip Drills: The rapid strike tip drills twice as fast as the average step drills and can drill acrylic, PVC, wood, aluminum and iron sheets up to 0.2'' in thickness.
Bigger Size: Our drill bit is bigger in size so it can drill holes with larger dimensions.
12 Hole Sizes: We can adapt to many size: 1/4; 3/8; 19/32; 3/4; 1'; 1'3/16; 1'3/8; 1'5/8; 1'3/4; 2'; 2'3/16; 2'3/8.

Convenient & Accurate

Laser-engraved reference marks on each bit offer superb convenience and accuracy, ideal for drilling large and small-diameter holes in metal and plastic.

For high-efficient drilling, thickness of sheet metal shall be less than that of each step.

 

Universal Compatibility

Compatible with 1/4, 3/8, 1/2 electric drills or bench drills, but only work for sheet metal, aluminum or plastic.

 

Sleek & Accurate Drilling

X-type openings design to facilitate the removal of cutting waste when drilling, preventing iron chips or sawdust from scattering and ensuring sleek & accurate drilling.