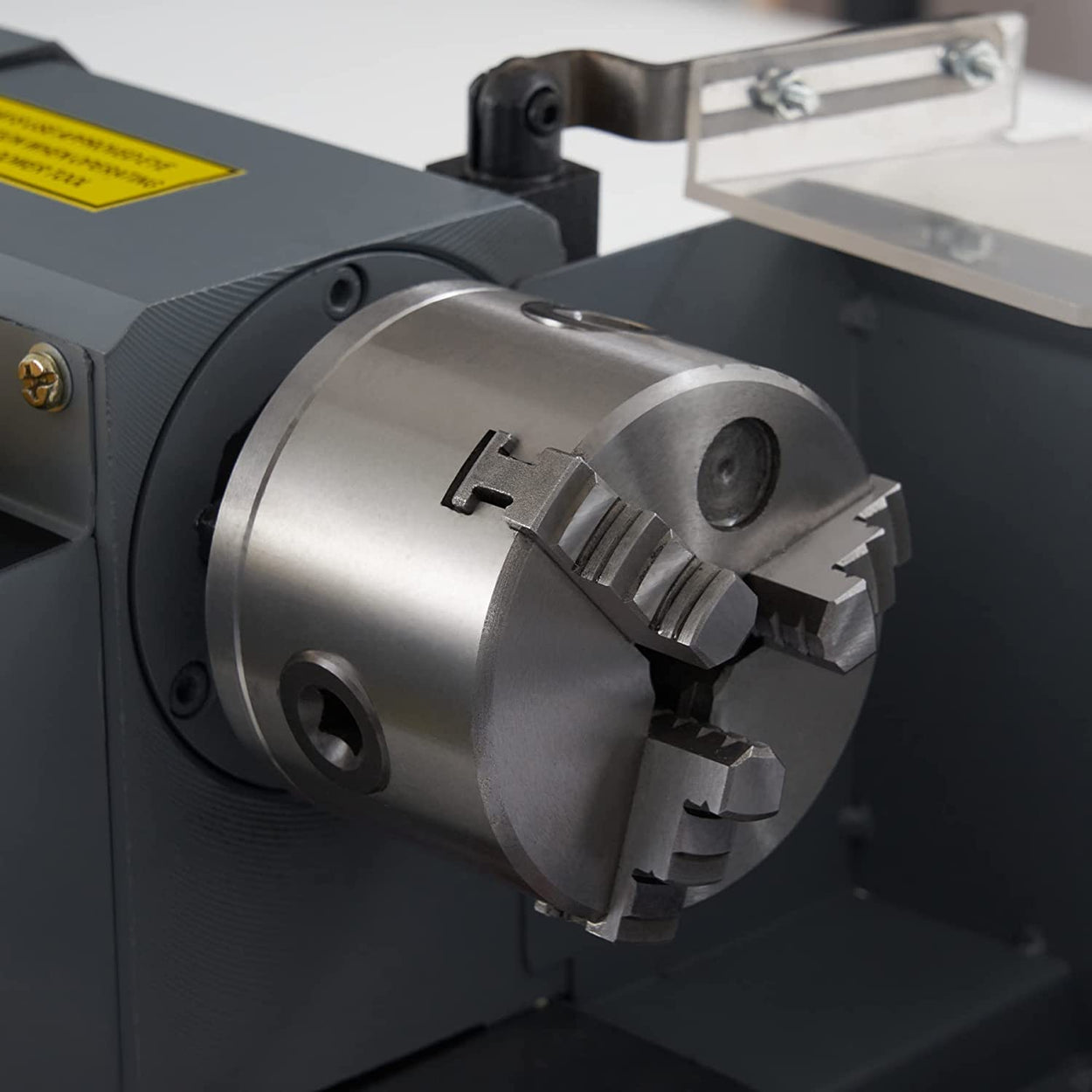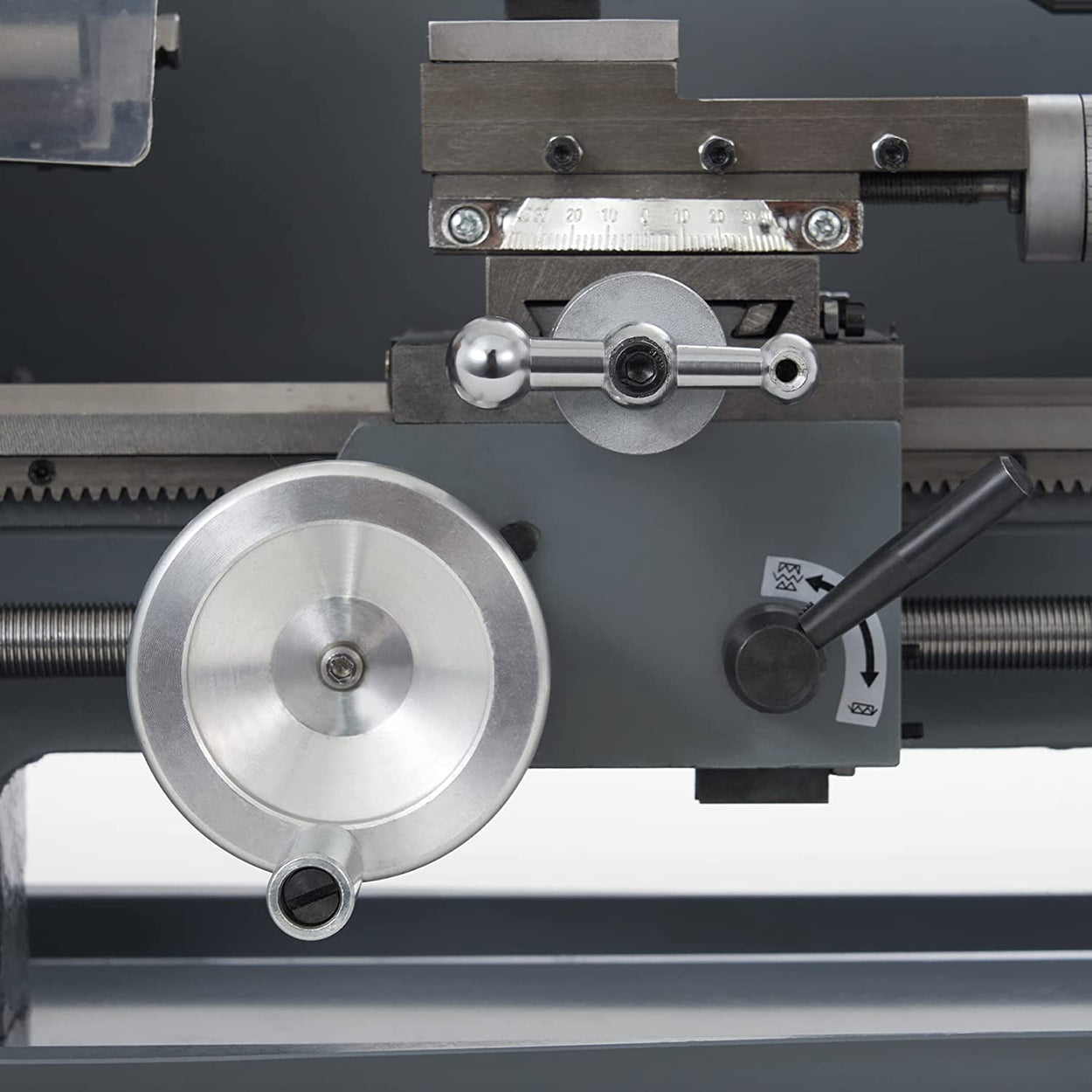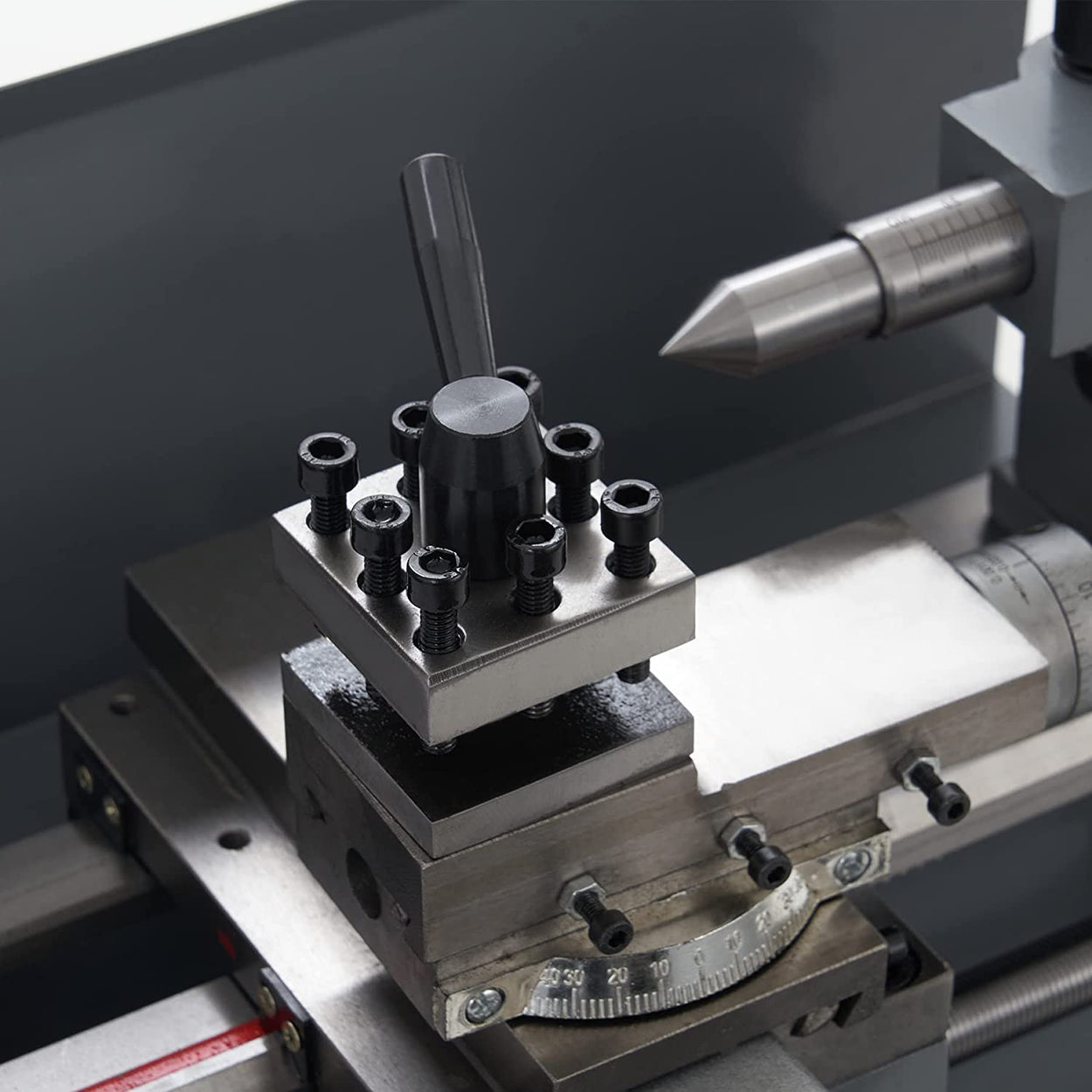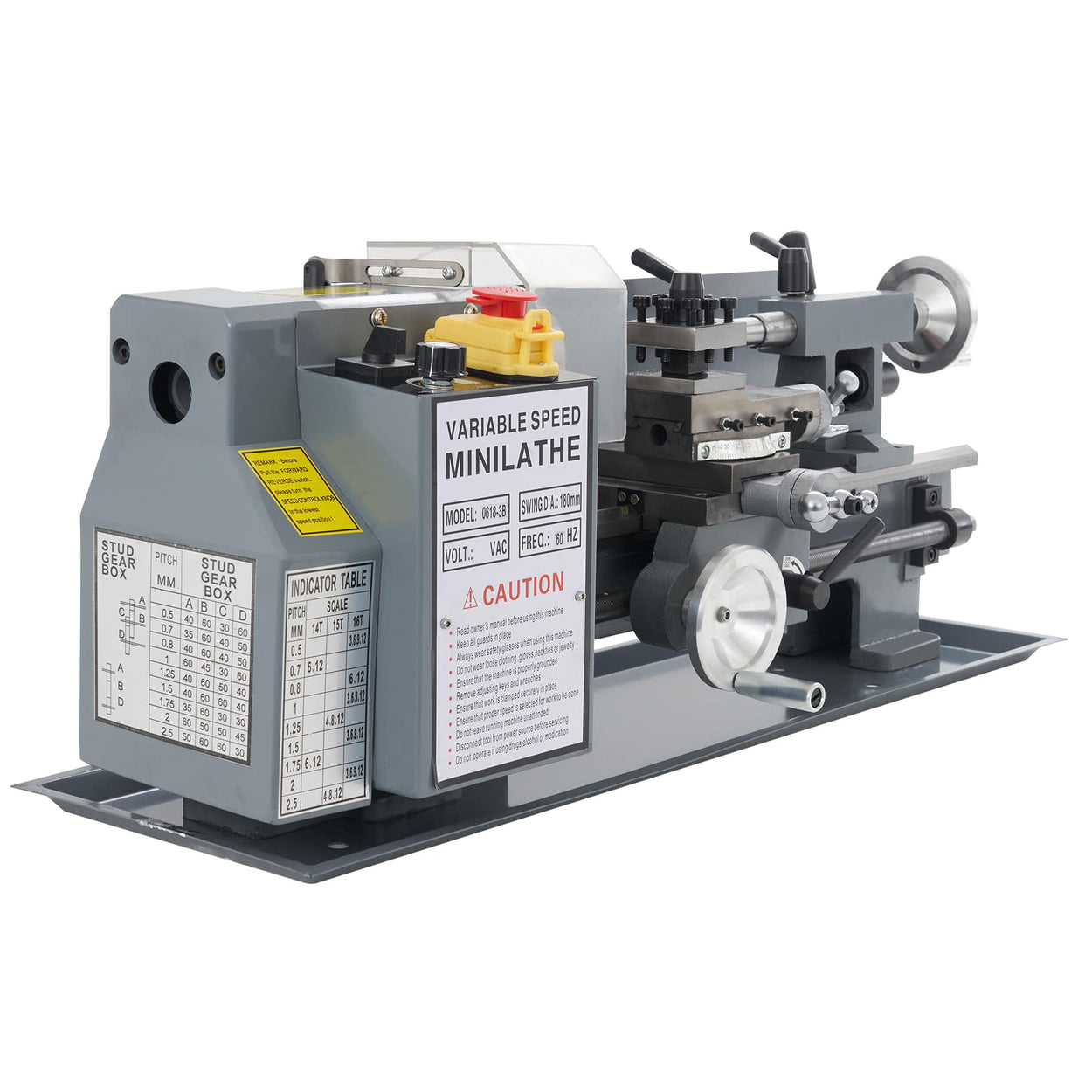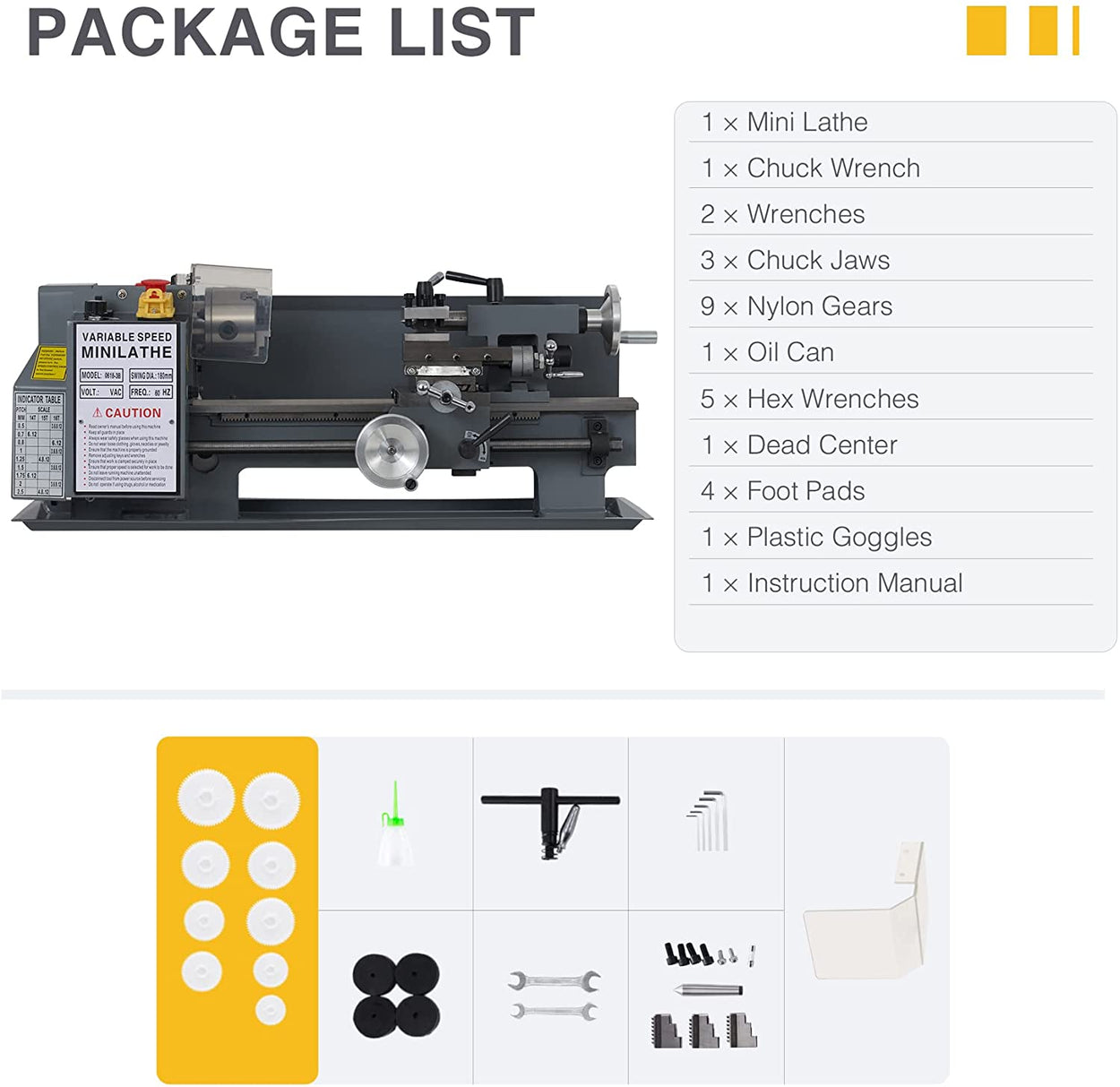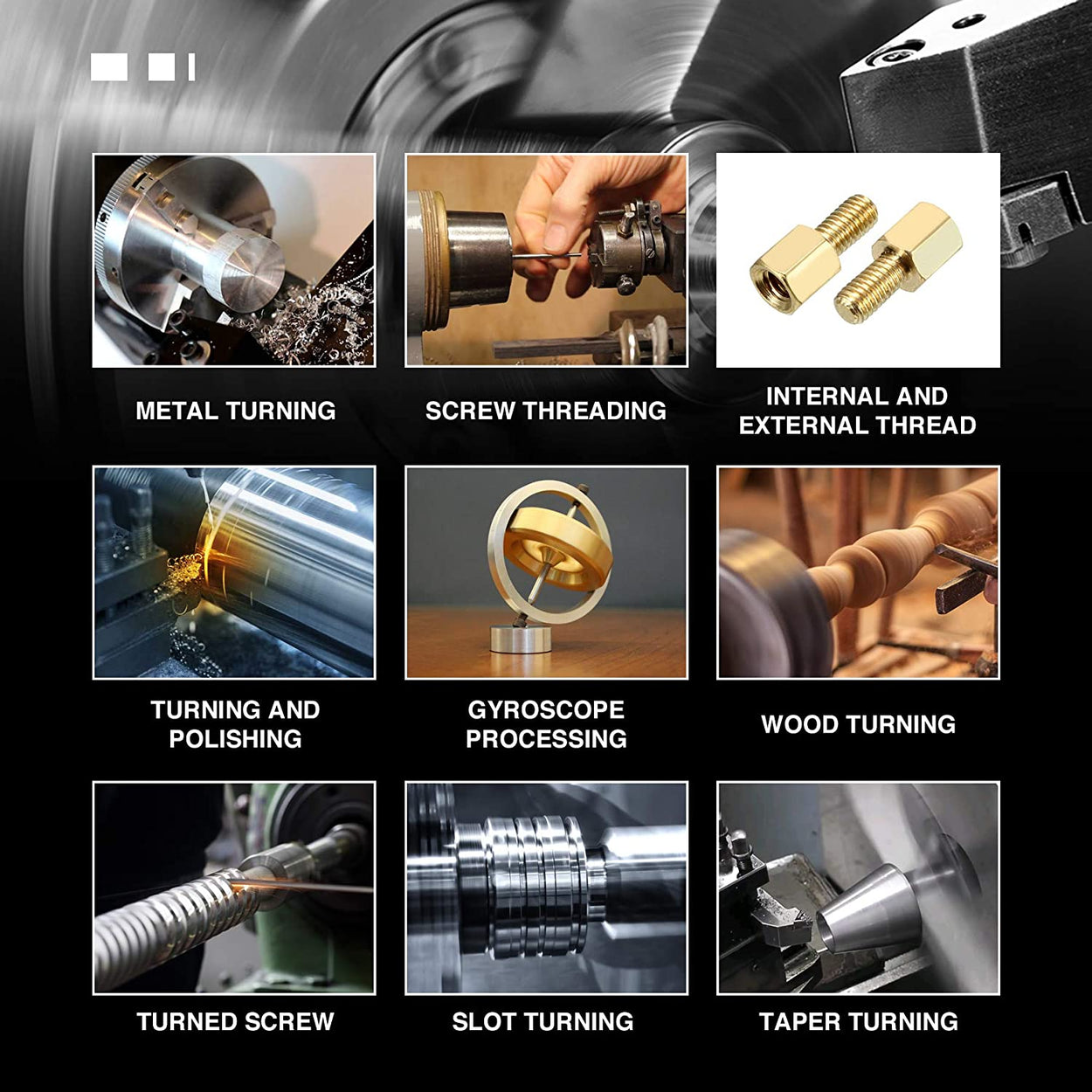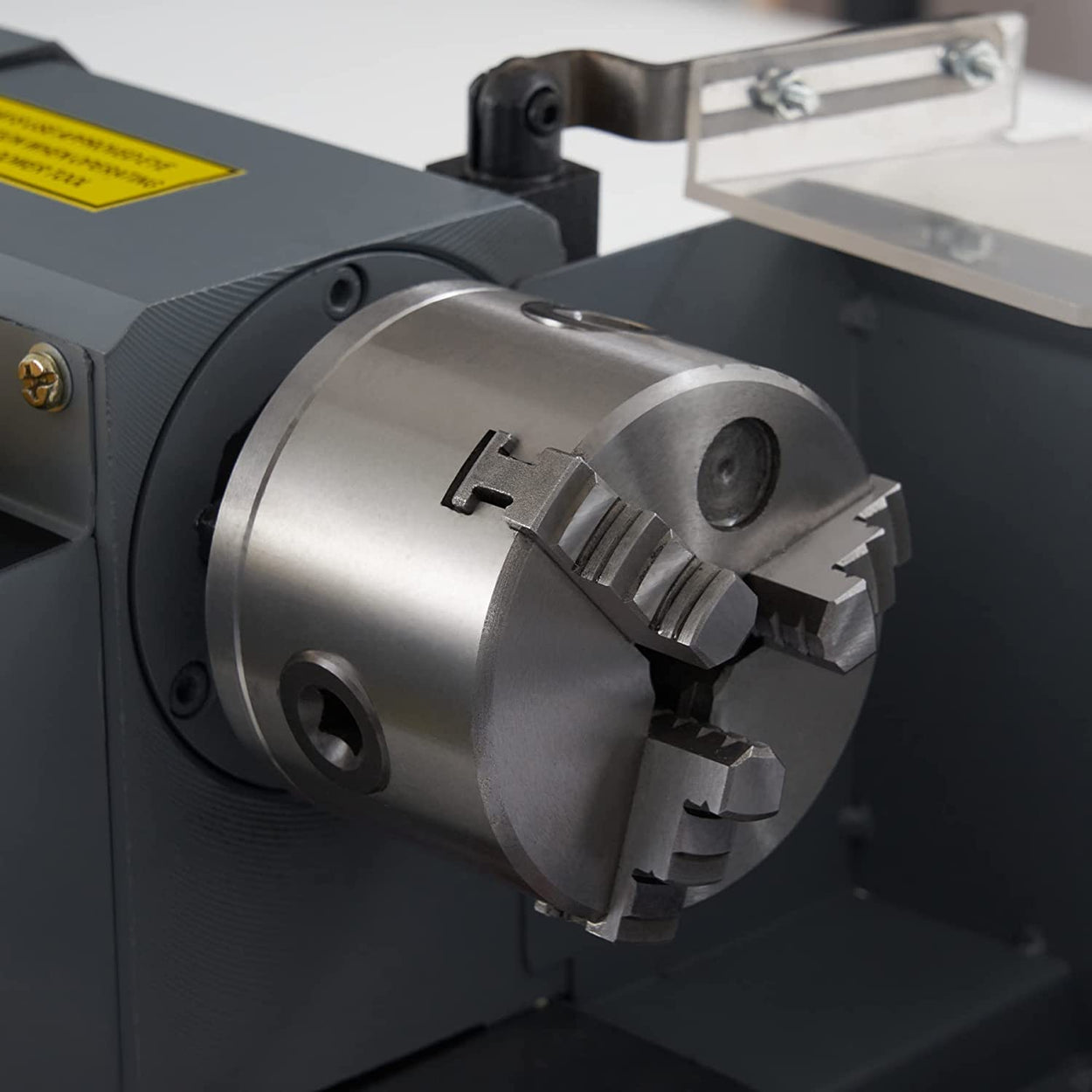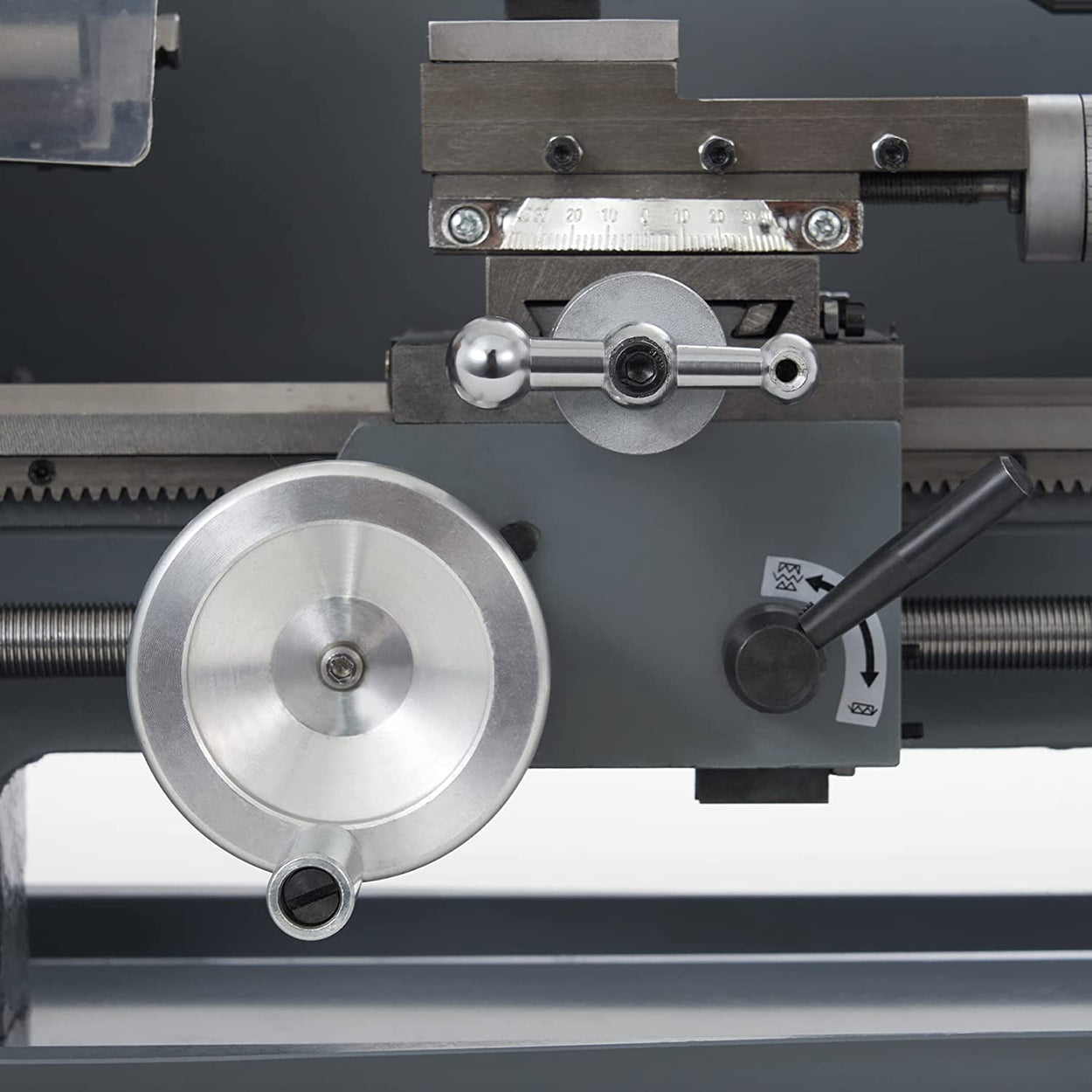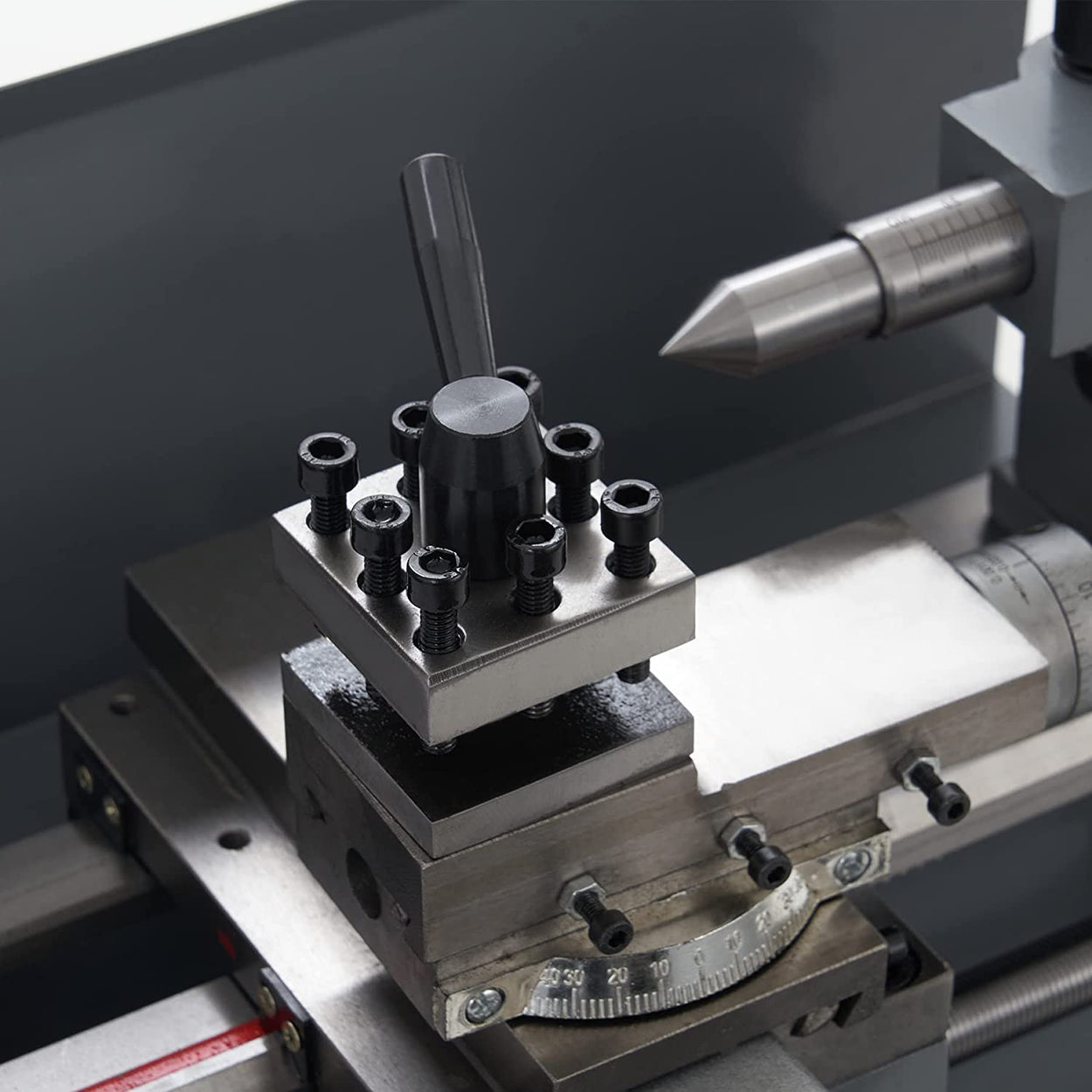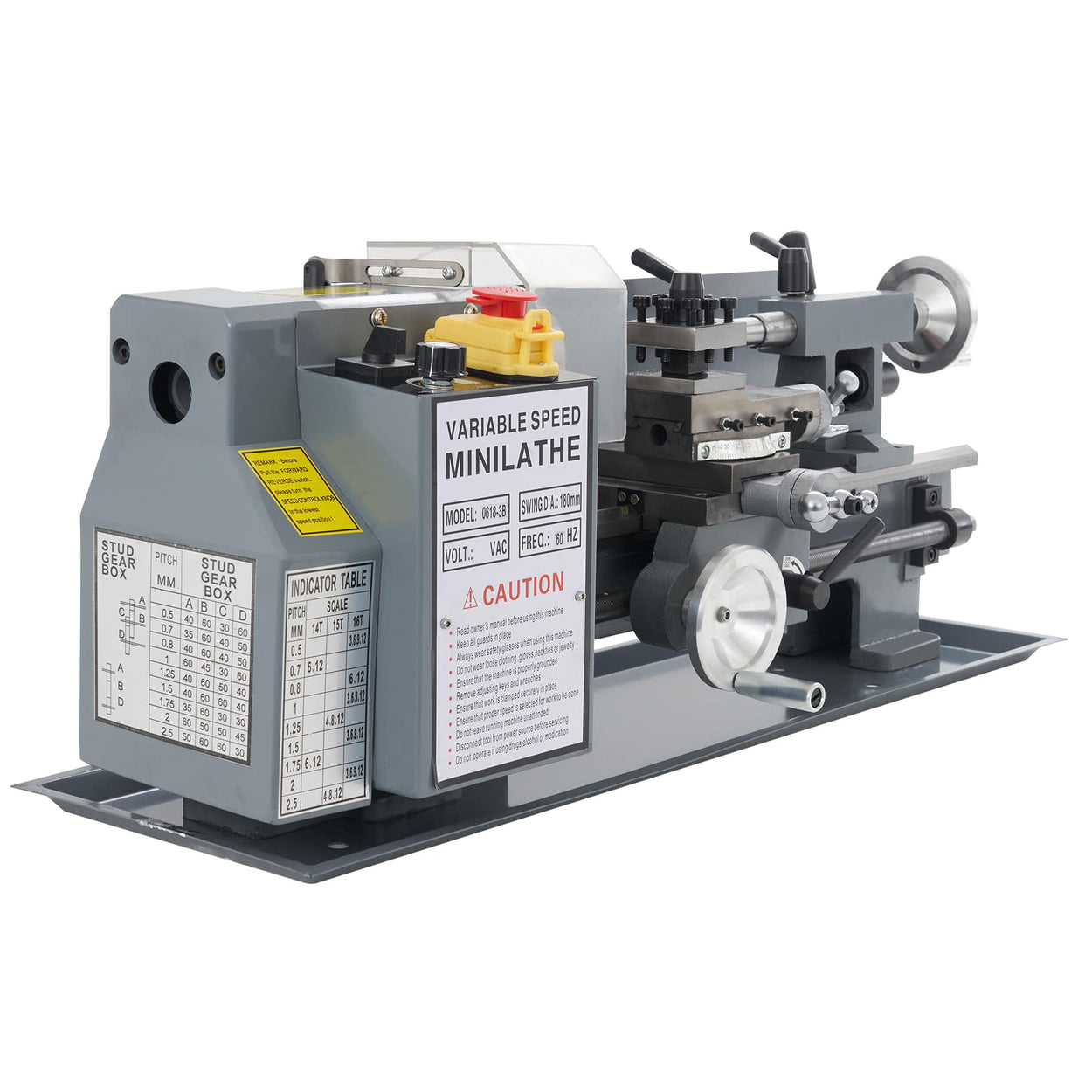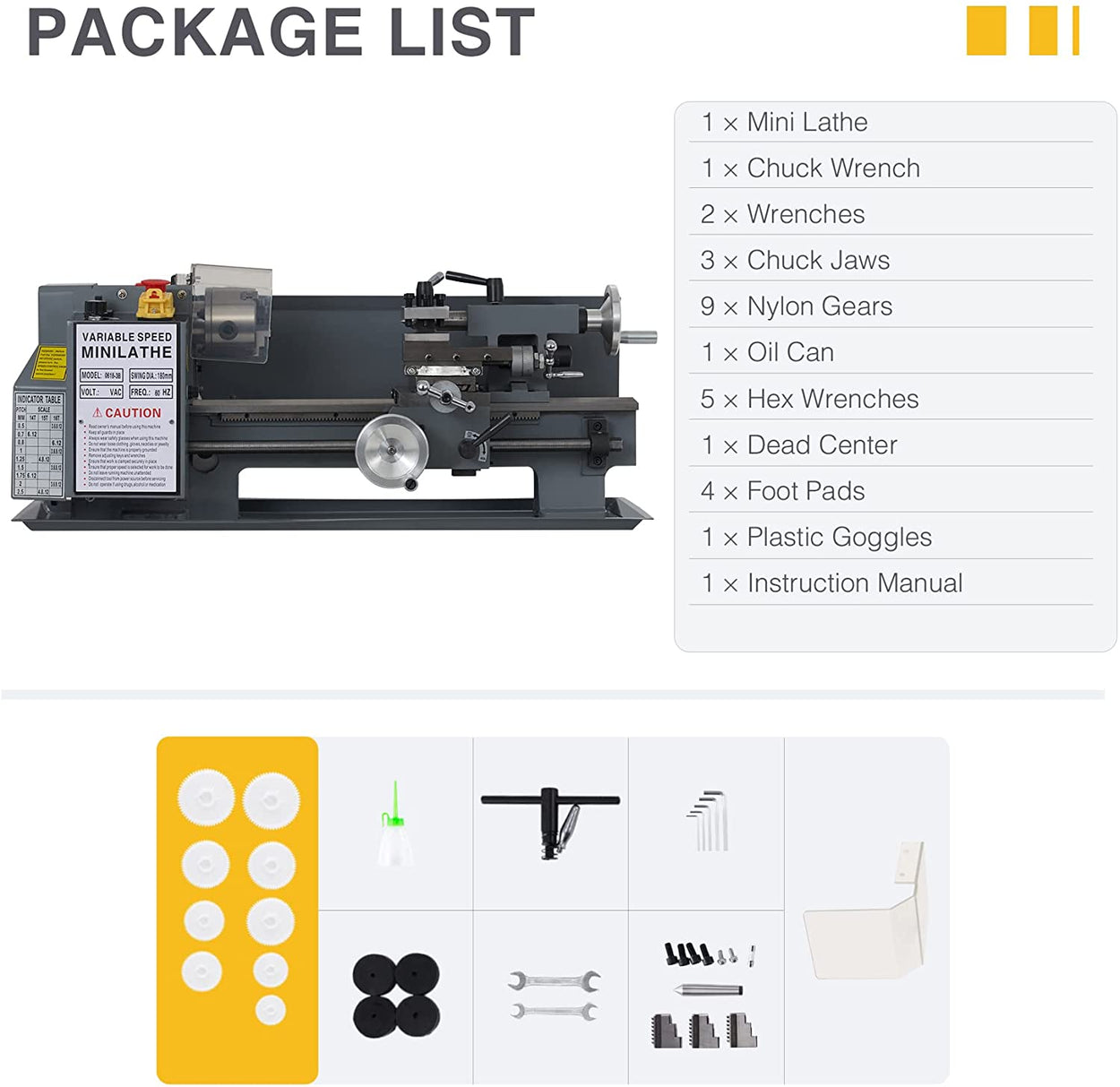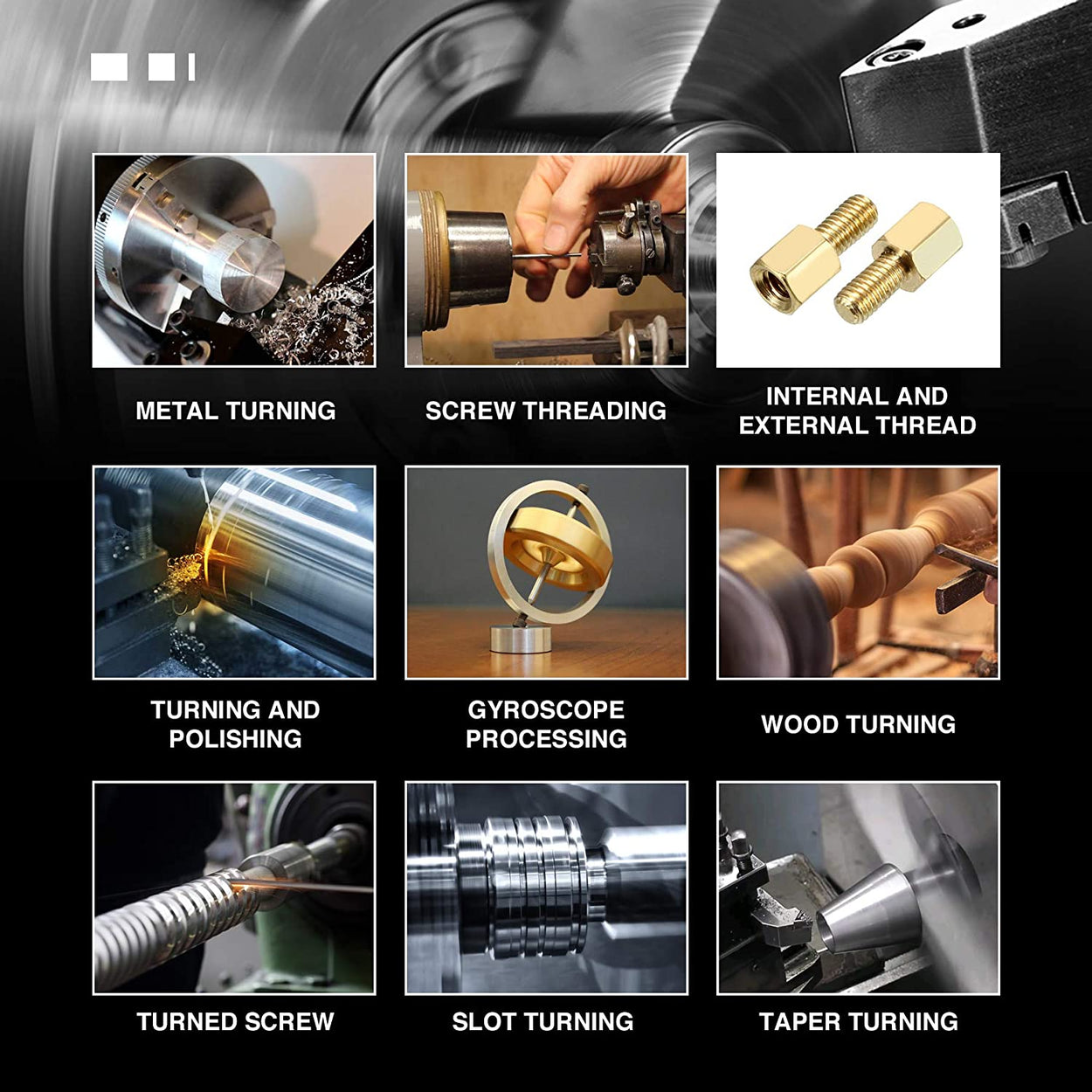 CO-Z
CO-Z 7x12 Inch Mini Metal Lathe with Nylon Gears, 2250rpm Benchtop Metal Lathe w 550W Brushed DC Motor for Metalworking
Features:
A Mini Yet Mighty Lathe: Only 28x10 inches, this mini metal lathe still cranks out 550W (3/4 hp) and is great for handling small to medium projects
Precise Engineering: Ideal for professionals, this mini metal lathe's high-precision 3-inch 3-jaw chuck handles both square and round objects with equal aplomb; its granular precision is especially useful for jobs requiring high accuracy such as threading
Complete Control: The lathe's rotational speed can be set from 0 to 2250 rpm and is monitored through a digital display; the well-crafted head and tailstocks, large through-hole, and 4-way tool post also contribute to providing greater control of your work
Sturdy Construction: This mini woodworking lathe is made of premium cast iron and all its wear-resistant nylon gears provide efficient power transmission, assuring you of a long service life
Wide Application: This mini metal lathe comes suitable for many processing tasks needing extreme precision including turning, drilling, threading, and cutting
Product Description
Description
Whether you are a professional craftsman or an amateur artisan, arming yourself with high-precision tools is a priority. When you work on small to medium-sized metal and woodwork projects, you'll need this mini metal lathe.
Constructed with premium cast iron, our mini metal lathe is a rugged little workhorse. The powerful 550W brushed DC motor runs through the nylon gears to a high-precision 3-jaw chuck. The well-crafted head and tailstocks, large through-hole, digital display, and 4-way tool post give you total control of your wood and metal turning, cutting, drilling, and threading at speeds between 0 to 2250 rpm. The 7-inch swing over bed and 12-inch distance between centers provide ample space for small to medium-sized projects in the workshop and around the home.
This lathe comes with all the accessories necessary to get right to work! We present this versatile tool to both pros and amateurs alike. For friends and family who love tinkering and crafting, this lathe also makes an excellent gift.
Specifications
Material: Cast Iron, Nylon
Color: Gray
Motor Type: Brushed
Motor Power: 0.7 HP (550W)
Dimensions: 27.5 x 9.4 x 10.6 in. (70x24x27 cm)
Spindle Bore: 0.8 in. (21 mm)
Swing over Bed: 7 in. (180 mm)
Distance between Centers: 11.8 in. (300 mm)
Chuck Diameter: 3.2 in. (80 mm)
Max. Spindle Speed: 2250 rpm (±10%)
Inch Thread: 12-52 tpi
Metric Thread: 0.4-2 mm
Spindle Taper: MT#3
Tailstock Taper: MT#2
Net Weight: 82 lb. (37 kg)
Package List
1 x Mini Lathe
1 x Chuck Wrench
2 x Wrenches
3 x Chuck Jaws
9 x Nylon Gears
1 x Oil Can
5 x Hex Wrenches
1 x Dead Center
4 x Foot Pads
1 x Plastic Goggles
1 x Instruction Manual