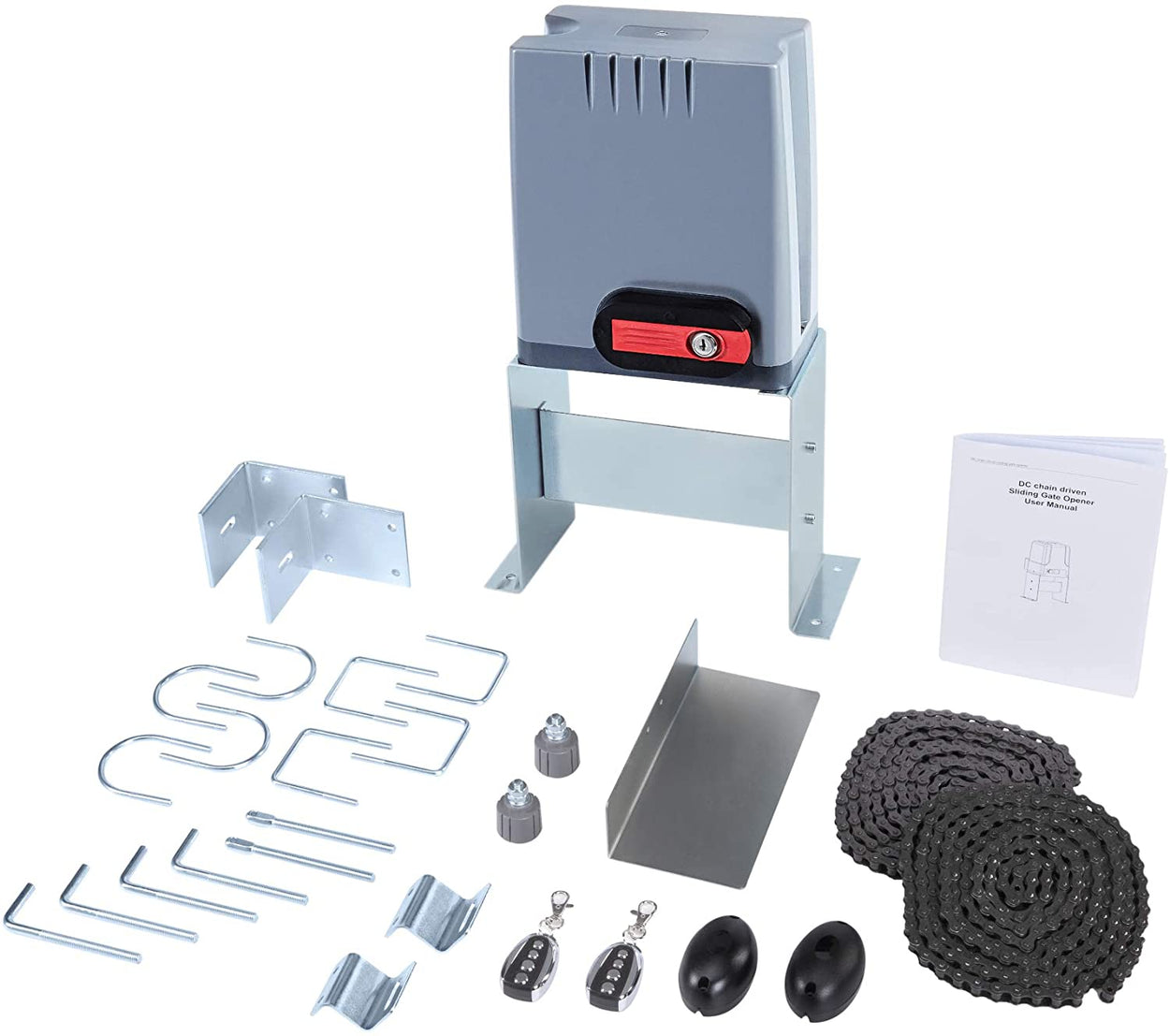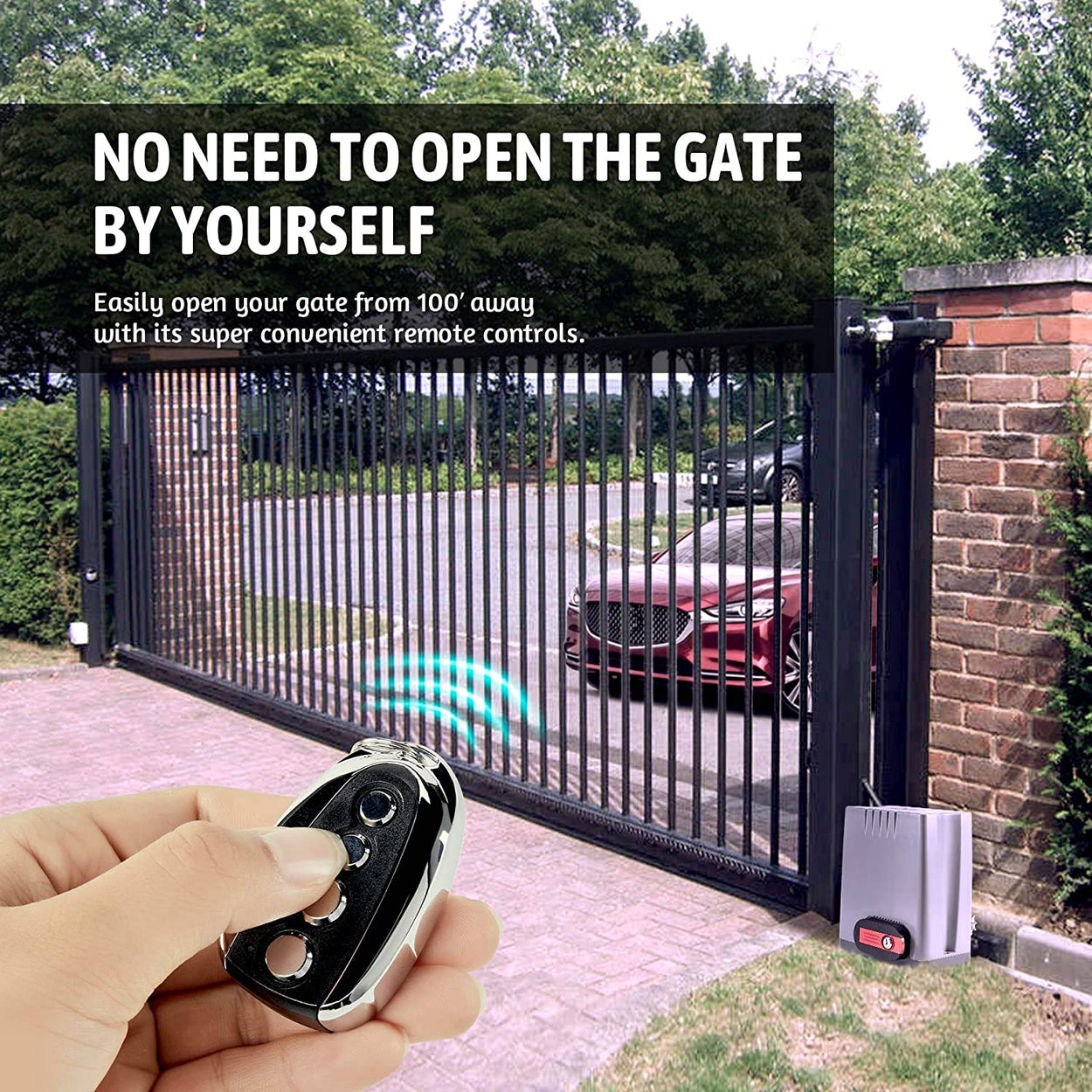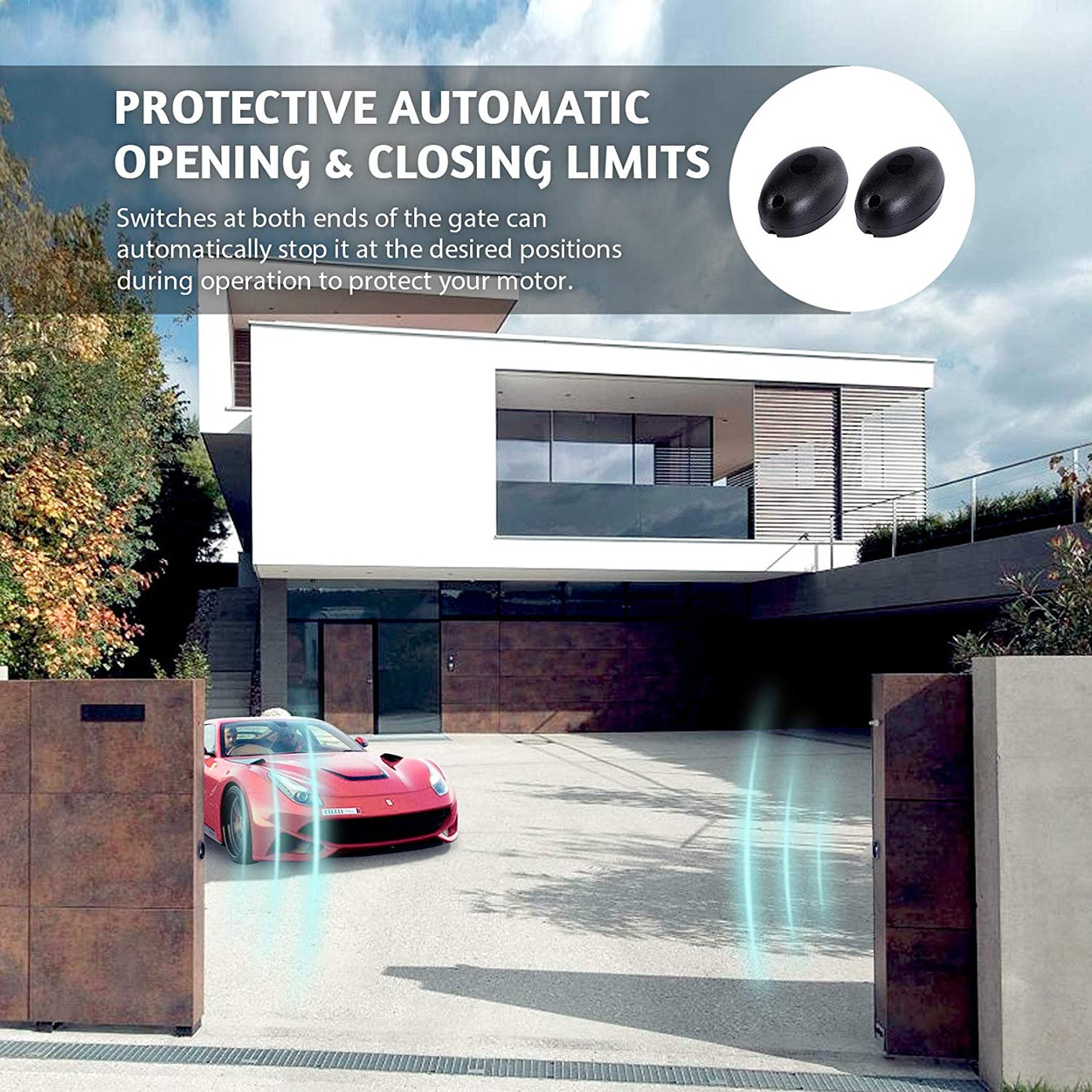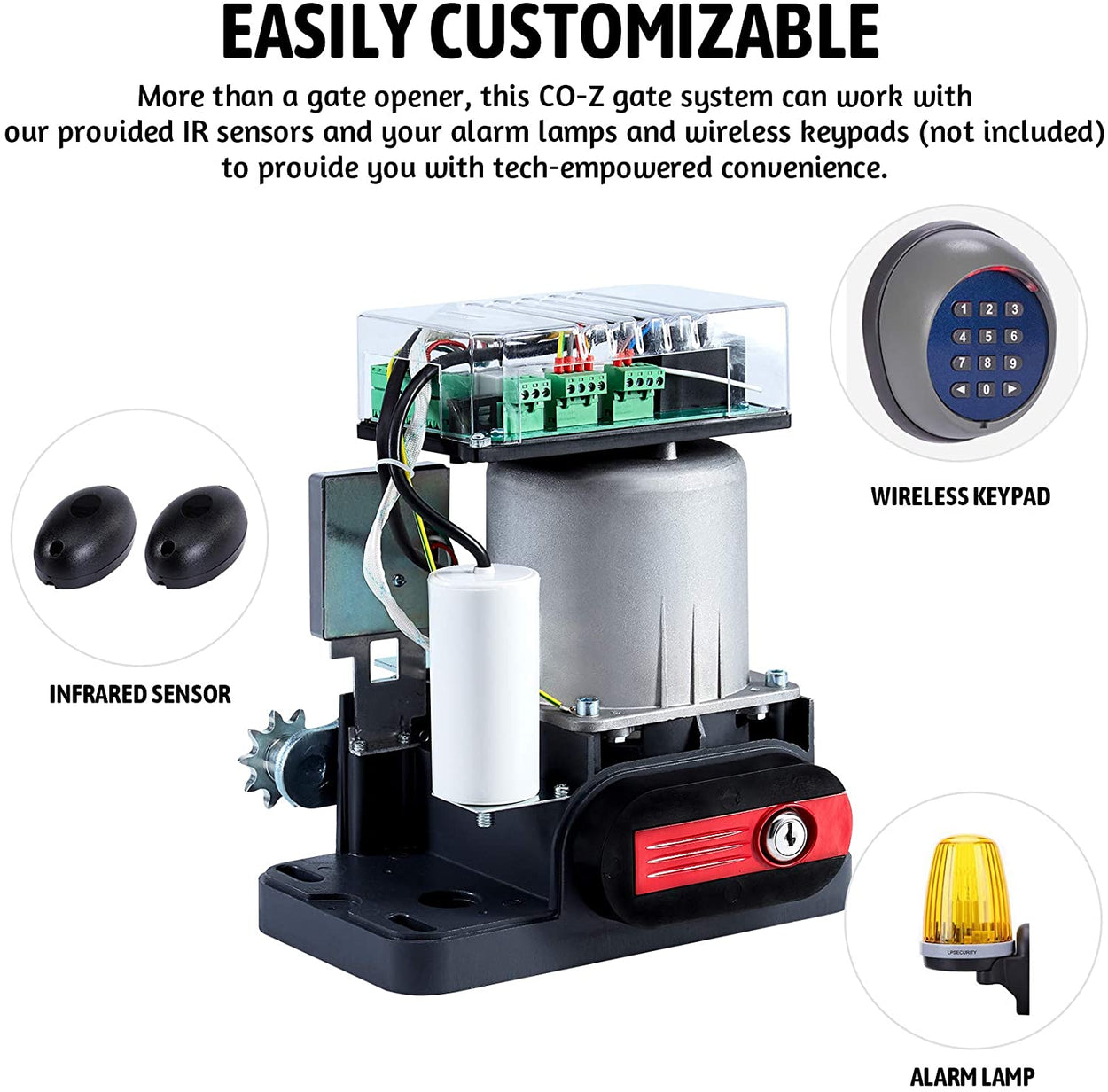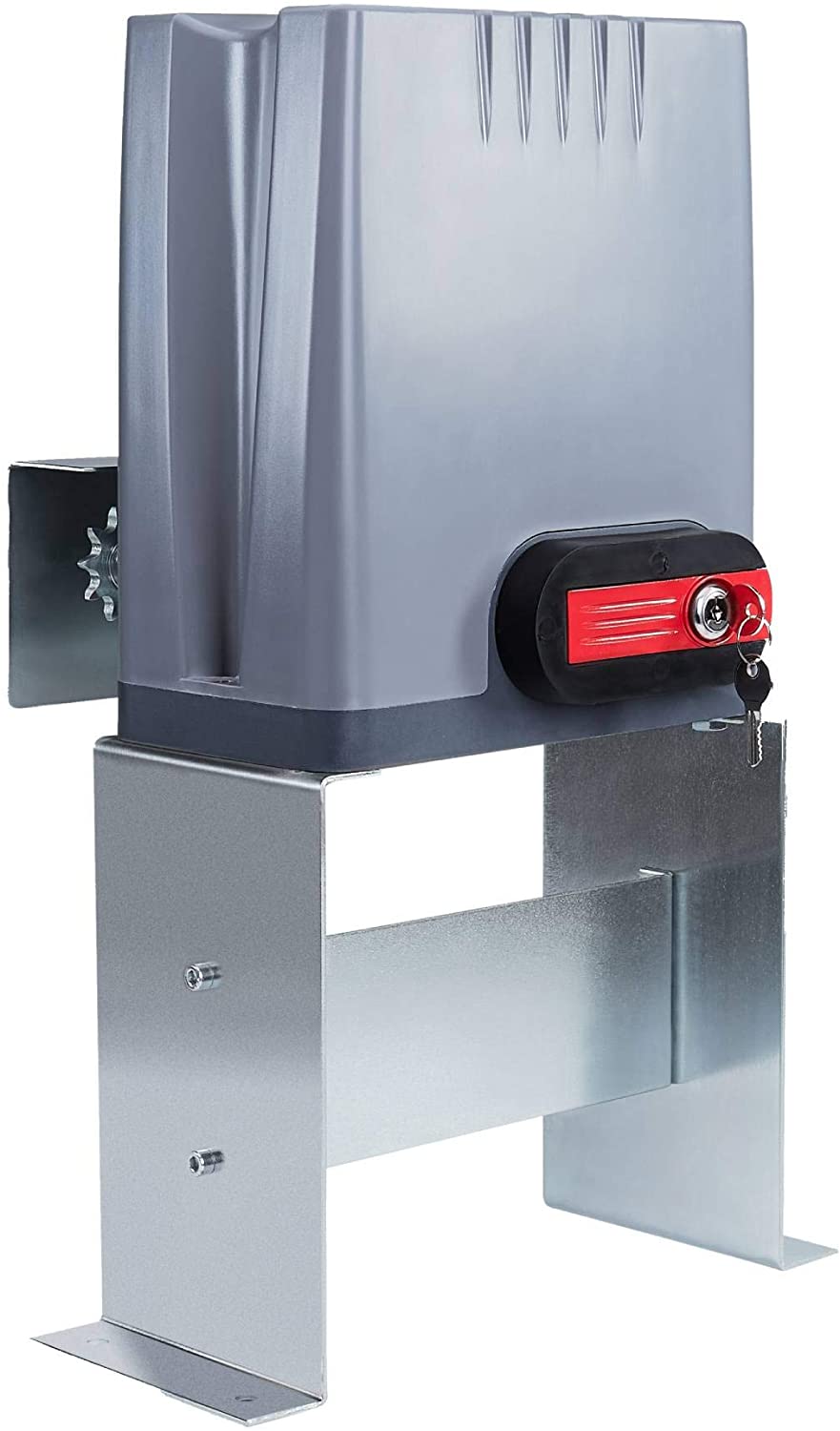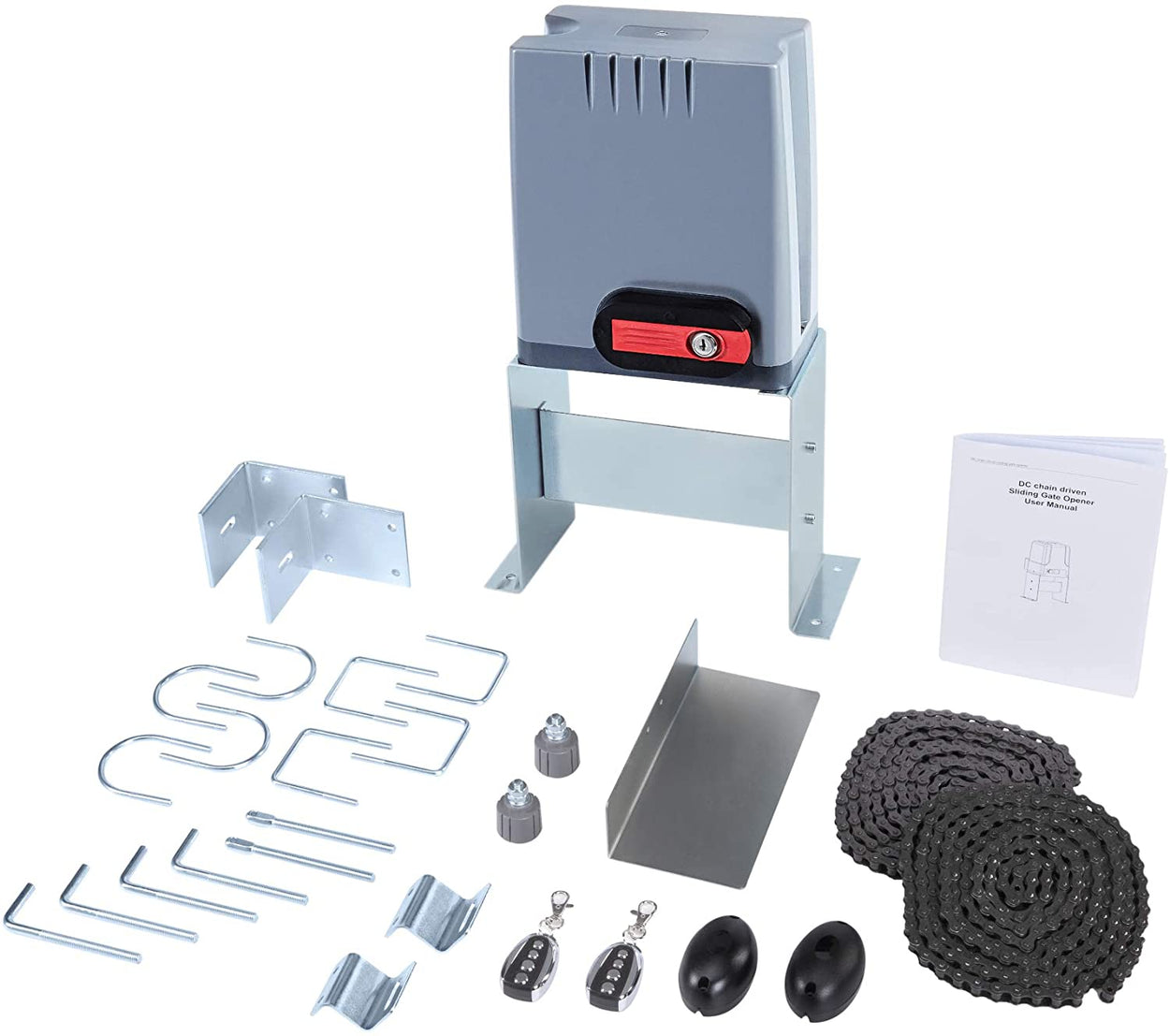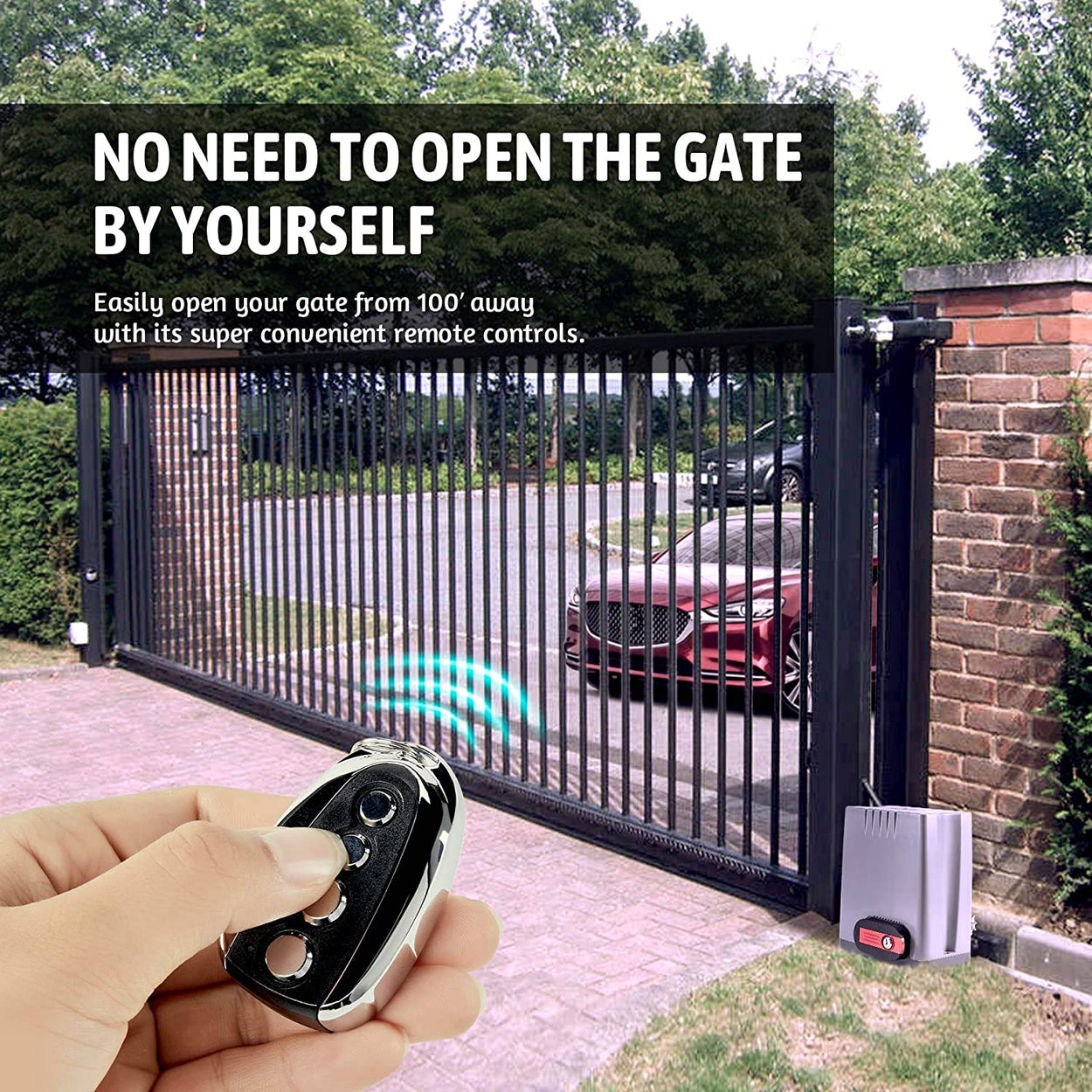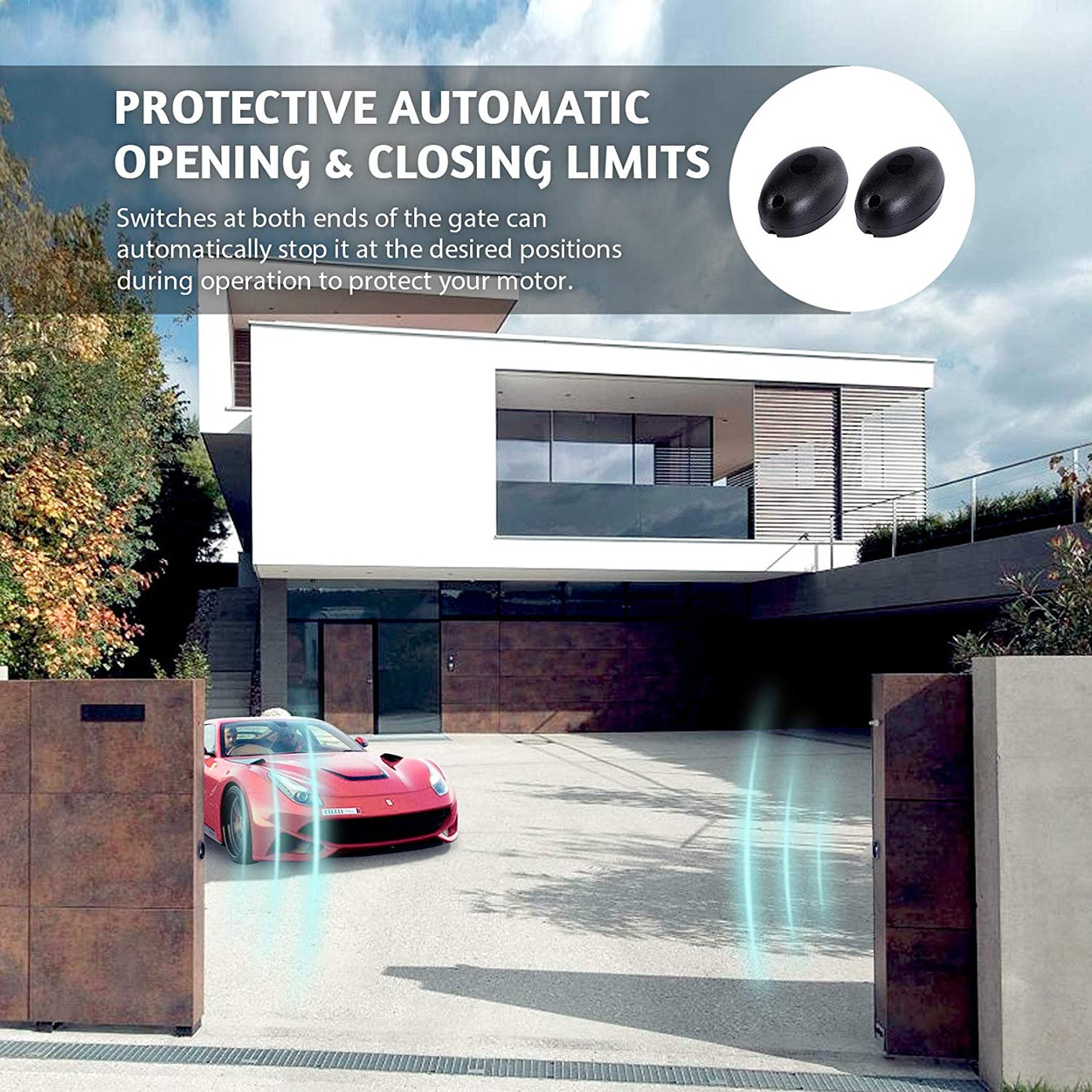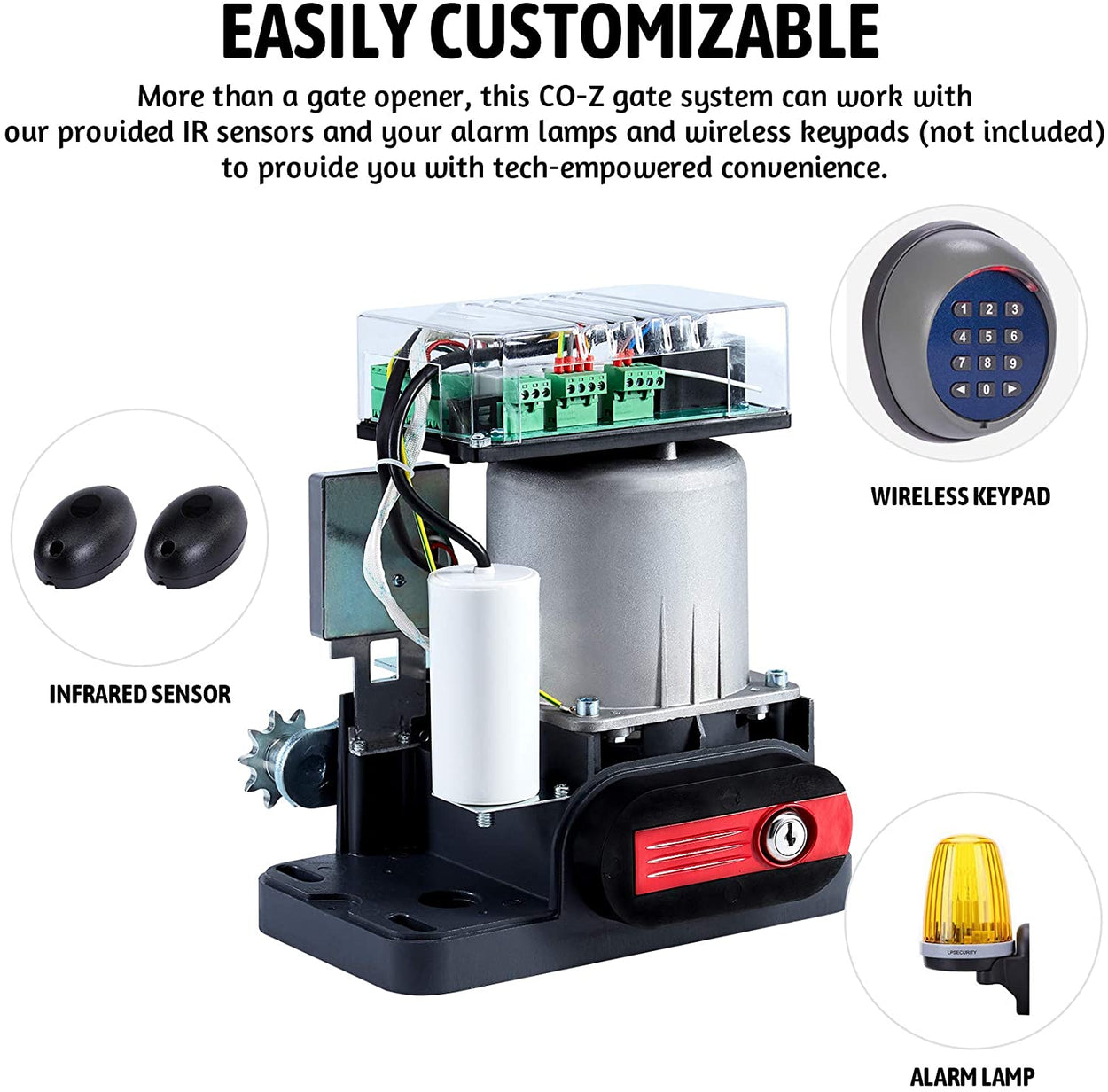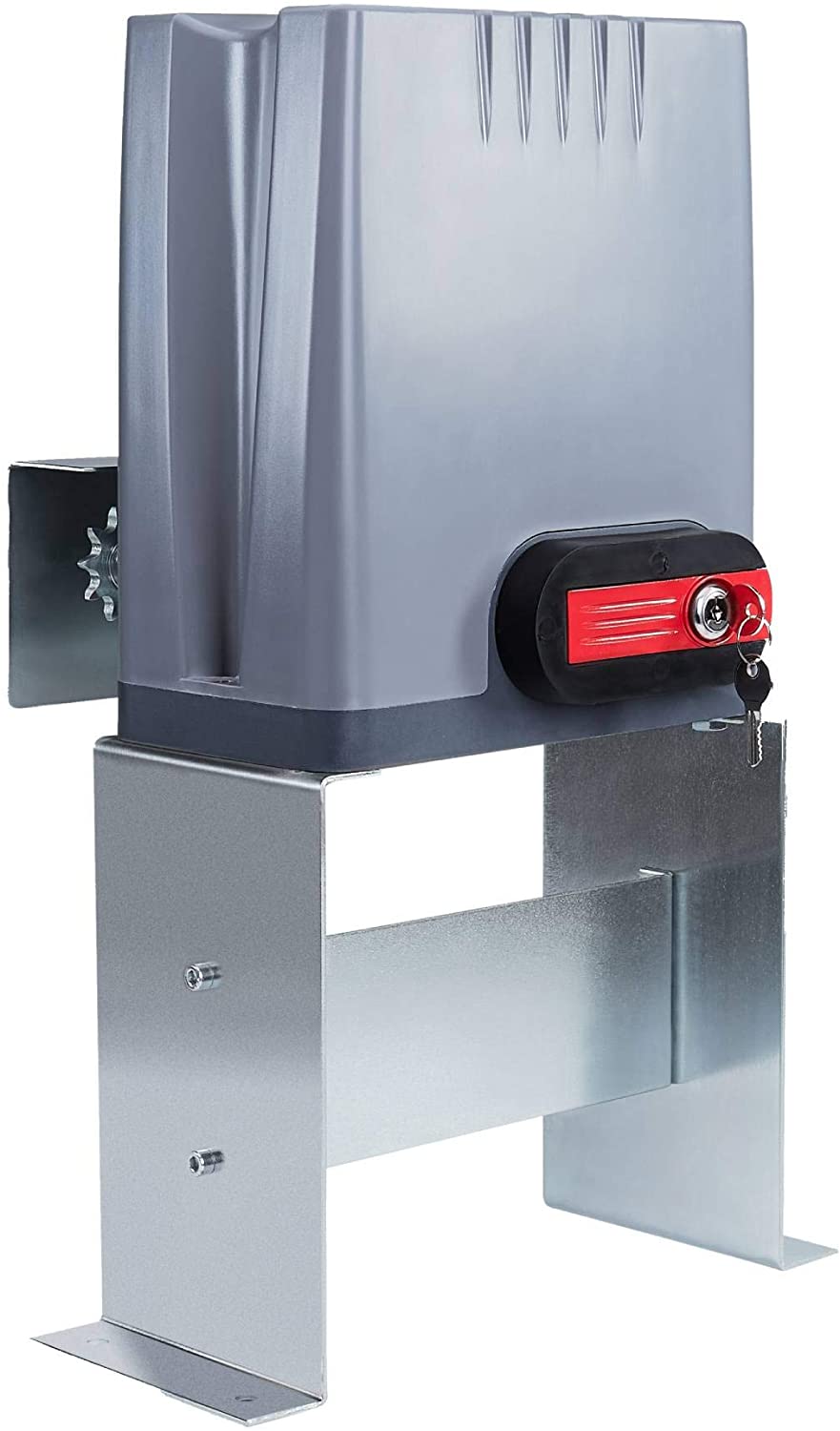 CO-Z
CO-Z Secure Access 1800lb Sliding Gate Opener with Hardware Kit (Metal)
Working with gates up to 1800 pounds and 40 ft. in length, this gate opener and closer set is a must have for your property. Its premium 380W all-copper motor smoothly and quietly slides your gate door open and closed at 42 ft. per minute. Once open, the motor has an adjustable auto close feature that can be programmed to close after a set amount of time. And as an added precaution, the included infrared sensor will stop the gate from closing should anything get in the way, ensuring the safety of your loved ones and your vehicles.
Features
POWERFUL OPENER SET: Featuring an energy-efficient 380W electric motor, this sliding gate opener from CO-Z smoothly slides gates up to 1800 lb. and 40 ft. at around 42 ft. per minute with the help of its quality roller chains
HIGH-QUALITY CONSTRUCTION: The solid steel construction of our electric gate opener is lightweight and durable, while the ABS cover quickly dispatches heat working together with the highly efficient all-copper motor to provide years of dependable service
REMOTE CONTROLS: This automatic gate opener and closer comes with 2 remote controls, opening your property up from nearly 100 feet away at the push of a button; the system supports up to 25 remotes in total, easily accommodating the needs of large families, small communities, businesses, schools, and more
FULL PROTECTION: Our home and farm gate opener automatically closes after opening but reverses operation if any obstacles are detected by the infrared sensor; the system's frequency encryption technology also protects your remote controls from spoofing and keeps your gate secure against intruders
1 YEAR WARRANTY: This chain driven gate opener is easy to install with all the necessary tools included and can work with compatible accessories (sold separately) including keypads, infrared sensors, driveway alarms, and more; order with peace of mind thanks to its 1 year warranty and CO-Z's usual friendly 24/7 customer service!
Specifications
Material: Metal, Aluminum Alloy, ABS
Color: Silver, Gray, Black
Rated Power: 380W
Max. Gate Weight: 1800 lb. (800 kg)
Max. Gate Length: 40 ft. (12 m)
Gate Moving Speed: 42 ft./min. (13 m/min.)
Operating Temperatures: −4 to 158F (−20 to 70C)
Max. Noise: 58 dB
Remote Control Range: 98 ft. (30 m)
Chain Length: 20 ft. (6 m)
Package Dimensions: 12.4 x 10.6 x 17.7 in. (31.5x27x45 cm)
Package Weight: 36.6 lb. (16.6 kg)
Warranty: 1 Year
Package List
1 x Sliding Gate Opener
2 x Remote Controls
2 x Release Keys
1 x Infrared Sensor Set
1 x Box of Mounting Accessories
1 x User Manual