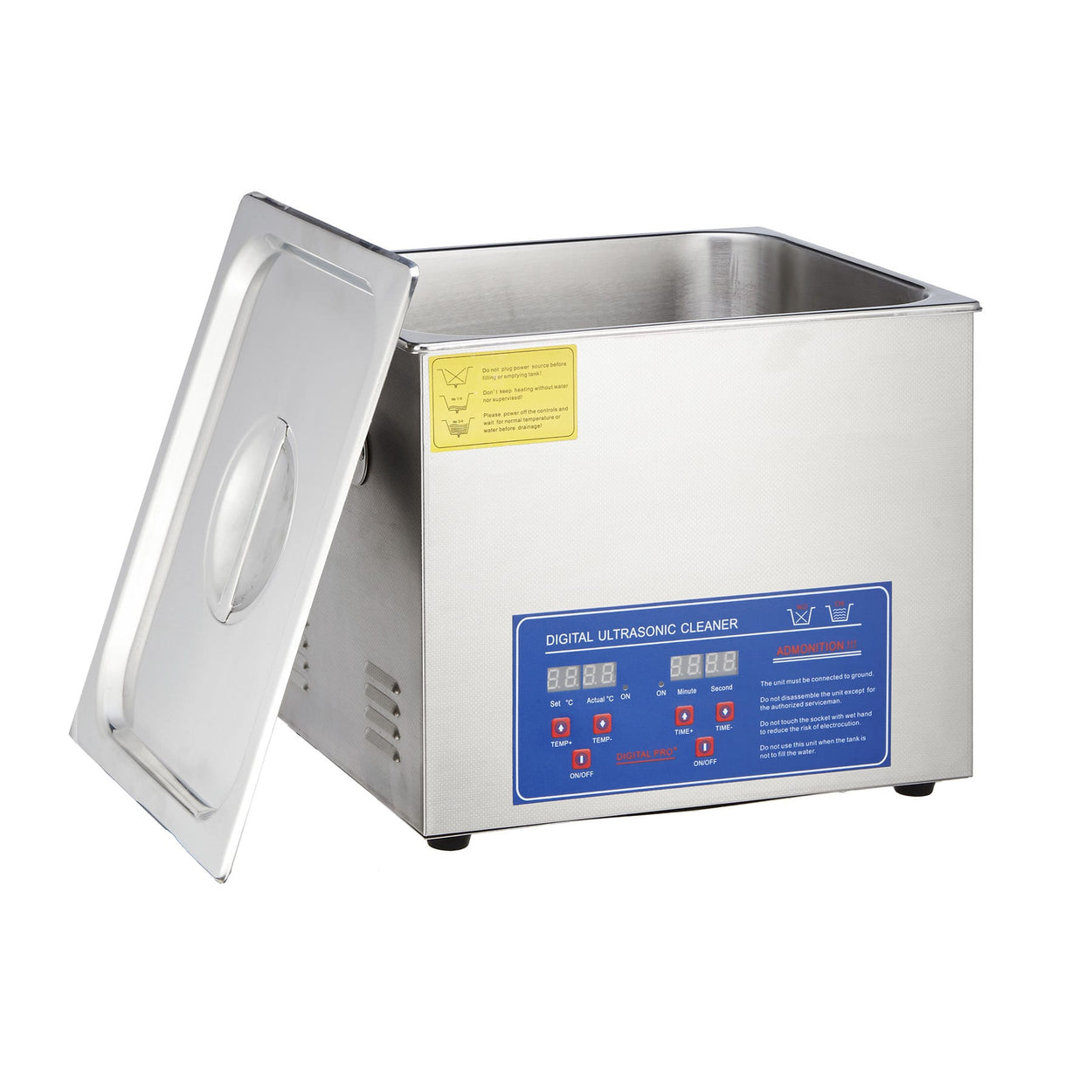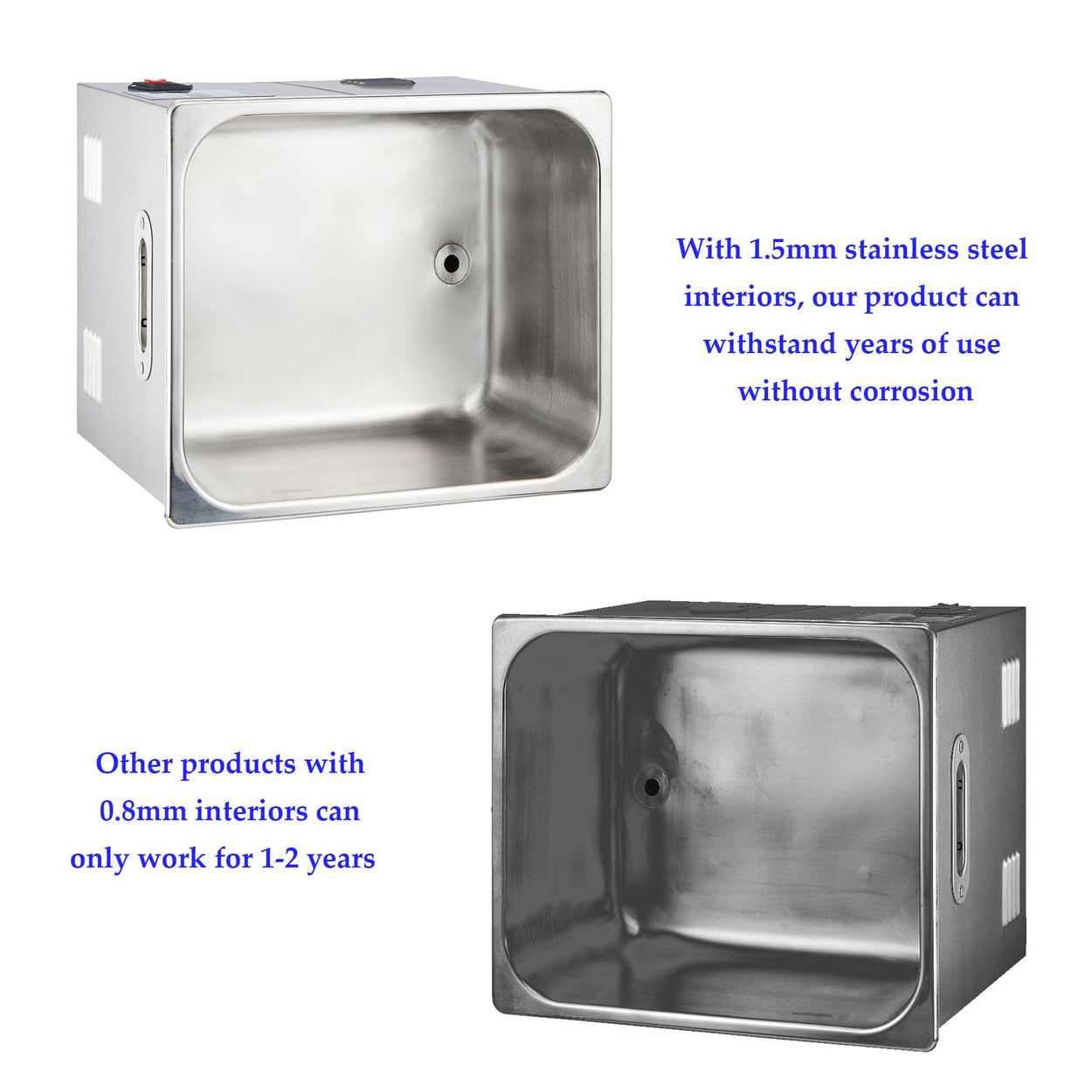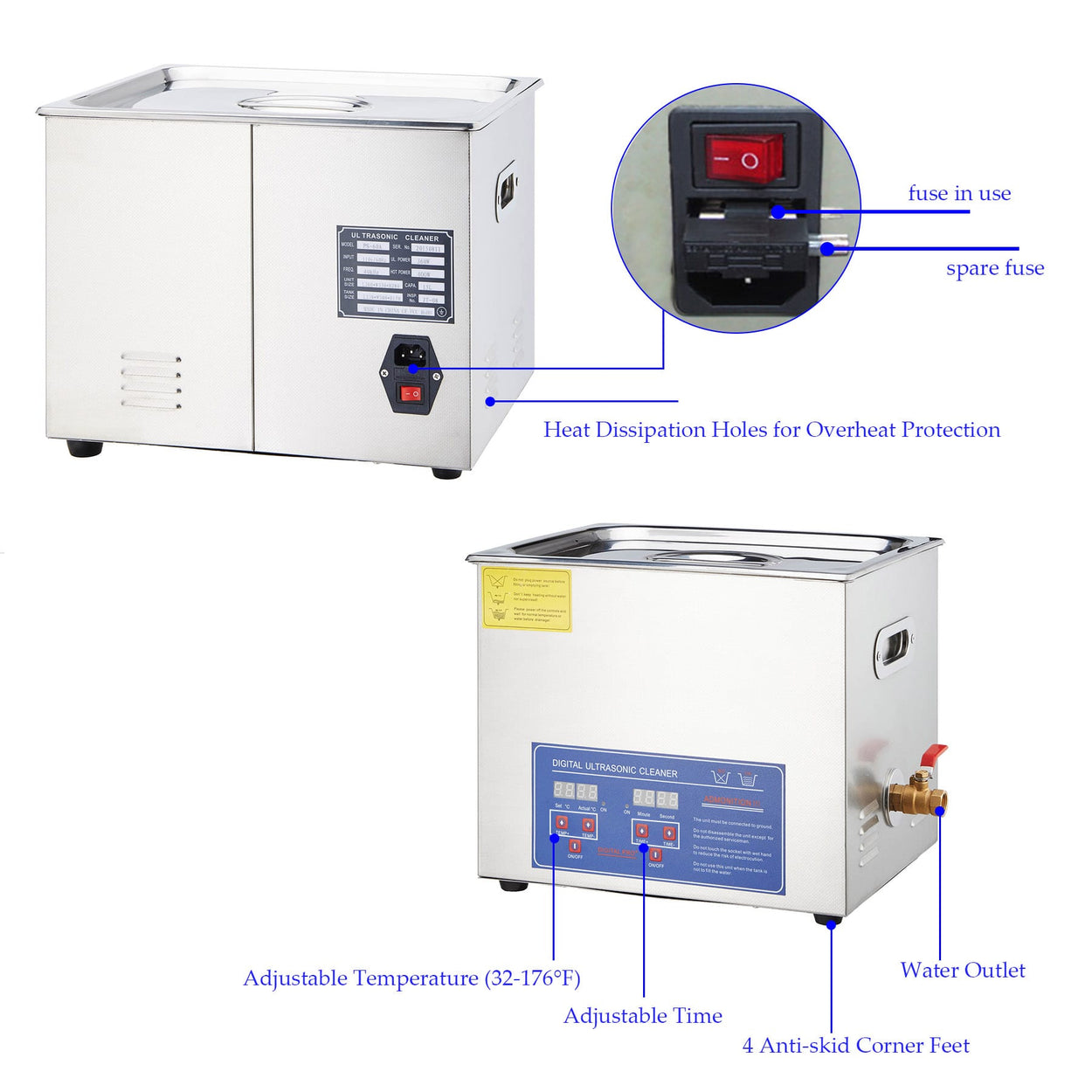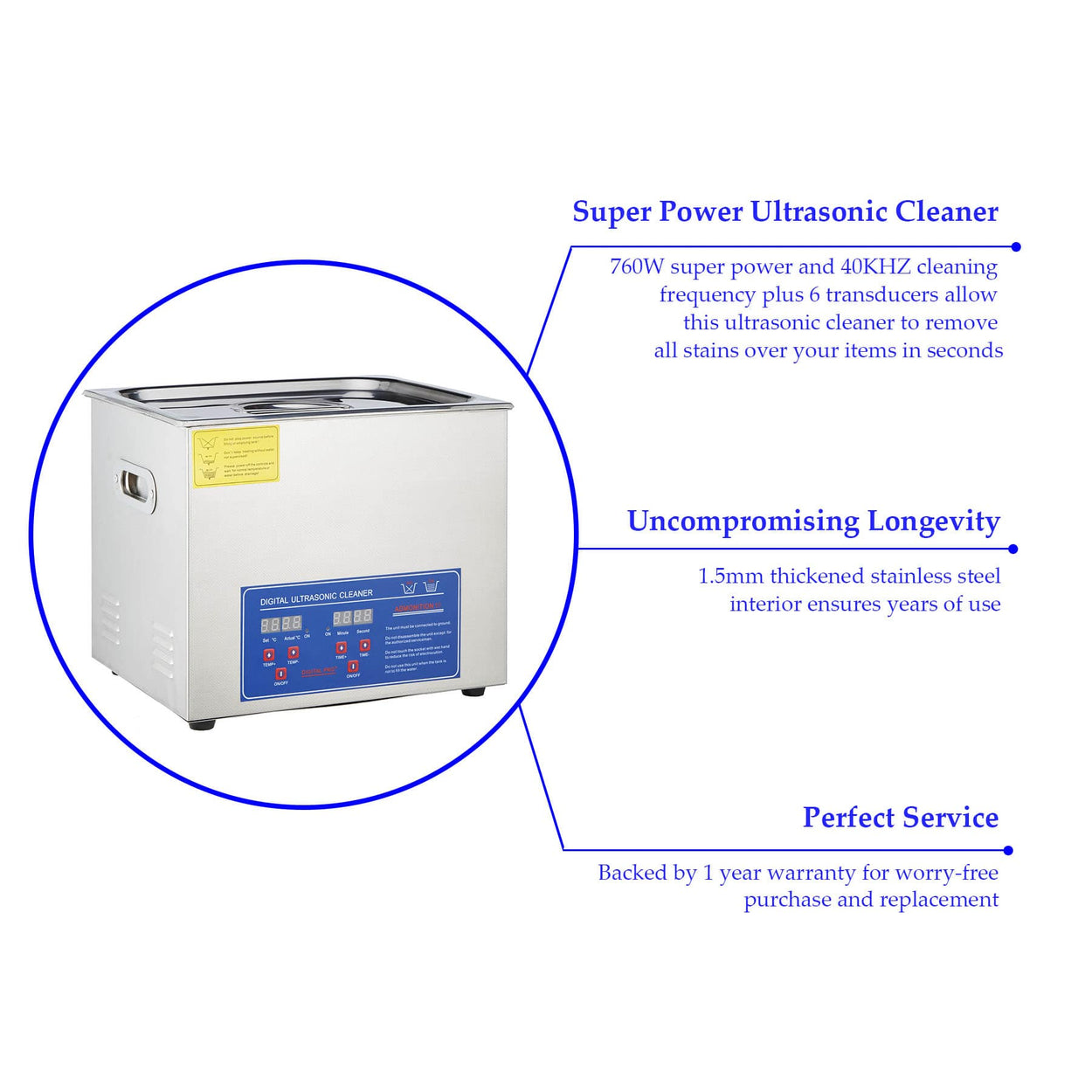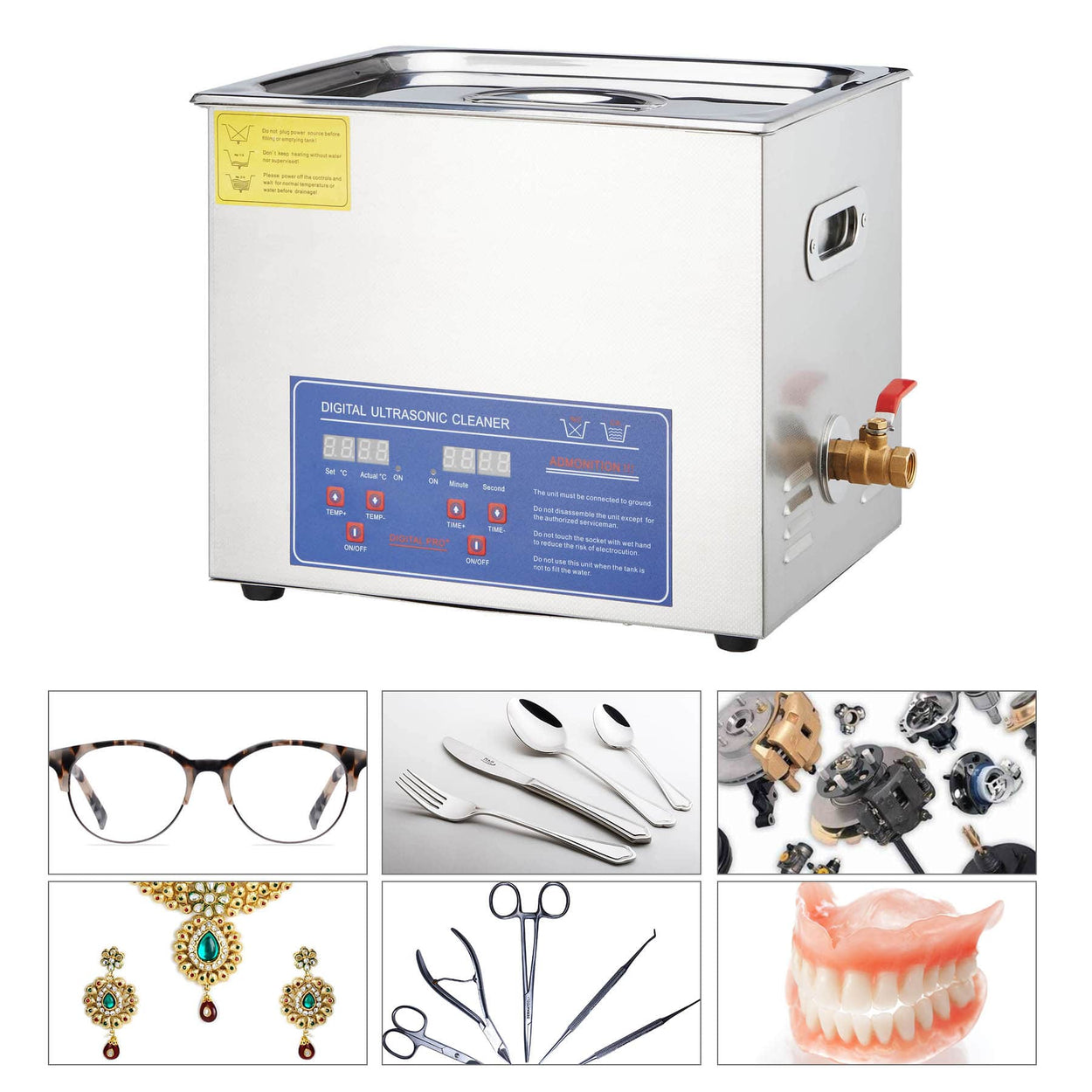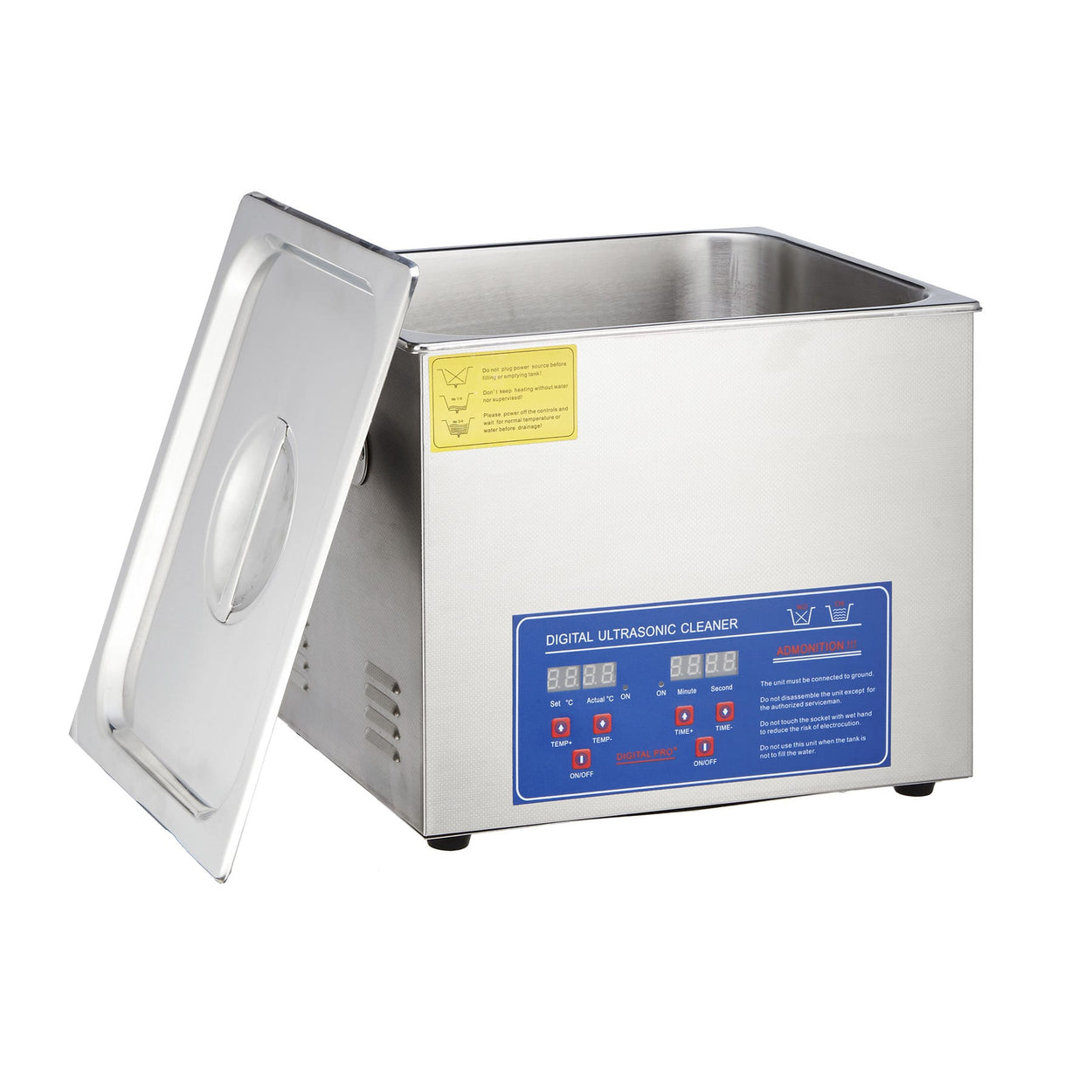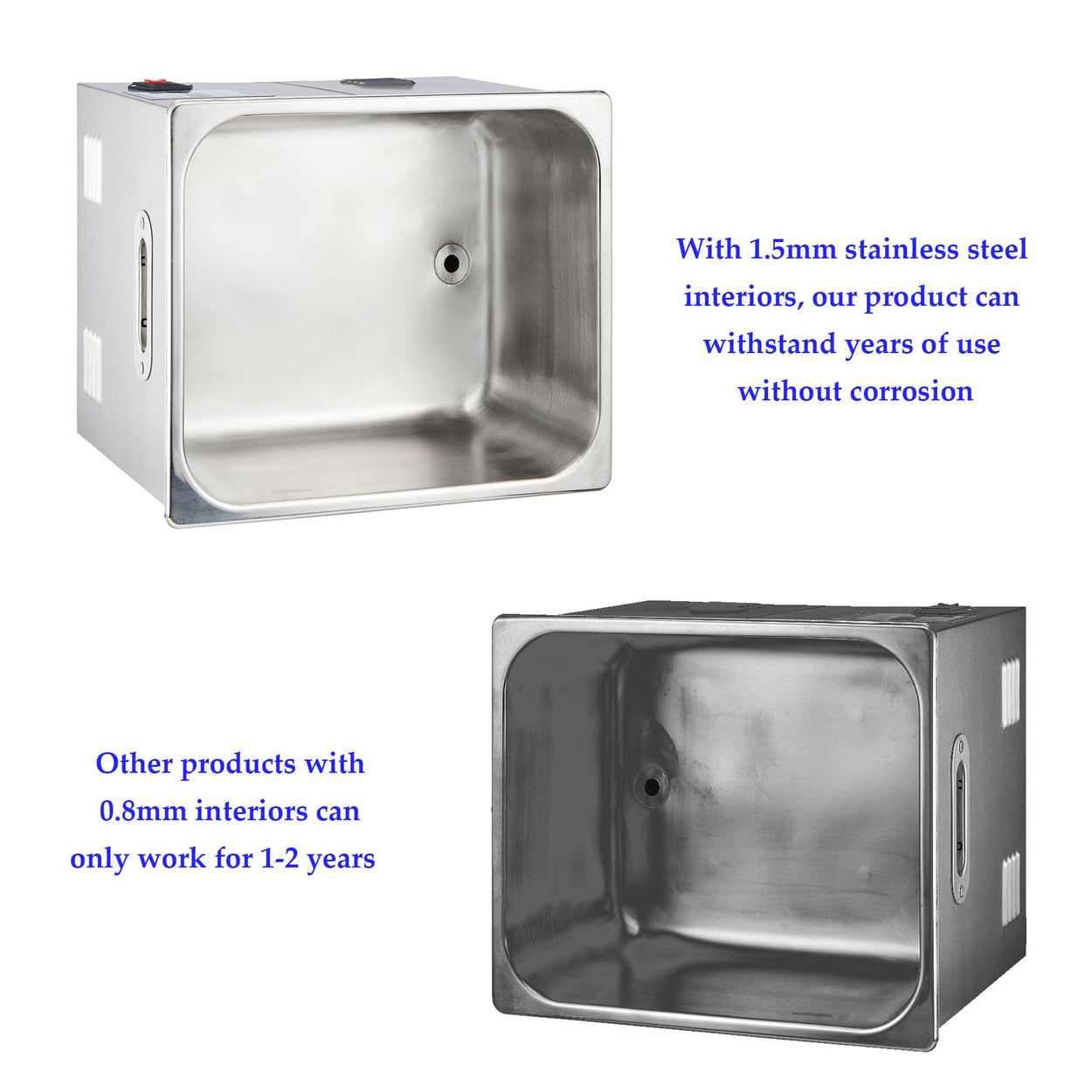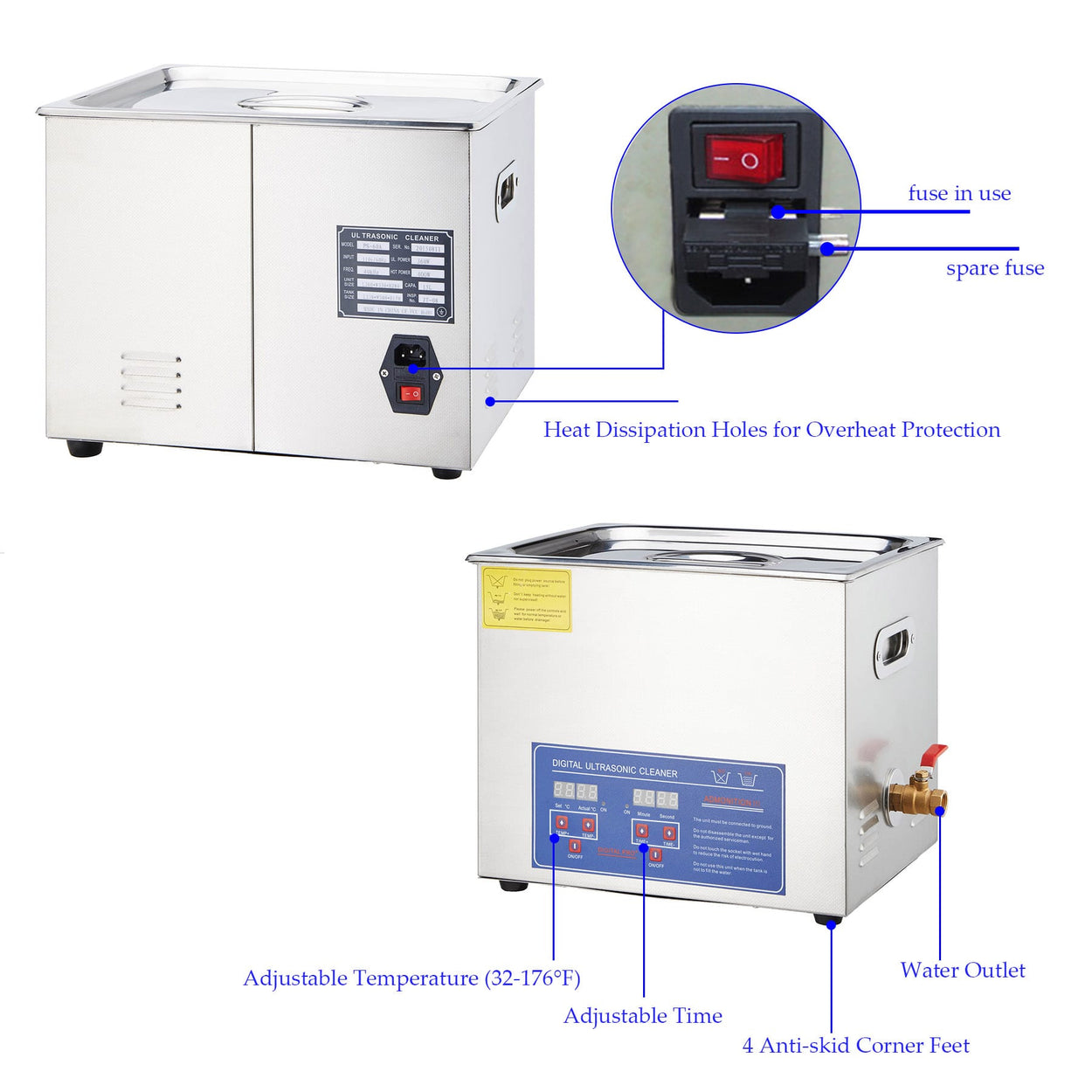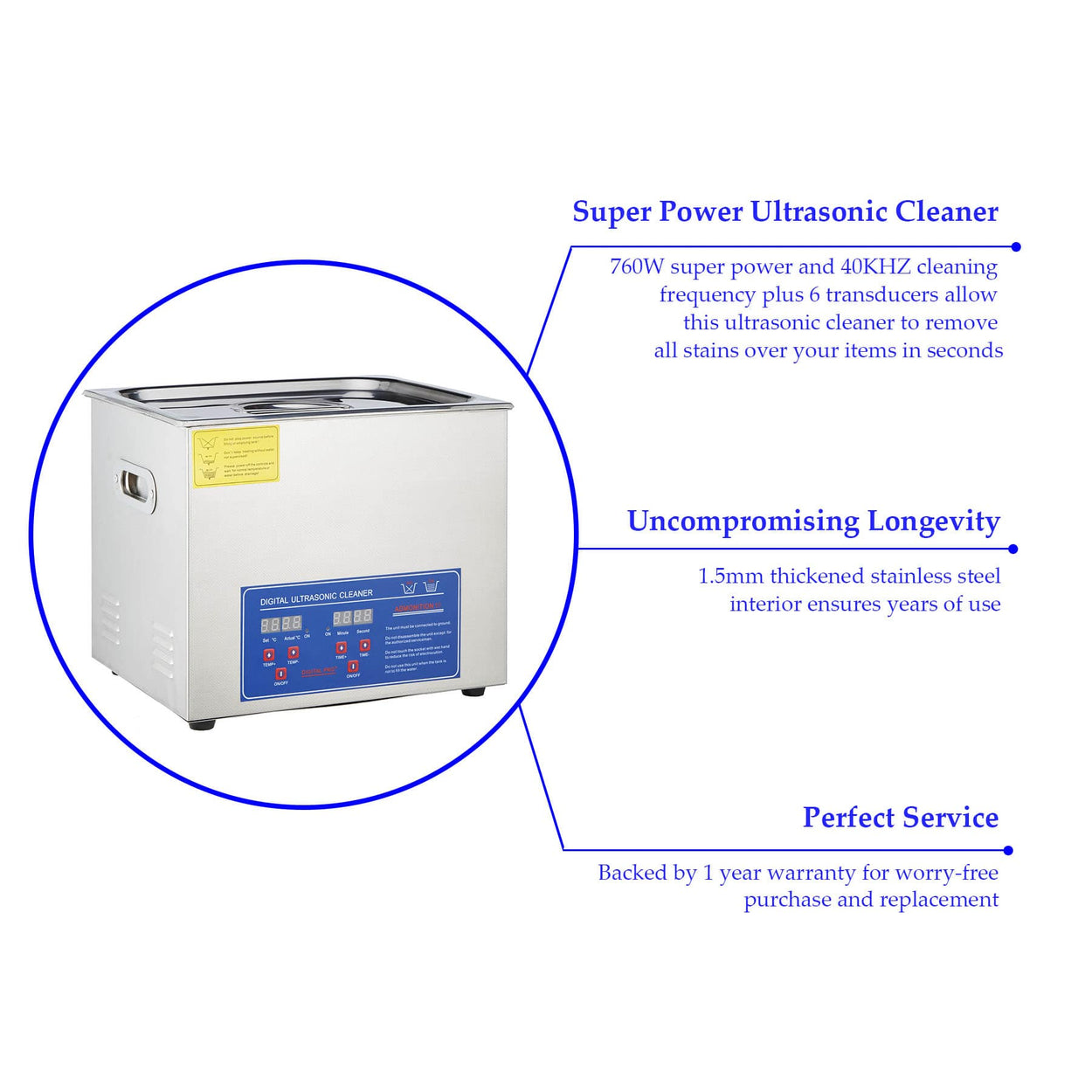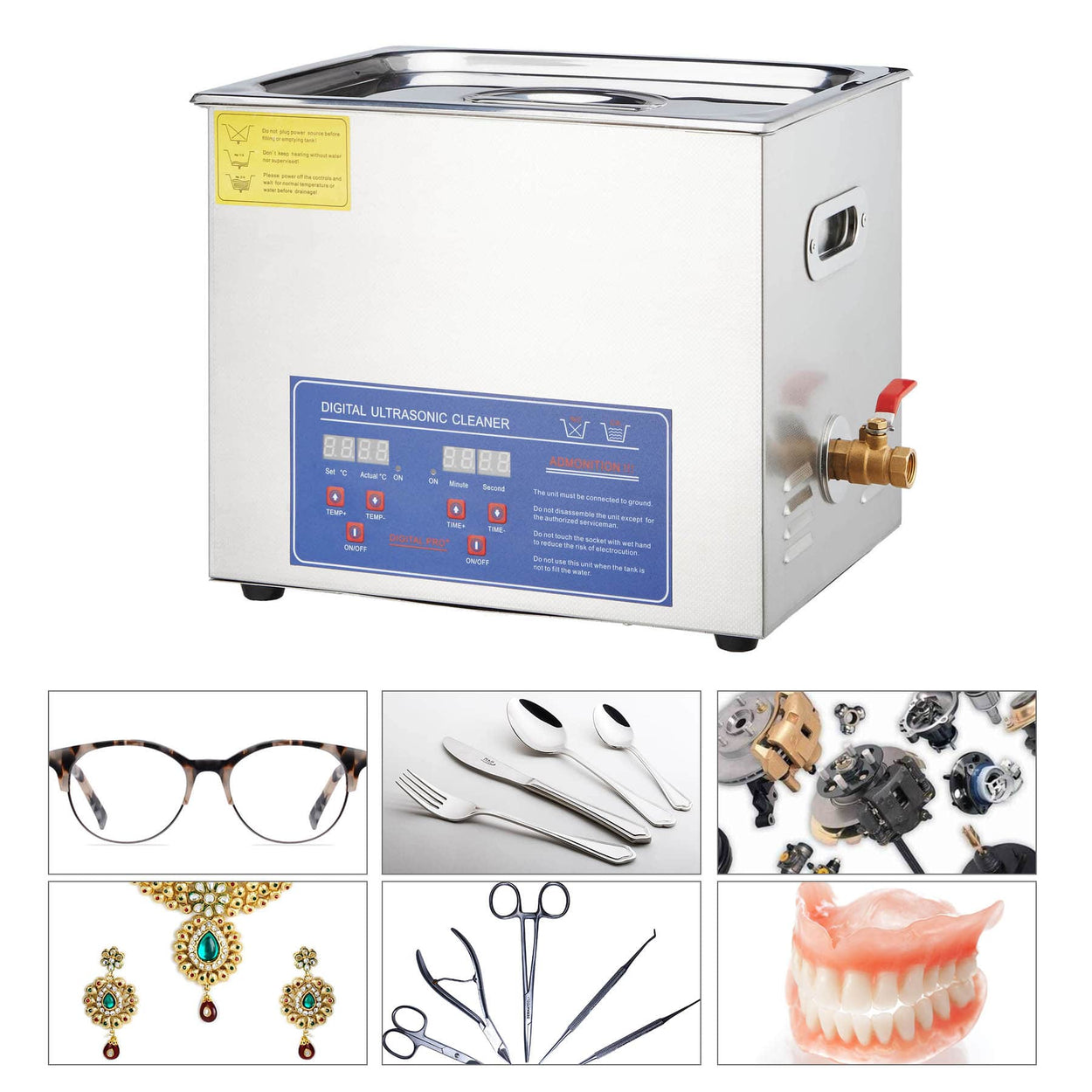 CO-Z
CO-Z Ultrasonic Cleaner with Heater Timer, 360W Professional Ultrasonic Cleaning Machine, 4 gal Stainless Steel Sonic Cavitation Machine with LED Display for Cleaning Jewelry Watch Glasses More
 Features:
STRONG CLEANING POWER: 6 ultrasonic transducers with 360W total power combine with 400W of heating power to easily sanitize valuables and small items. The latest technologies provide advanced cavitation, rust removal, and more.

THICKENED COMMERCIAL TANK: The heavy-duty 1.1 mm stainless steel tank with 15L (4 Gal) volume easily endures years of heavy use. The integrated 13"×11.8"×6" cleaning basket keeps your gold and silver rings, jewelry, watches, glasses, gun parts, razors, carburetors, dentures, and retainers in place.

CONVENIENT SETTINGS: Use the 104-140℉ (40-60℃) cleaning temperature range for optimal sanitation performance. Pre-set cleaning time options (1-30 minutes) provide a user-friendly experience. Performs best on small objects with flat surfaces and small holes, grooves, etc.

DIGITAL CONTROL PANEL: Easily monitor the machine's cleaning process through the LCD display with intuitive touch-button controls for the timer and temperature. Lower frequencies lead to better cleaning results but cause louder noises.
CO-Z 15L Ultrasonic Cleaner with Digital Timer and Heater
Carefully constructed with reinforced inner tank walls to offer prolonged ultrasonic cavitation that cleans every crevice, our industrial-strength cleaner is built to outperform and outlast the competition with its minimum 2-year service life. The digital control panel allows you to customize the temperature and working time to spotless a wide range of household and professional objects and tools. Once you've decided you need your things to be completely clean and reliably safe, look no further than this professional cleaning machine.
Applications:
Jewelry: Earrings, Necklaces, Rings, Bracelets, and Gemstones

Glasses and Timepieces: Glasses, Optical Lenses, Contact Cases, Watch Chains, and Waterproof (!) Watches

Home and Hobby Items: Utensils, Coins, Brushes, Combs, Razor Blades, and Electric Shaving Heads

Professional Tools: Valves, Nozzles, Electronic Components, Tattoo Guns and Tubes, Lab and Dental Equipment

Stationery: Printer Heads, Ink Cartridges, and Seals
SUPERIOR CONSTRUCTION FOR SUPERIOR CLEANING
Food-Grade Stainless Steel

The cover and cleaning basin is made from food-grade 304 stainless steel for safe work and easy cleanup.

Holding Basket

This stainless-steel basket supports your objects during cleaning, protecting them and the inner wall of the basin.

⅜″ Drainage System

This cavitation device pours out its used water from a ⅜″ port made of durable and corrosion-resistant copper.

Intuitive Controls

Easily and exactly configure both temperature and time to cleanse your items perfectly every time!
15L Ultrasonic Cleaner Specifications
| | |
| --- | --- |
| Frequency | 40kHz |
| Ultrasonic Power | 360W |
| Heating Power | 400W |
| Duration Control | 0-30min |
| Size of Cleaning Tank | 13"×11.8"×6" |
| | |
| --- | --- |
| Material | SUS304 Stainless Steel |
| Power Supply | AC100-120V/60Hz |
| Net Weight | 22 lb |
| Temperature Setting | 104-140℉(40–60°C) |