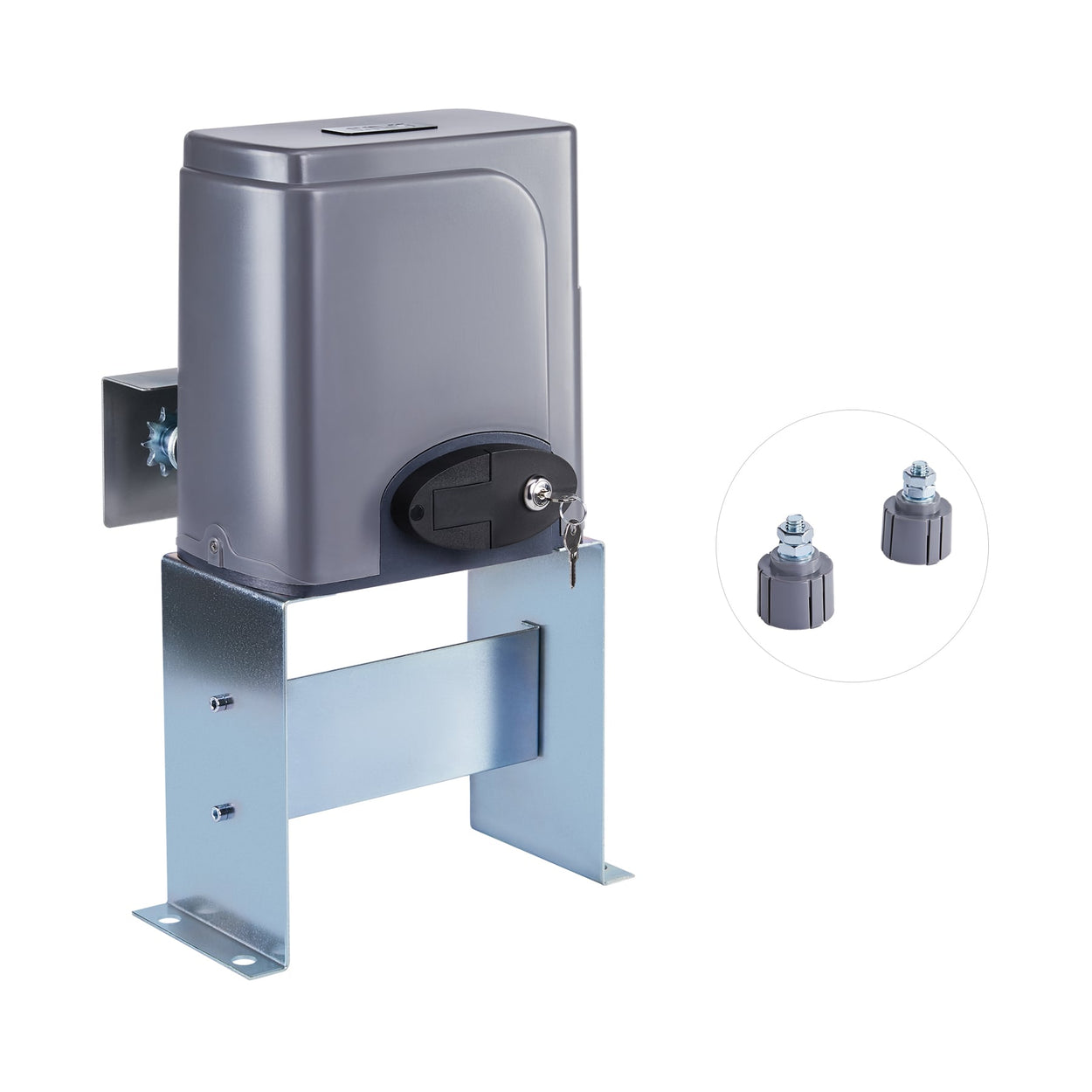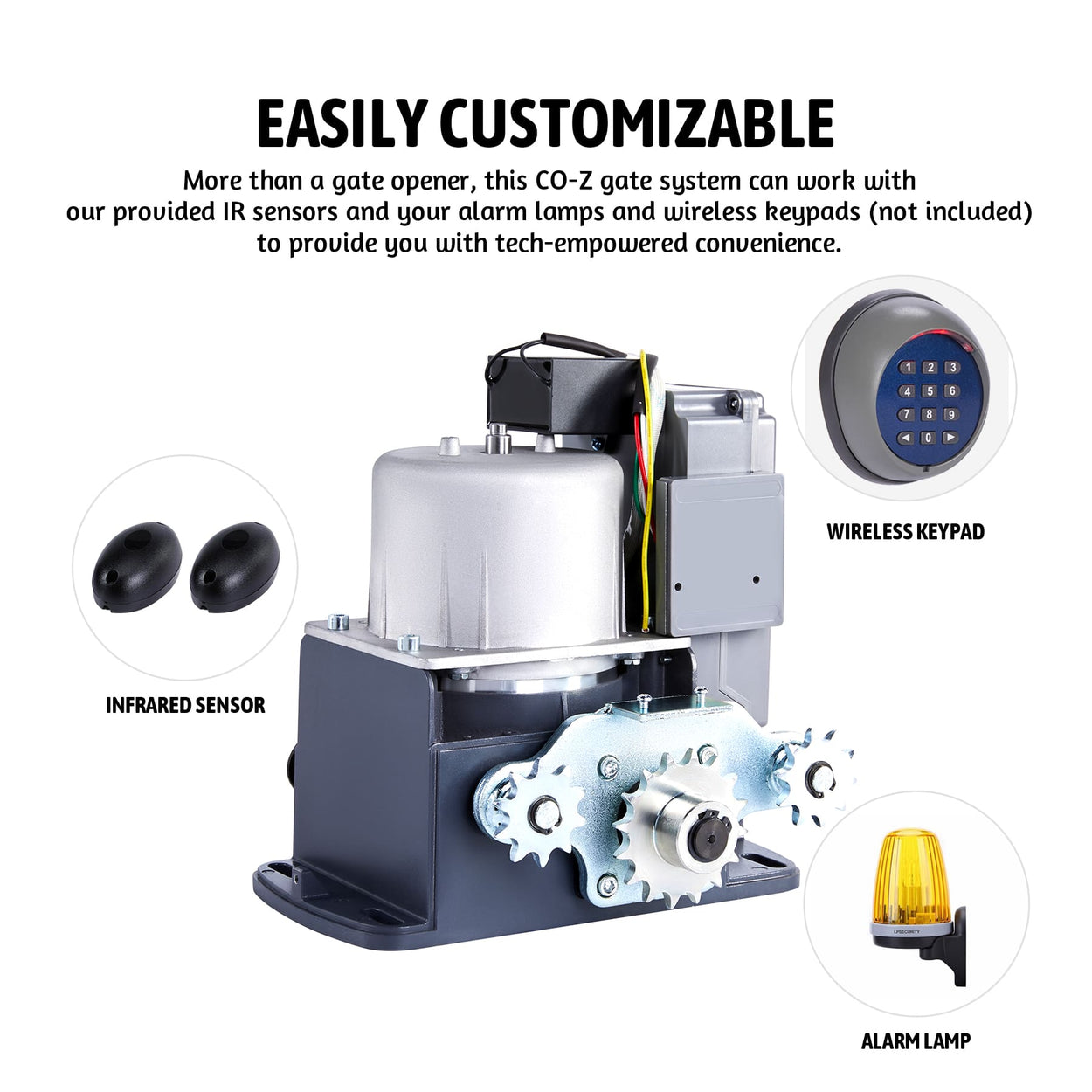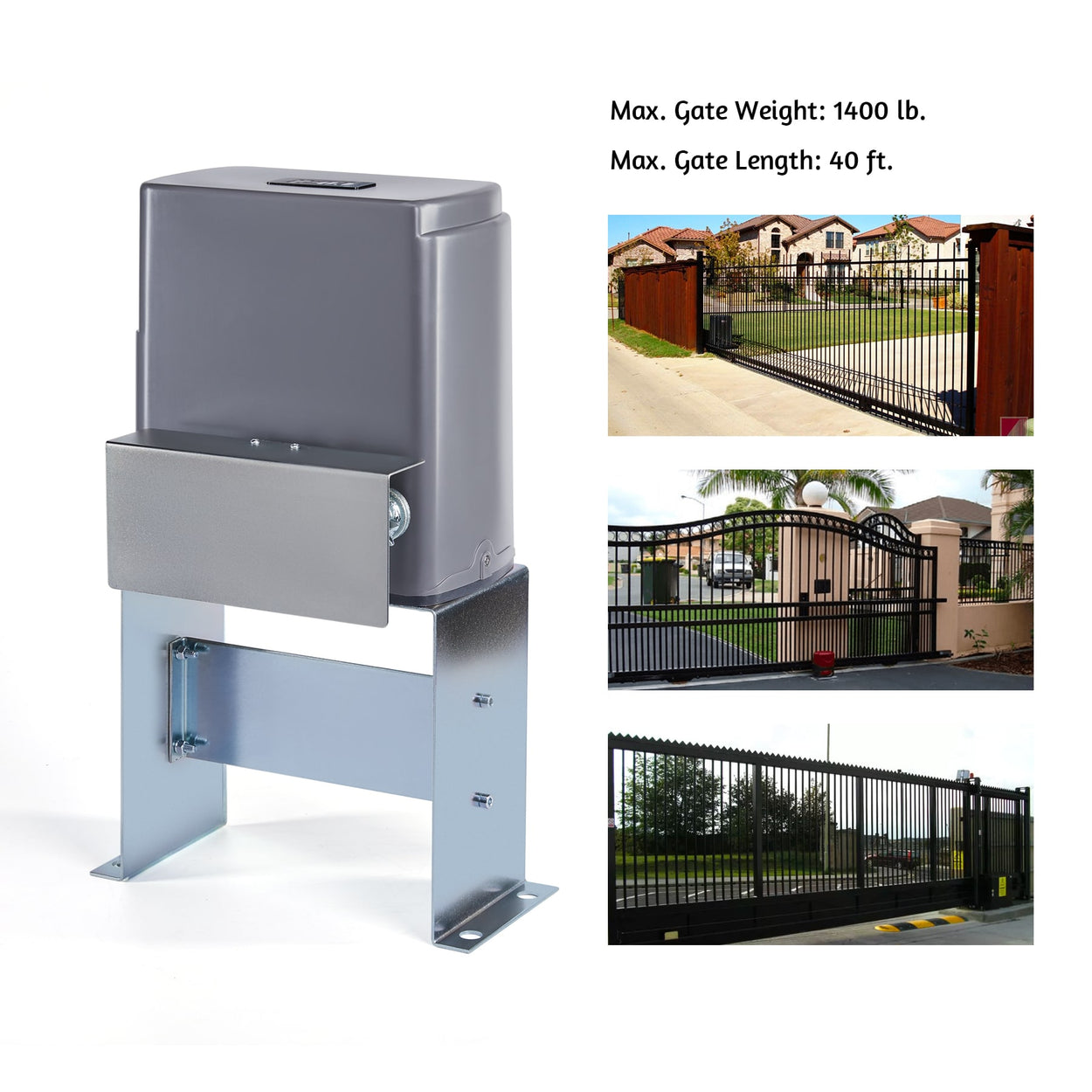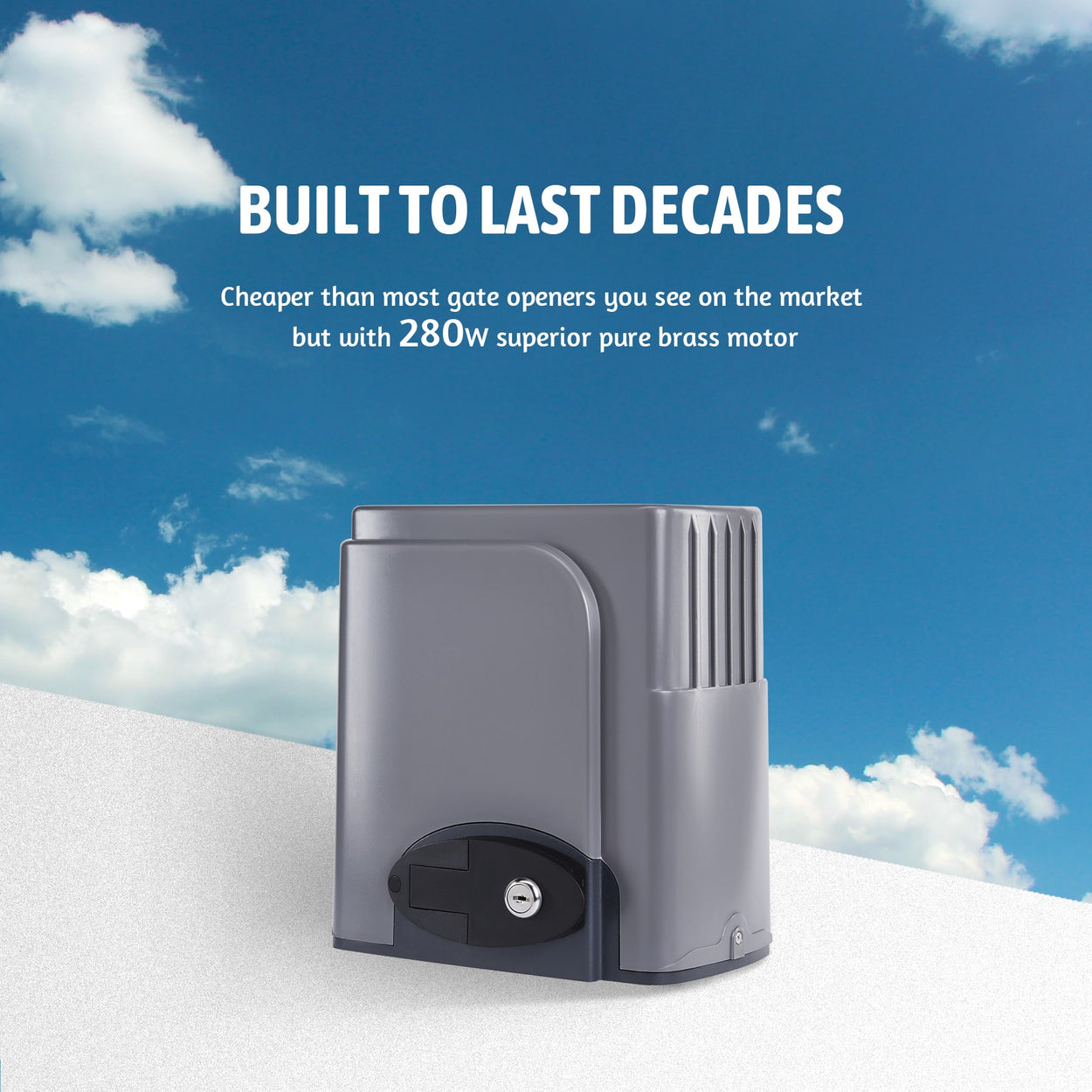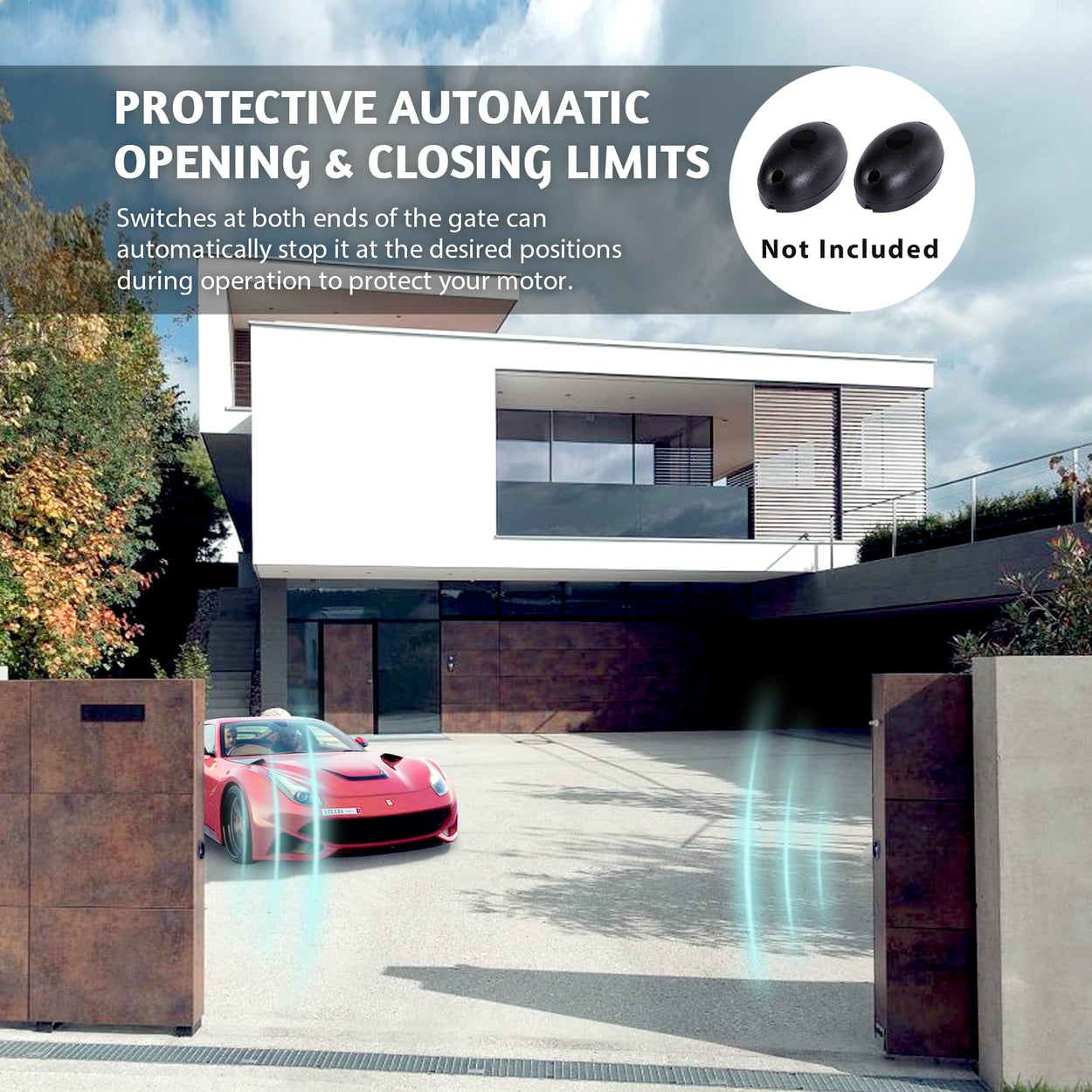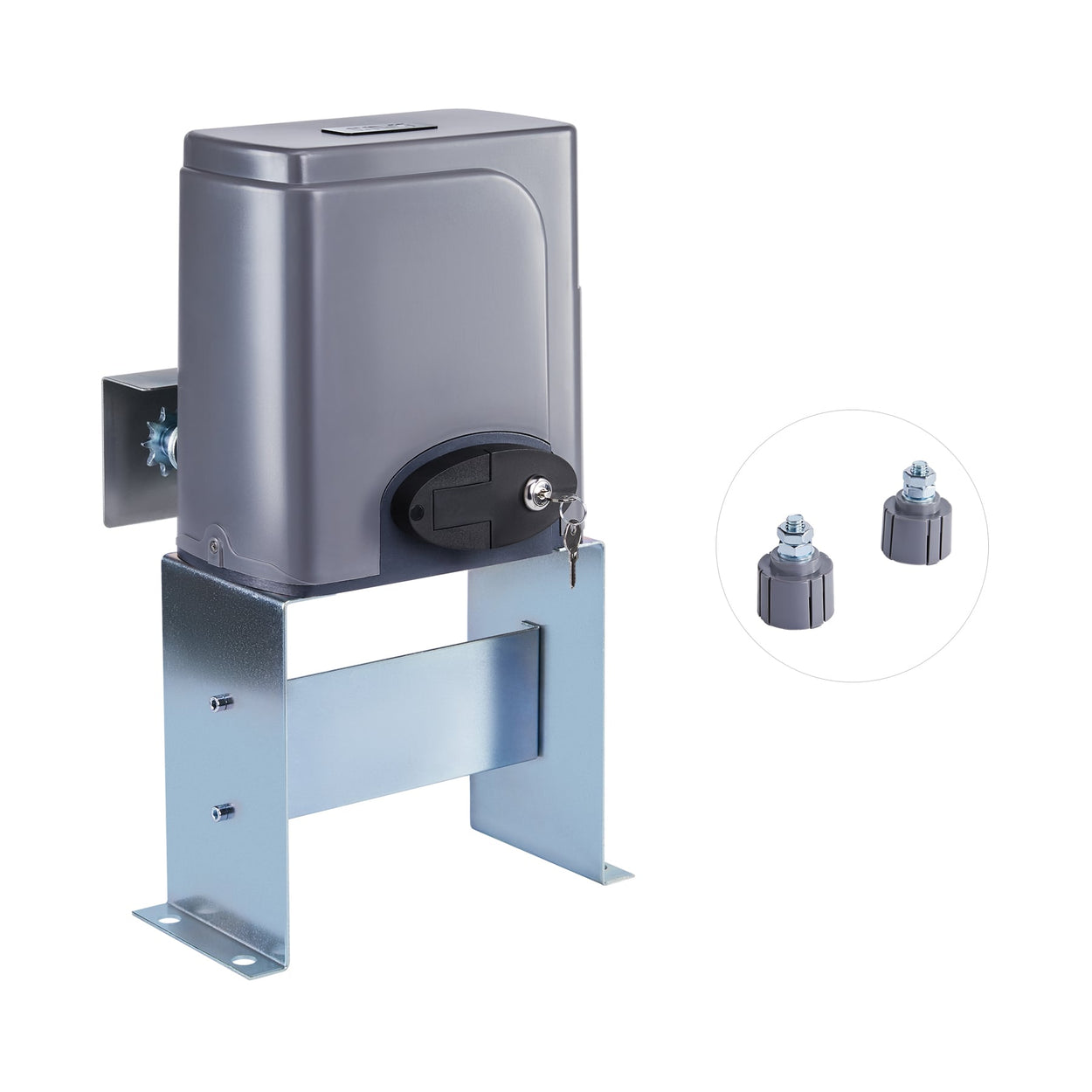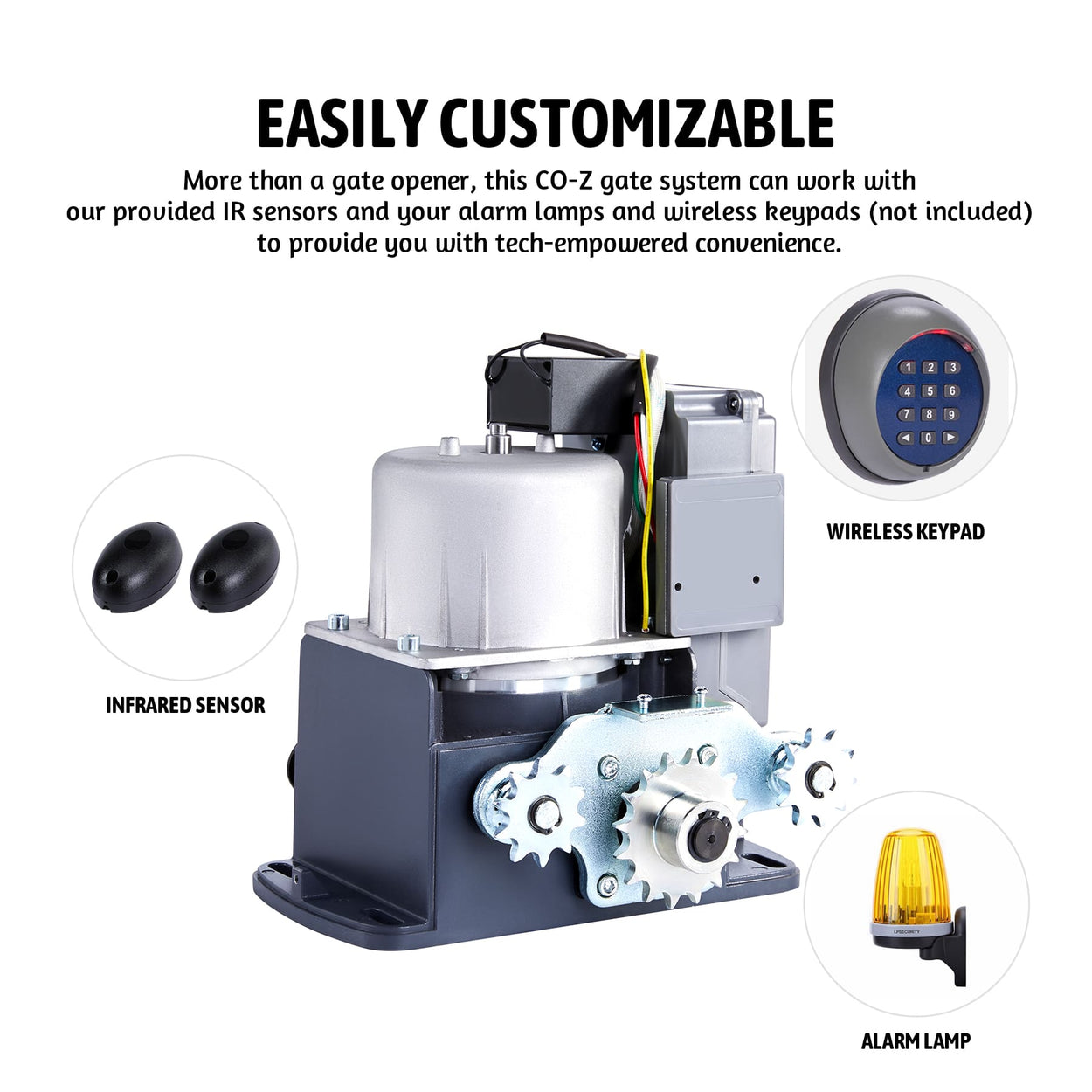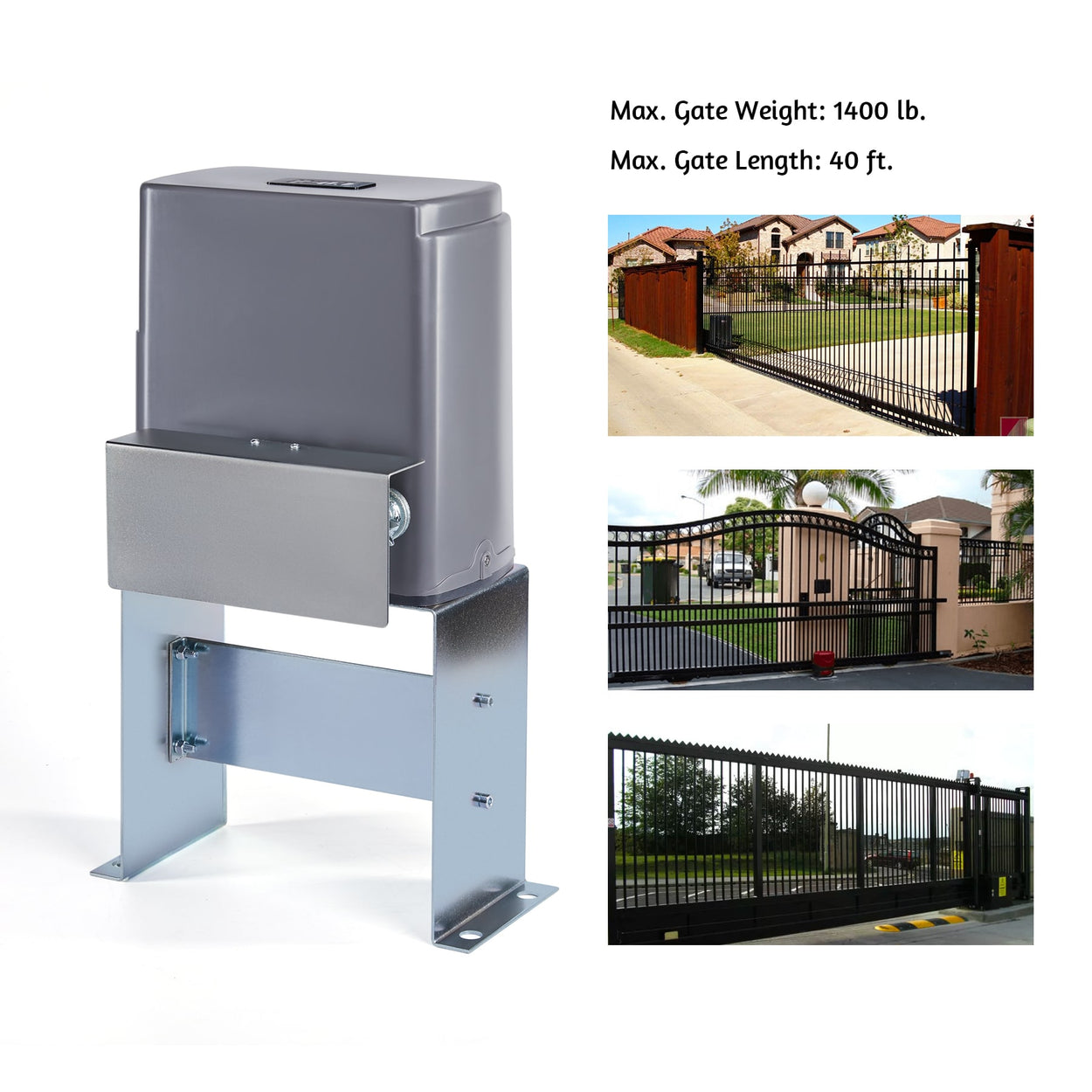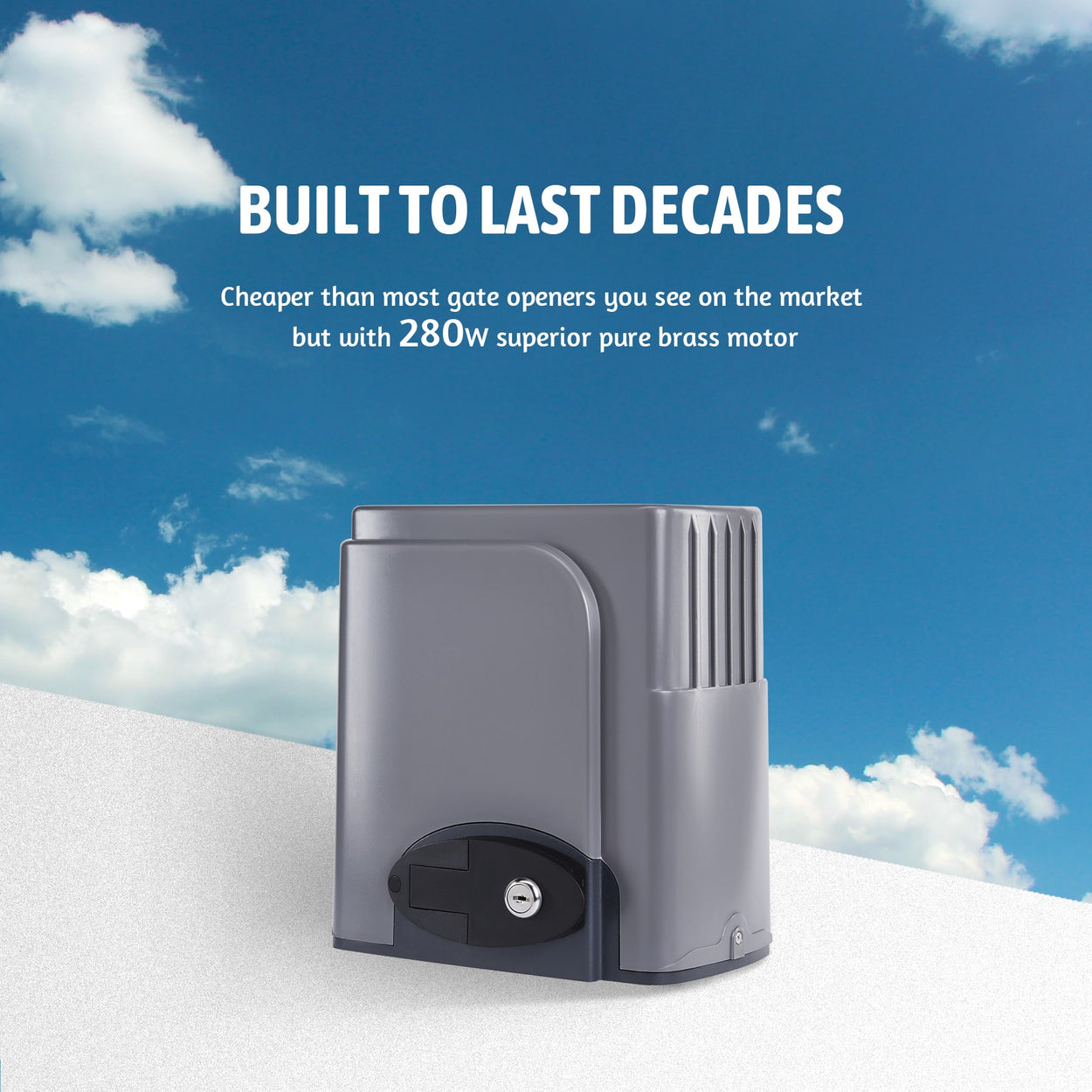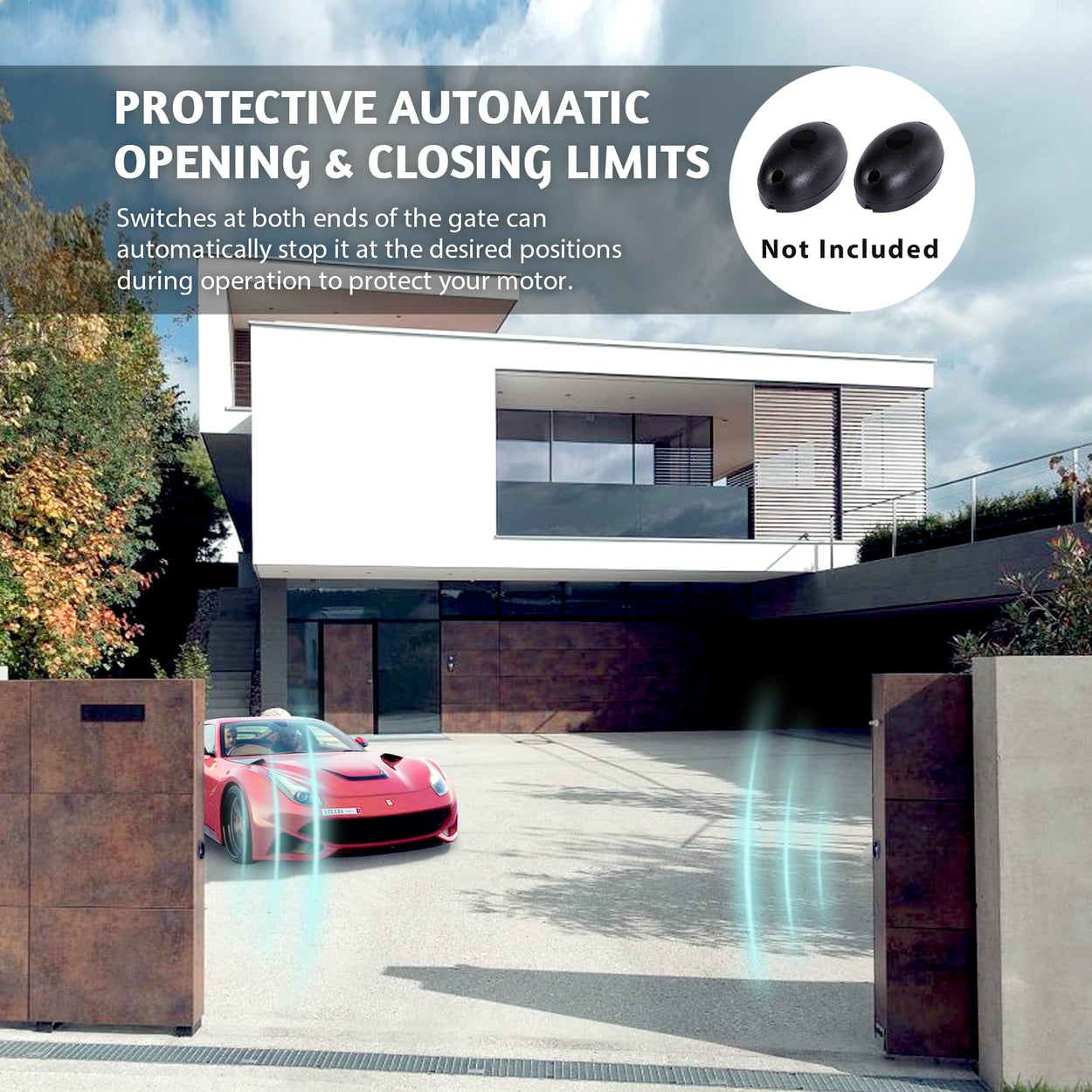 CO-Z
CO-Z "Hevy-Duty 1400 lb Sliding Gate Opener - Stainless Steel Design
Features:
Stainless Steel

For 40 ft. & 1,400 lb. Gate:This product is designed for heavy-duty sliding gate up to a maximum length of 40 ft. (includes 20 ft of chain) or a maximum of weight of 1,400 lb.
Quiet & Powerful 280W Motor:The integrated 280W AC motor drives the gate opener smoothly at the speed of 43 ft. /min while producing less than 56 dB noise.
Auto-Close Feature:Featuring an auto-close option, this slide gate opener can be set to close in 12, 24, or 36 seconds after it opens; you can add 23 more remotes to control this system for convenience.
100 ft. Range:The complementary remote controls operate perfectly within 100 ft, so you do no get out of your car to open the gate ever again, comes with 4 buttons for open/close/stop open/close stop.
Durable with Unparalleled Safety :Constructed with aluminum base, copper worm-gear for durability; CE approval for ultimate safety. RF Hopping Code Technology prevents your remote code from being accessible to others. Suitable for 110V.




Why do you need a gate opener?

 

Privacy & Security: Gates keep you and your family safe by keeping uninvited guests outside. Our opener locks your gates against manual use unless accessed by your remote or manual override key.

Convenience: Manual gates require getting in and out of your car, which is even more of a pain during inclement weather.

Decor: Automated front or rear driveway gates are a great decorative feature for your home, increasing its value and your convenience.

Home Value: Automatic gates not only increase your property value but have also been proven to make your home easier to sell once the time comes.

 

What do you need to know to choose the best for you?

 

Your Gate's Length and Weight

Your Gate's Type (Sliding, Single Swing, Dual Swing, etc.)

Your Desired Additional Functions (IR Sensor, Wireless Keypad, Solar Panel, Bluetooth, Extra Batteries, etc.)

Your Budget

 

Why should you choose a CO-Z gate opener?

 

Extensive Remote Range: Our openers can process commands from your remote up to 100 ft, in or out of your car.

Auto-Close Functionality: The gate stays open for 15, 30, or 45 seconds before automatically closing. Sensors protect you from accidents.

Protection against Overheating: The thermal protector automatically switches off the motor over 120° to avoid damage.

Encryption: Our gates' receiver/transmitters are equipped with high-end encryption to prevent unauthorized access.

 

DIY Lovers' Preference

Perfect for DIY lovers, same quality but easier to install, our gate opener operates smoothly and delivers outstanding performance with the capability to open gates up to 3,300 lb. Versatile and can be upgraded with a few more functions with the compatible accessories. (Including solar power recharge, auto-stop function, emergency notification etc.)

 

Convenient Remote Control

Your gate comes with 2 remote controls that can be securely matched during installation and operate the gate from distances of up to 100 ft. whether on foot or in your car. The gate opener's control system can be matched to up to 25 remotes to accommodate large families and small businesses.

 

Magnetic Limit Switches

The magnetic limit switches set the gate's maximum open and closed positions and ensure safe operation. The switches automatically buffer the gate's operation and keep it from misalignment or going off the rails.

 

Failsafe Manual Release

If the remote controls are not around or there's a power outage, Plan B to open the gate is your manual release keys, which easily unlock the automated gears and let you push it open by hand.