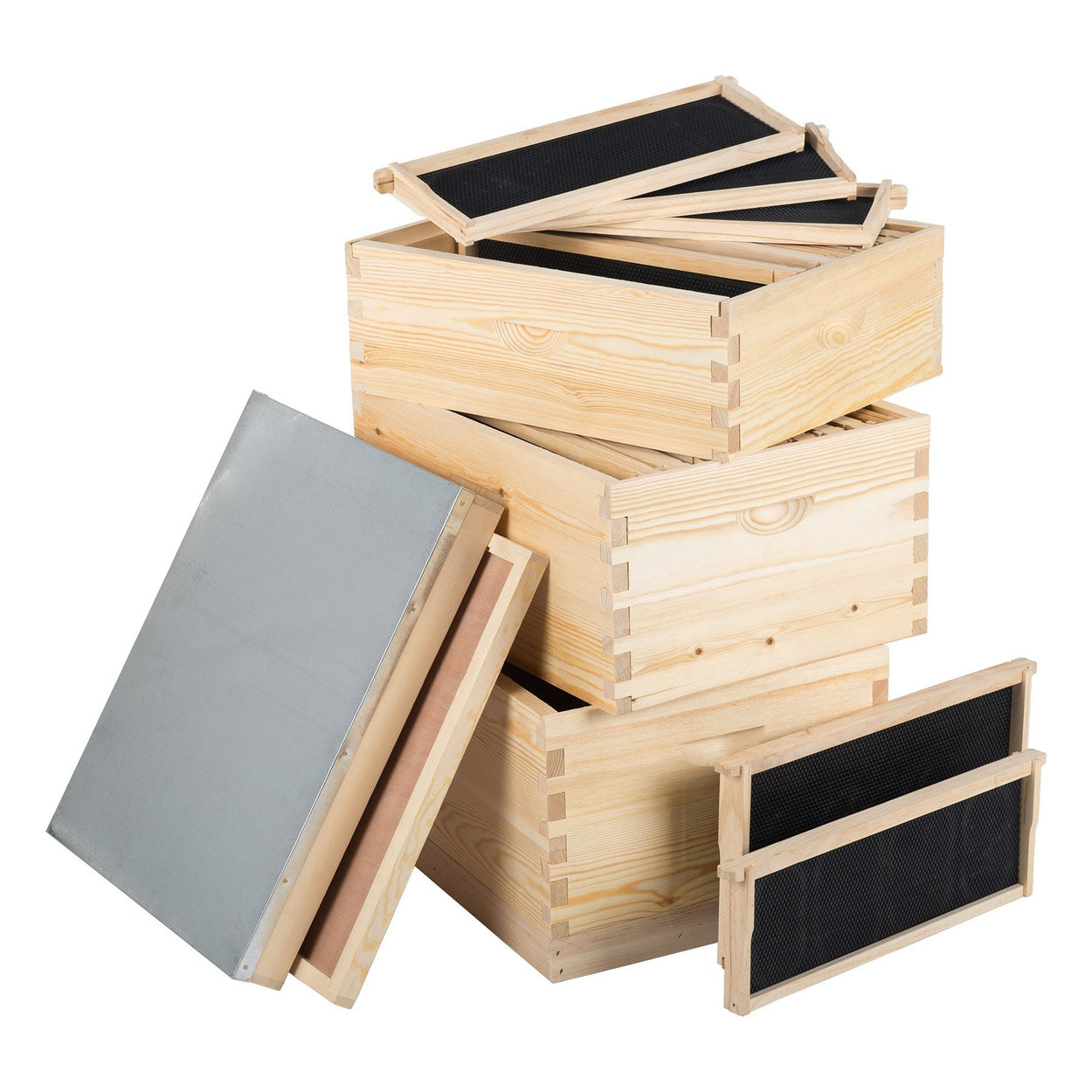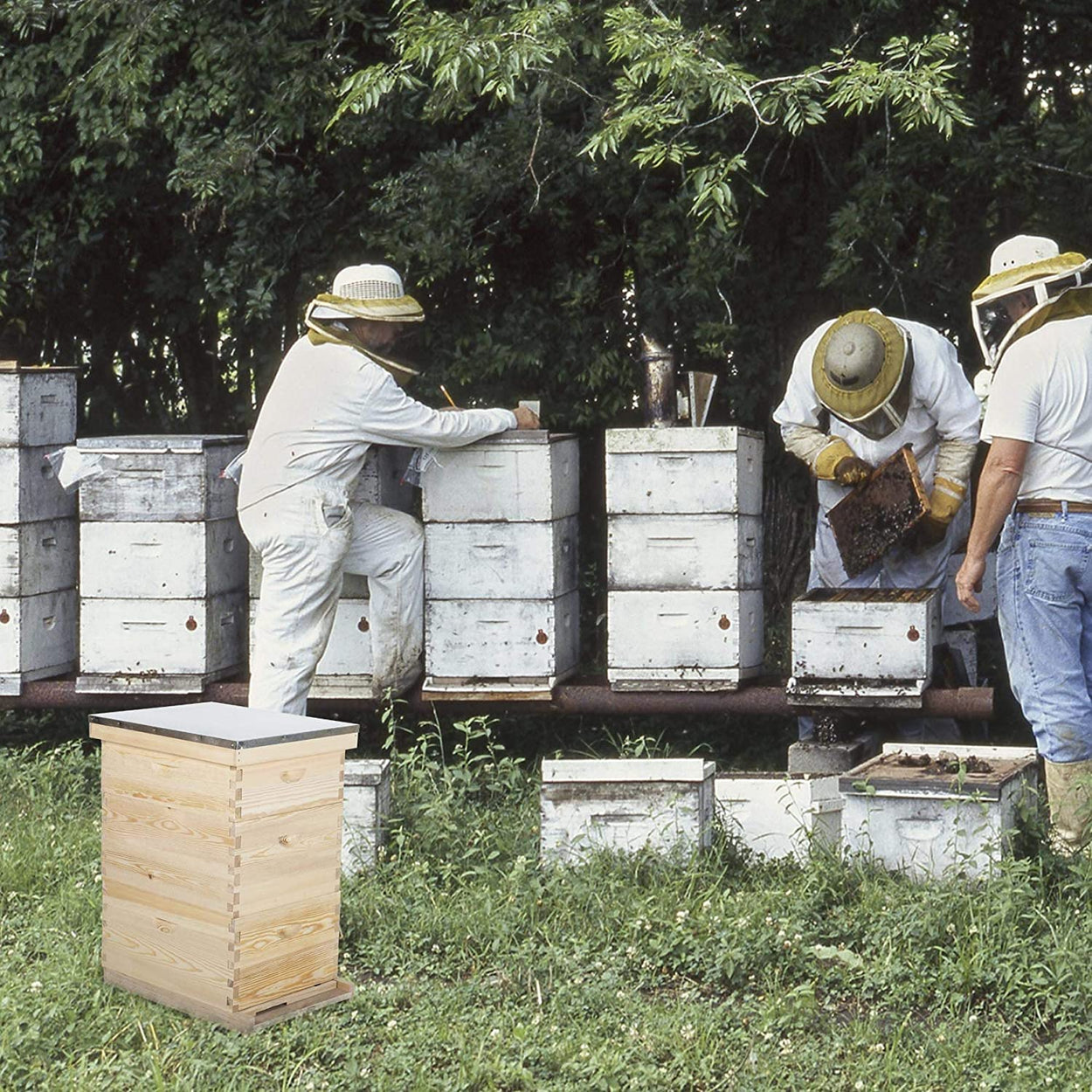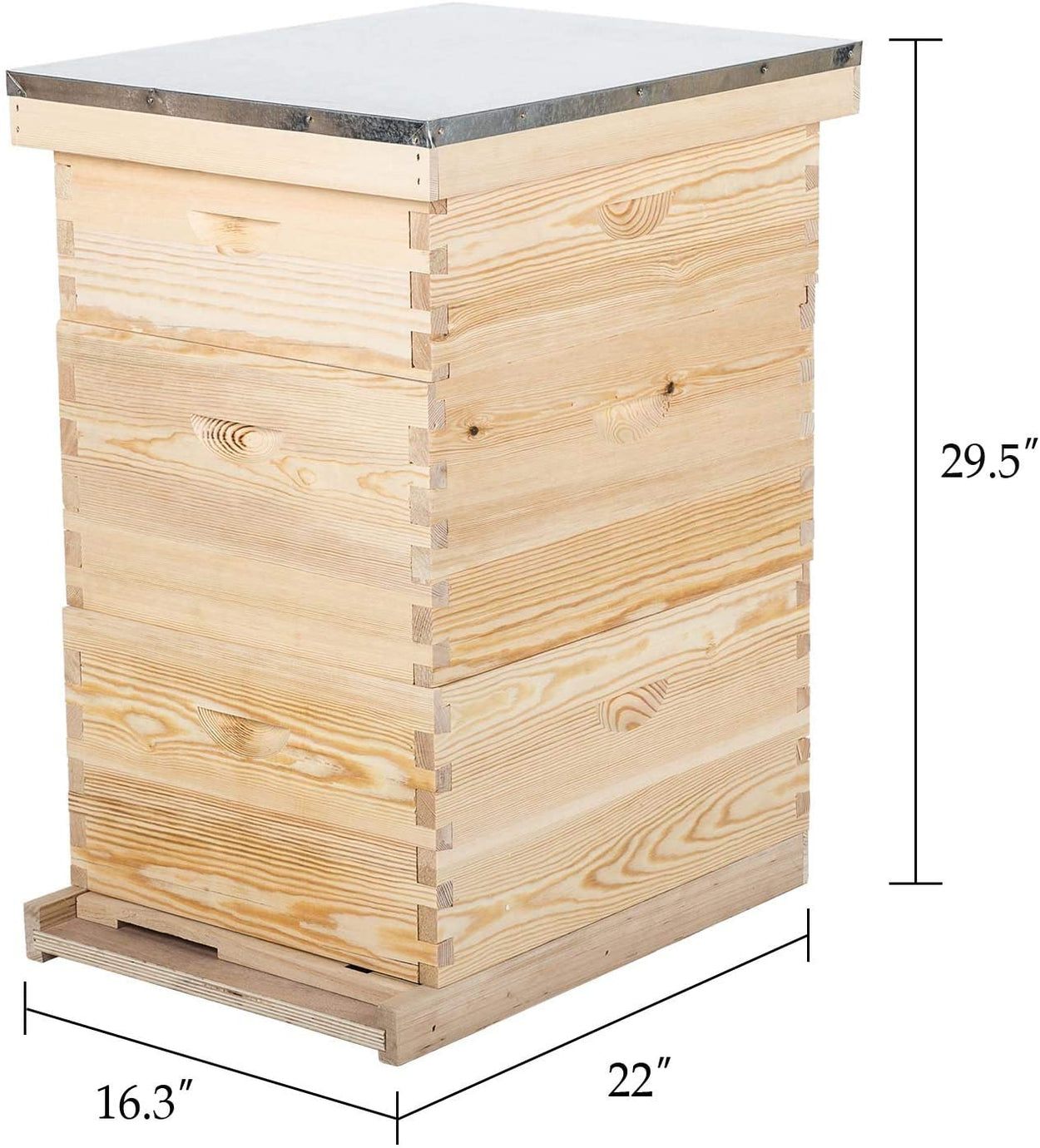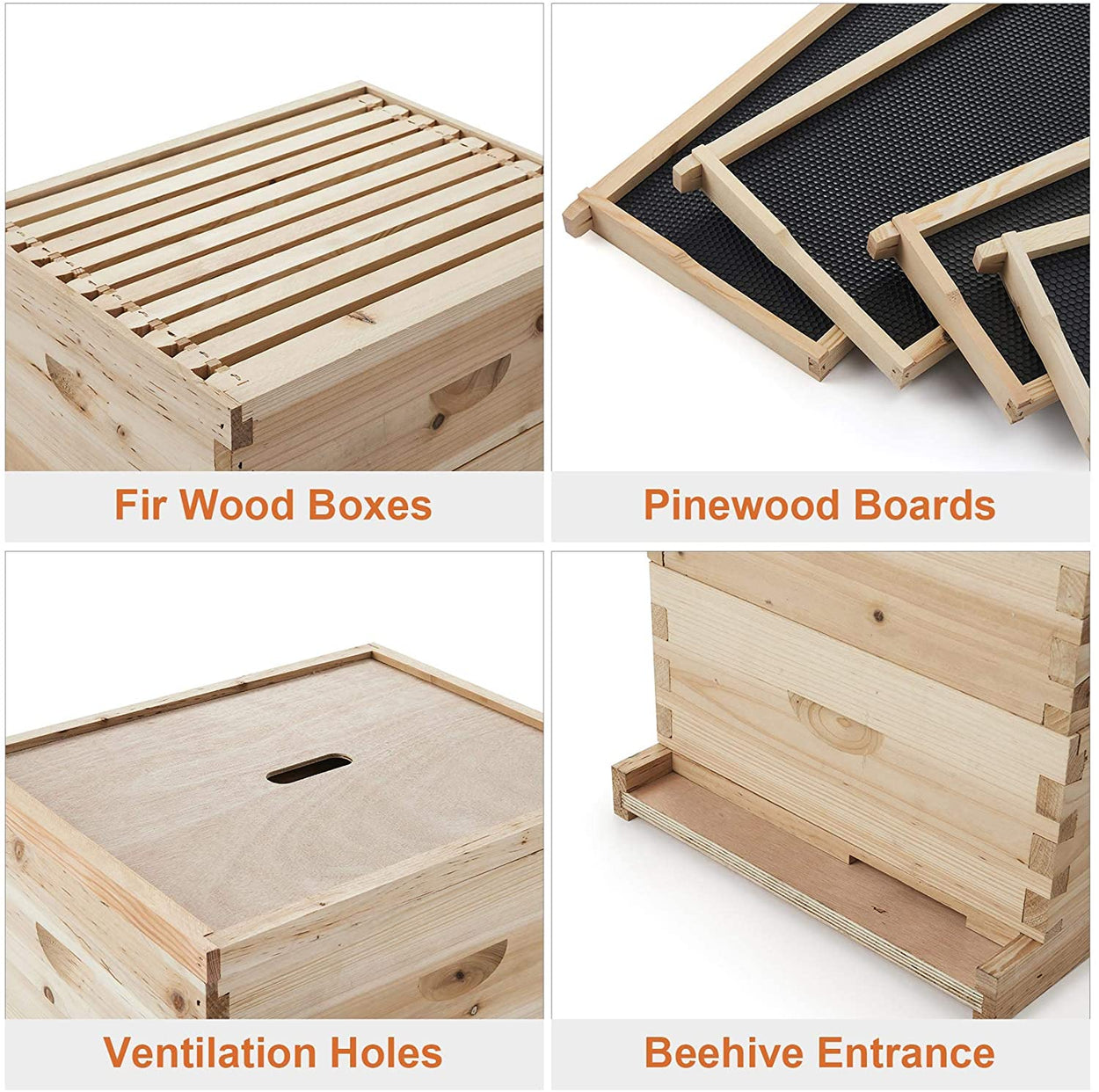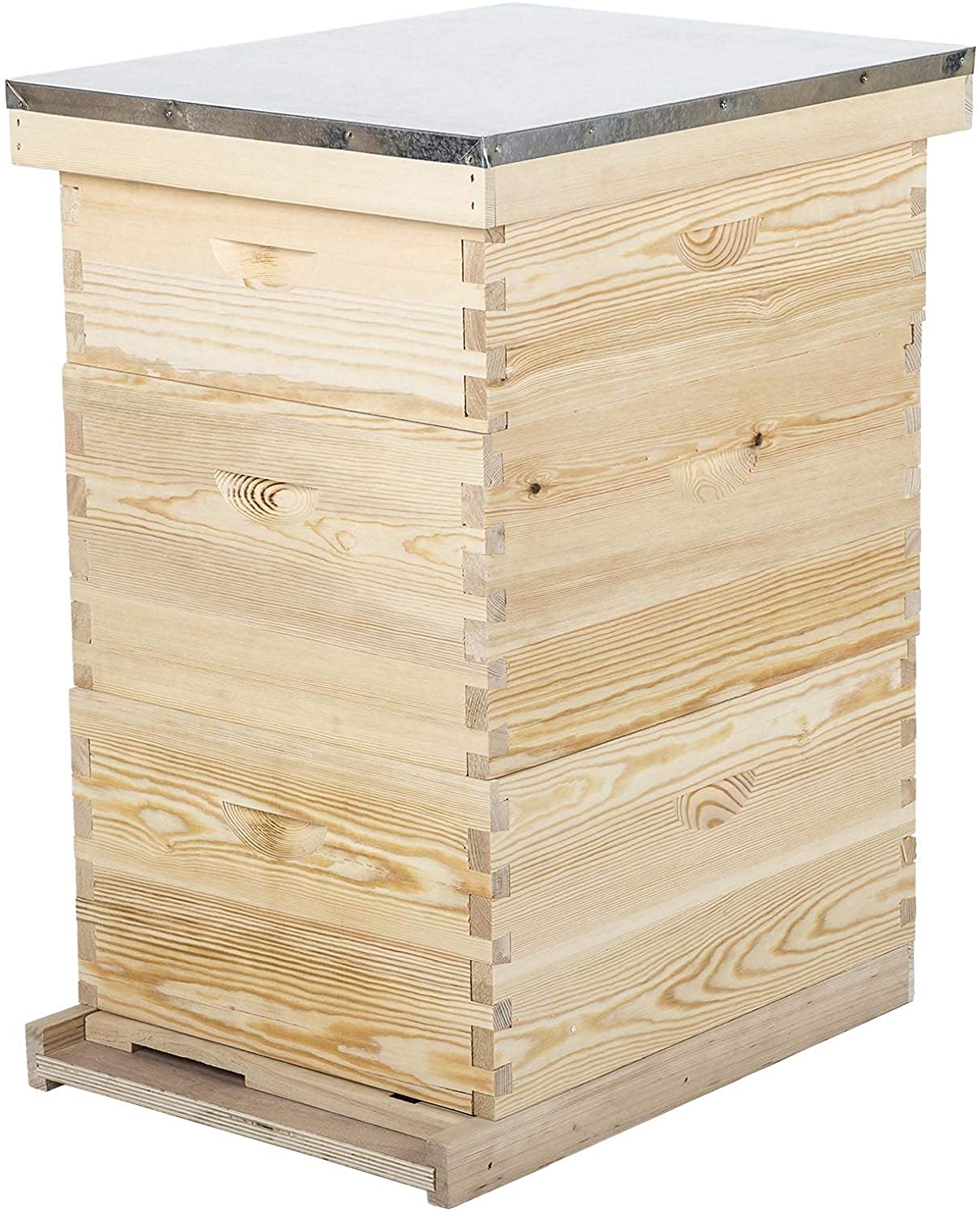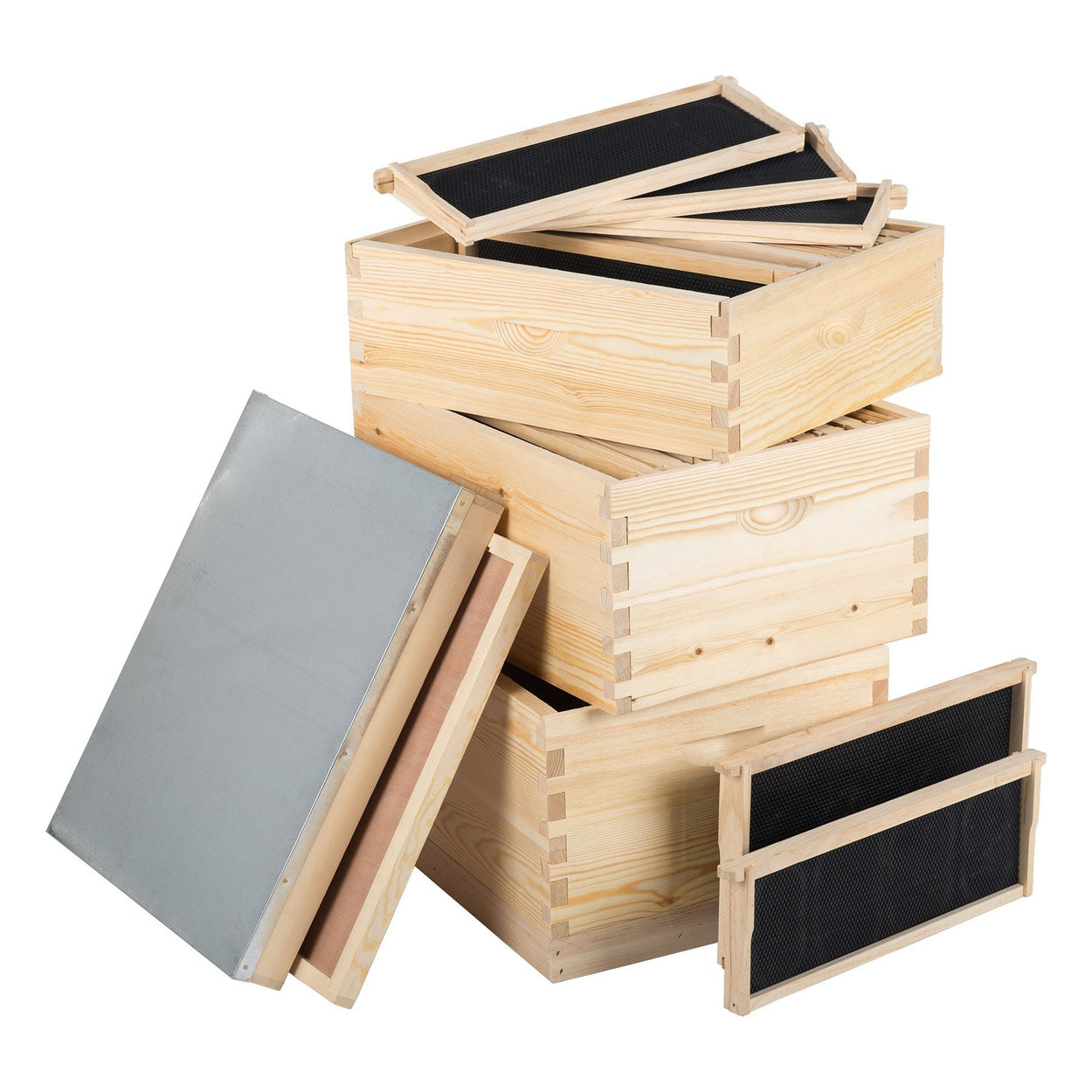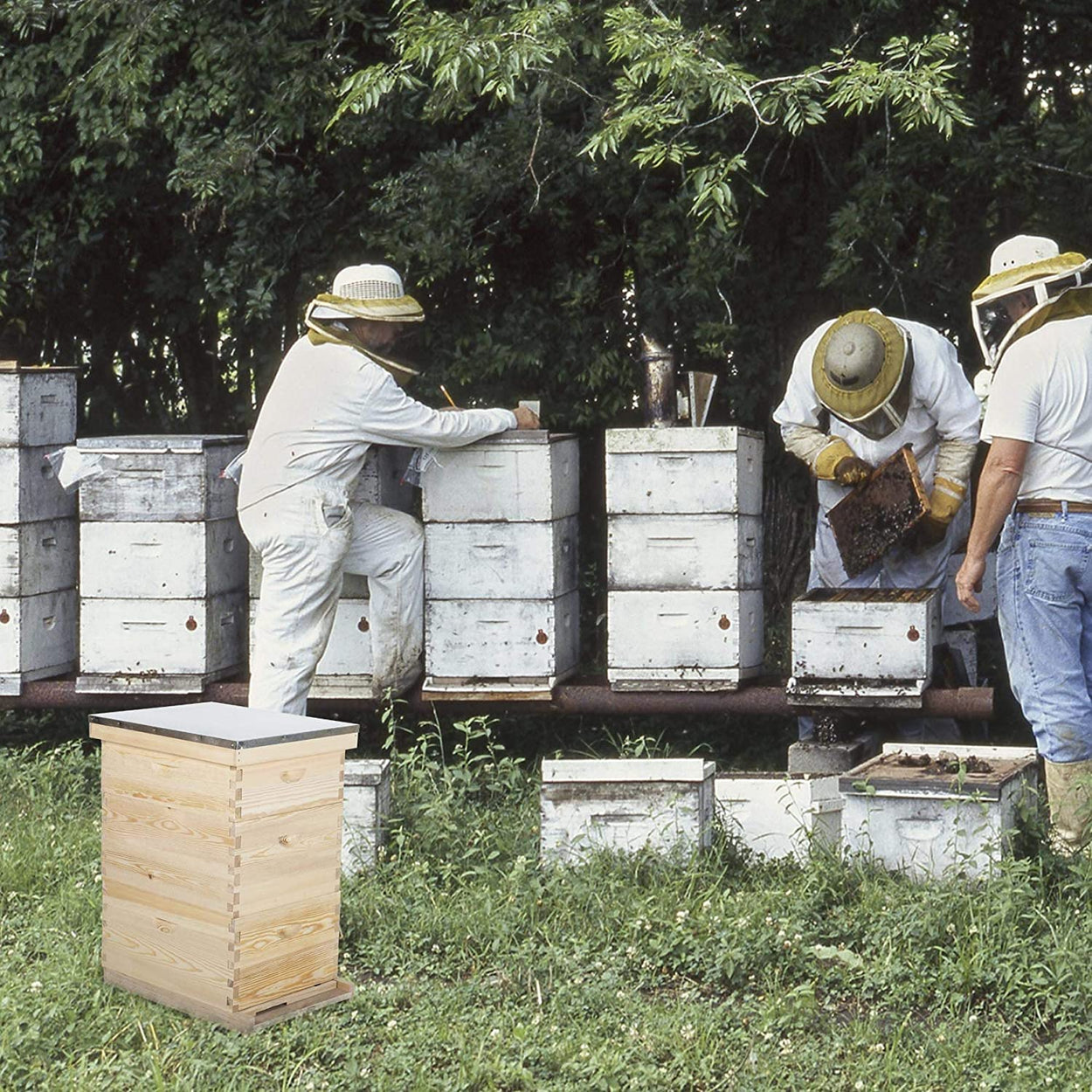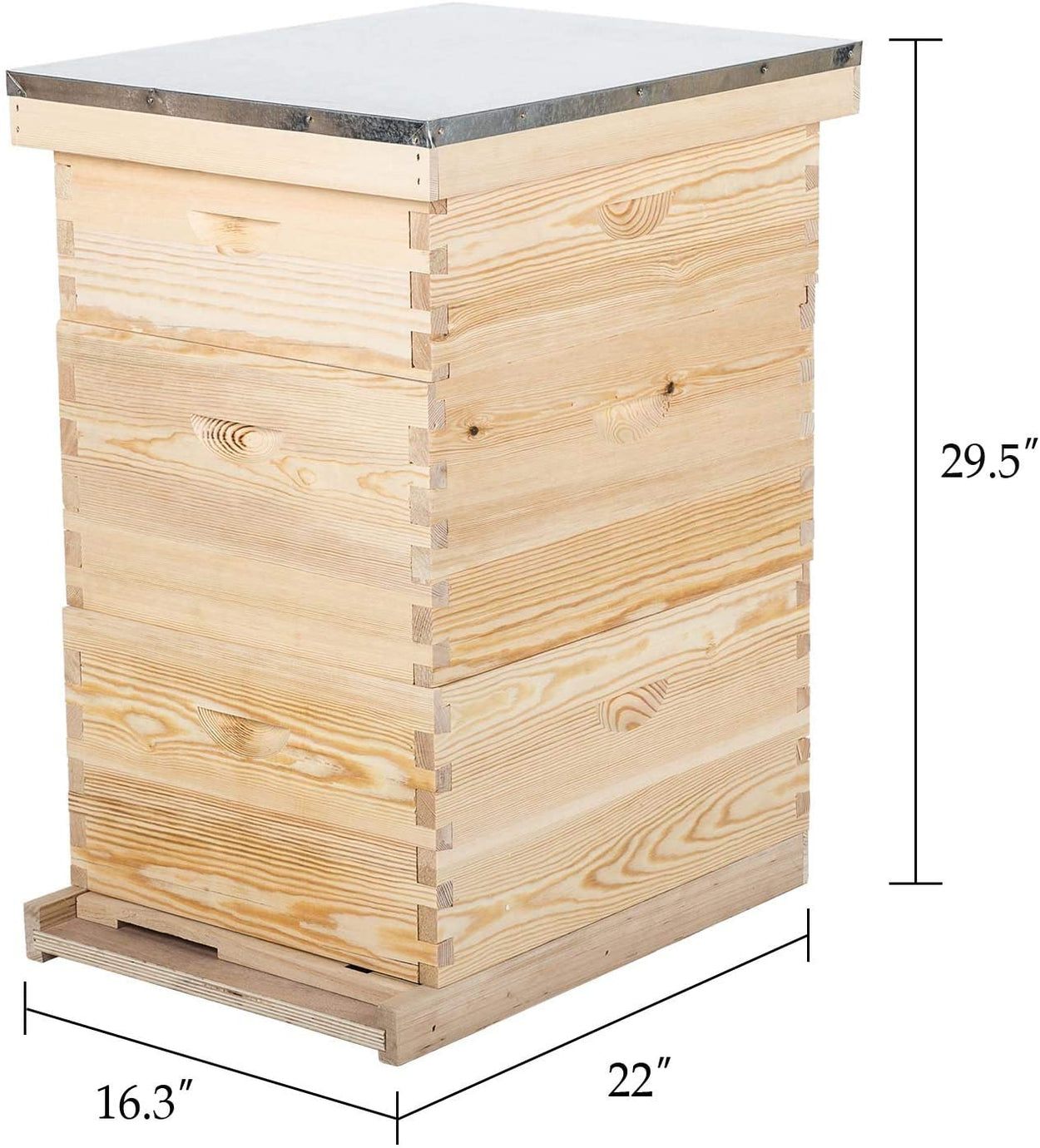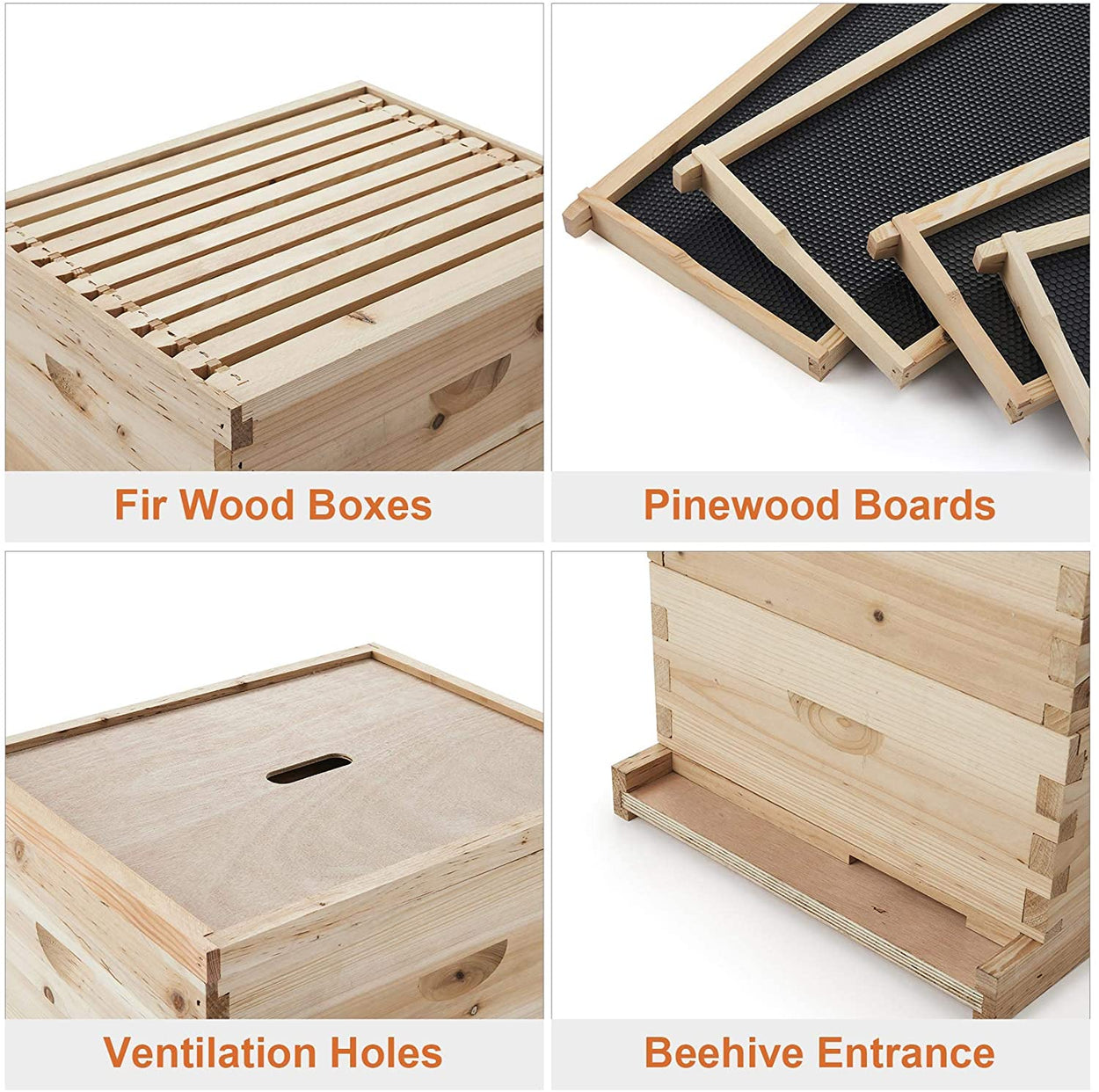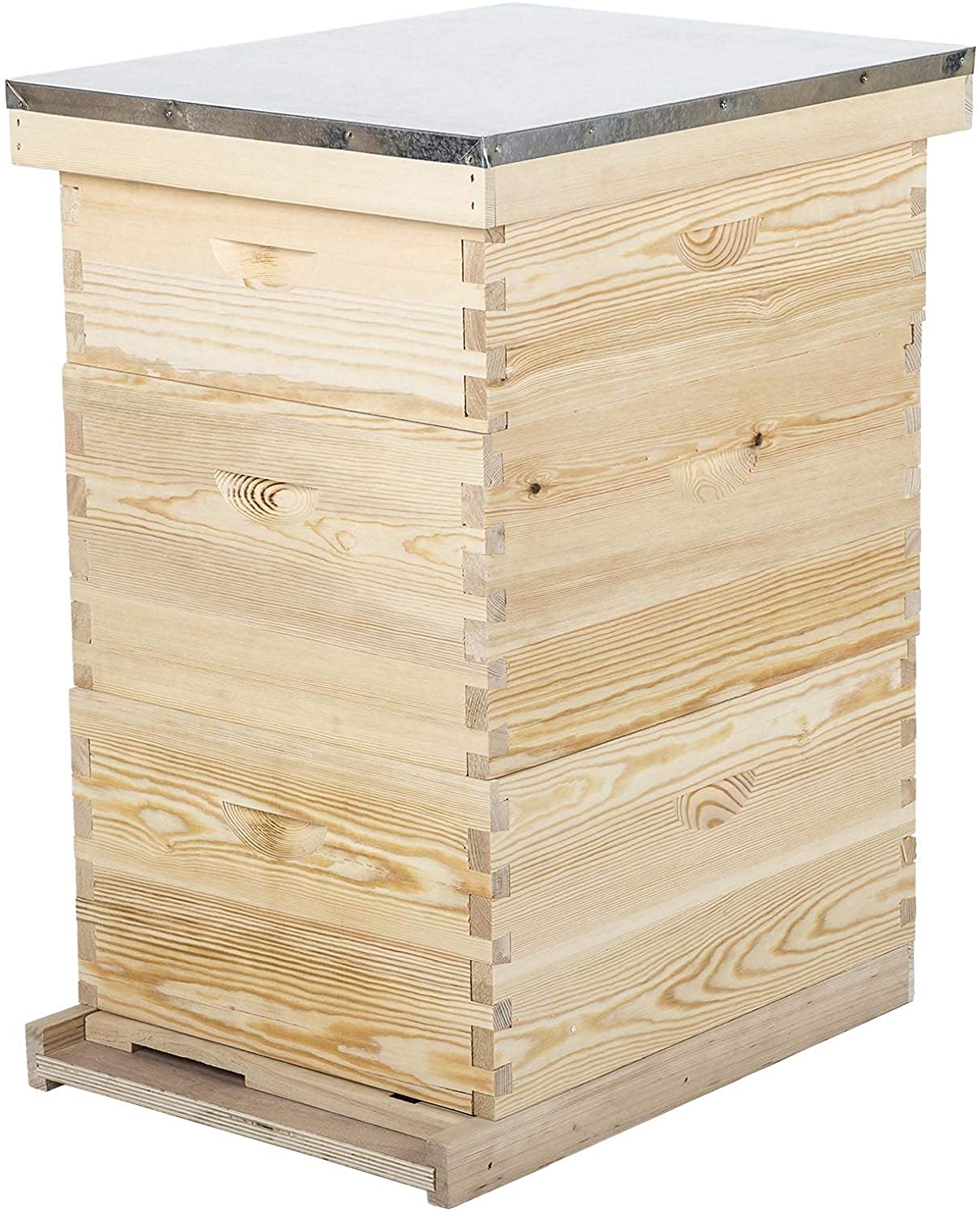 CO-Z
CO-Z Langstroth 30-Frame Bee Hive with 10 Medium & 20 Deep Honeycomb Foundation Frames, Bee Box for Beekeeper Starter Kit, Beekeeping Supplies Equipment, Wood Complete Honey Beehives, 3-Tier Bees House
Features:
Cedar Construction for Durability: Natural pinewood outside frames without honeycomb foundation frames, our beehive can resist against wear and stand up to years of use even under the toughest environment.
Larger Volume: This 16-1/4" x 22" x 29-1/2" 30-Frame equipment is larger than 20 frame wood equipment by approximately 30 percent. When full of honey, a full 30-Frame beehive can generate 20% more honey than that of an 8-frame beehive.
Metal Roof: Pre-assembled metal roof helps to keep out the elements and maintain the purity as well as the freshness of honey.
Complete Design: Designed with a solid bottom board, entrance reducer, and inner cover for your convenience.
Include Everything You Need: The kit comes with everything you need to build a tight & sturdy beehive; assembly can be completed in up to 10 minutes.
4 Tips To Maximize Your Honey Production
1. Be prepared.

It takes 40 days from when an egg is laid for that bee to emerge from her cell, serve in her housekeeping role and finally be old enough to fly out and forage for nectar. Just because you have lots of bees does not mean you have lots of foragers. To gather nectar, you need to have a full squadron of foraging age bees PRIOR to the nectar flow. Therefore, beekeepers could produce more honey if they simply counted 40 days backward from when the nectar flow starts, and begin to prepare ahead of time for that flow.
2. You must also make sure your bees are healthy

They need nutrition. They need to be fattened up, so they can remain strong and fight off various diseases. Mite control is essential in keeping healthy bees. The healthier the hive, the better the honey production.
3. Having a good queen is important as well.

It is optimal to replace your queen every couple of years. You certainly don't have to, and often the hive will replace a faltering queen. However, for maximum honey production, you should replace your queen in September. Then, by the time you start stimulating the hive in February with sugar water and pollen patties, this new, young queen can really begin laying. You must see your honey production season starting in September!
4. Finally, you need lots of supers!

Research has shown that bees with plenty of supers on the hive at one time do better than supering a hive as needed. I always have at least 3 medium supers on all my hives prior to the nectar flow. If some of those supers have been saved from the previous year and have drawn comb, then you're that much closer to an excellent honey-producing year.
All-in-One

Includes everything you need to set up your very own beehive - just add bees! (Assembly required).

 

The Complete Starter Kit


Includes everything you need - 20 deep frames plus 10 medium frames and all foundations.

Queen Extruder Included

The queen extruder ensures the queen stays in place to lay eggs and makes it possible to form multiple bee groups without the potential wars.

 
Widened Bee Entrance

This widened entrance/exit accommodates high traffic from bustling worker bees while sealing out unwanted pests.

 

Air Vents

Well-designed air vents improve air circulation, which helps increase honey production.

 

Top-Grade Timber

Constructed with premium Cedar and Pinewood for improved durability to maximize the service life. We recommend placing your beehives atop pallets or concrete blocks to protect from groundfloor degradation.