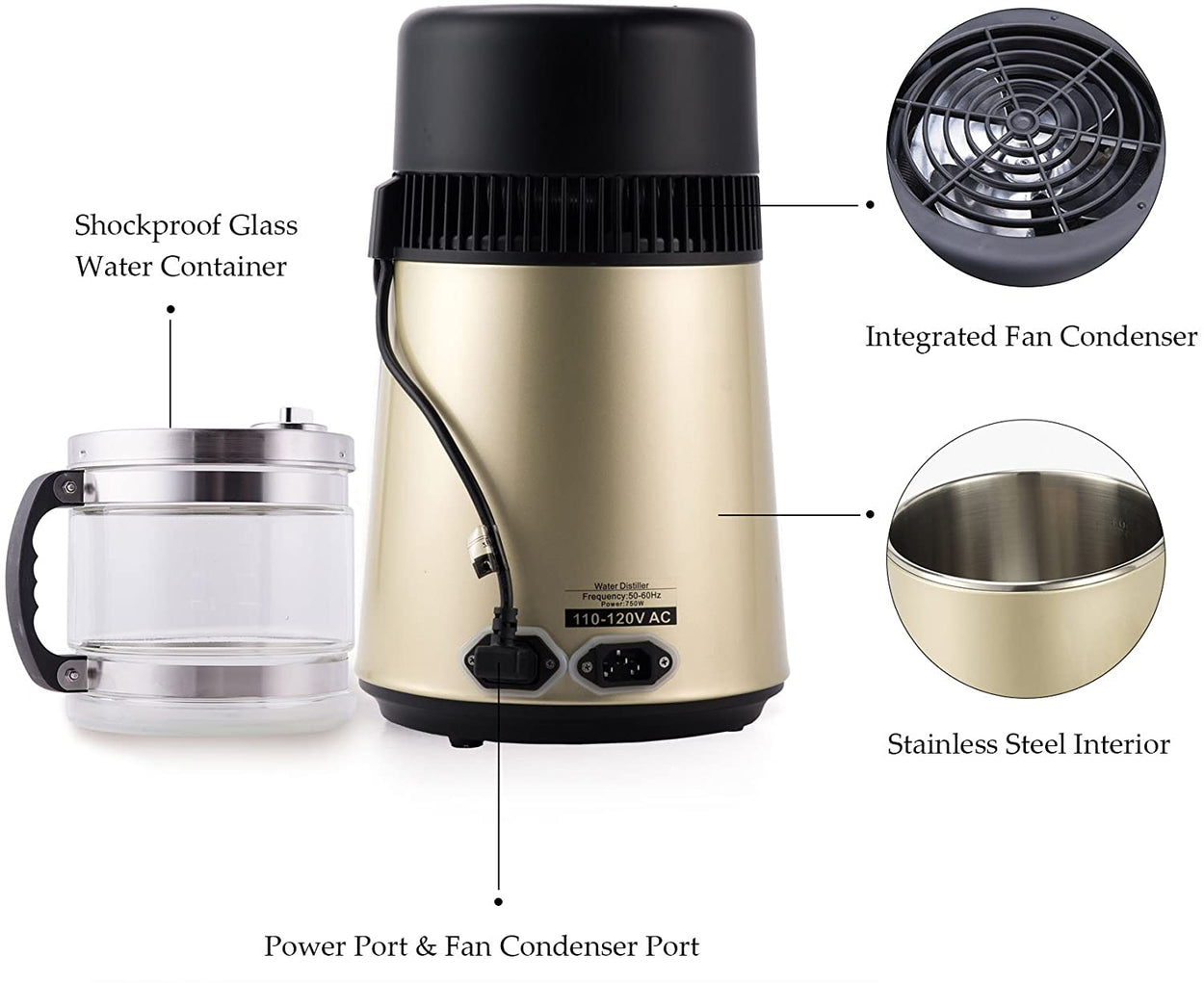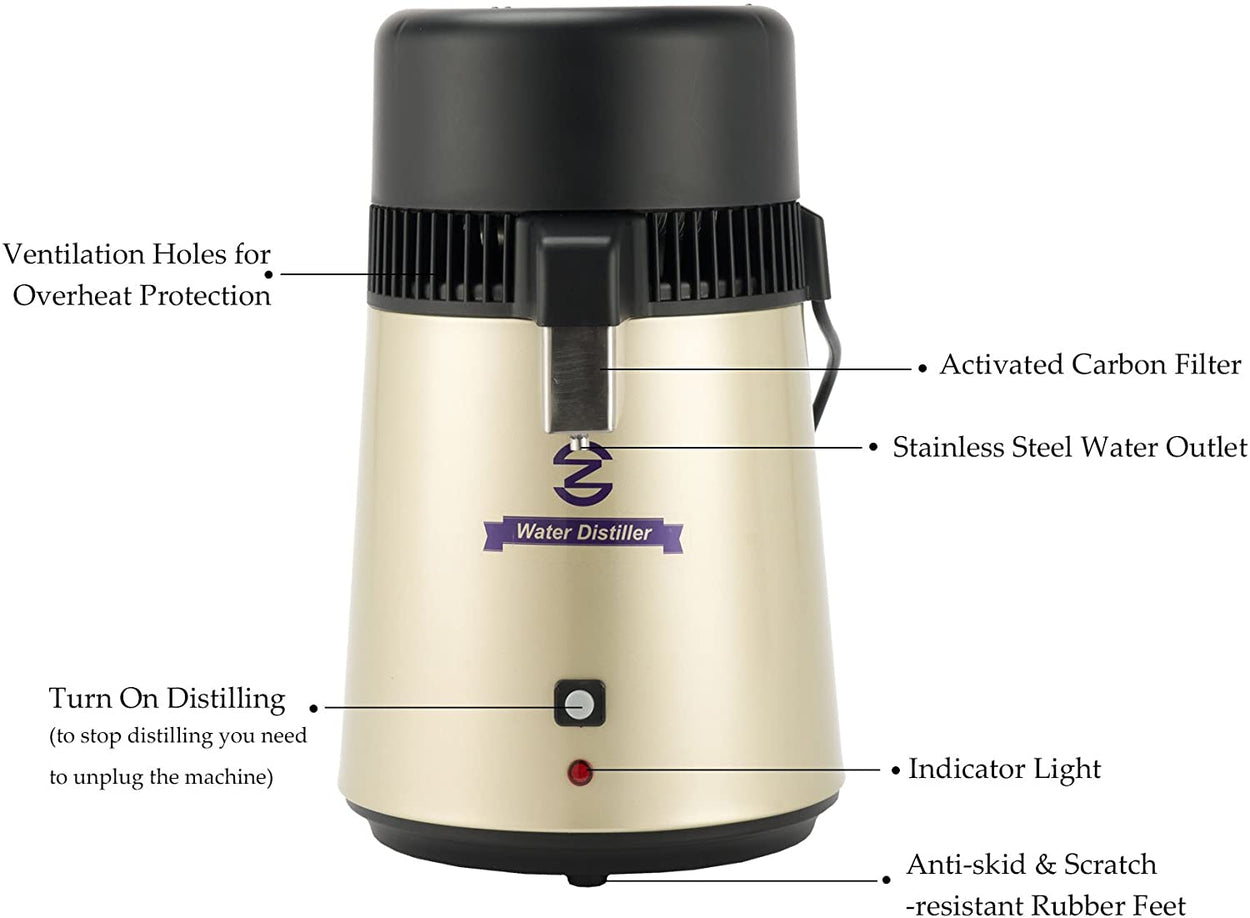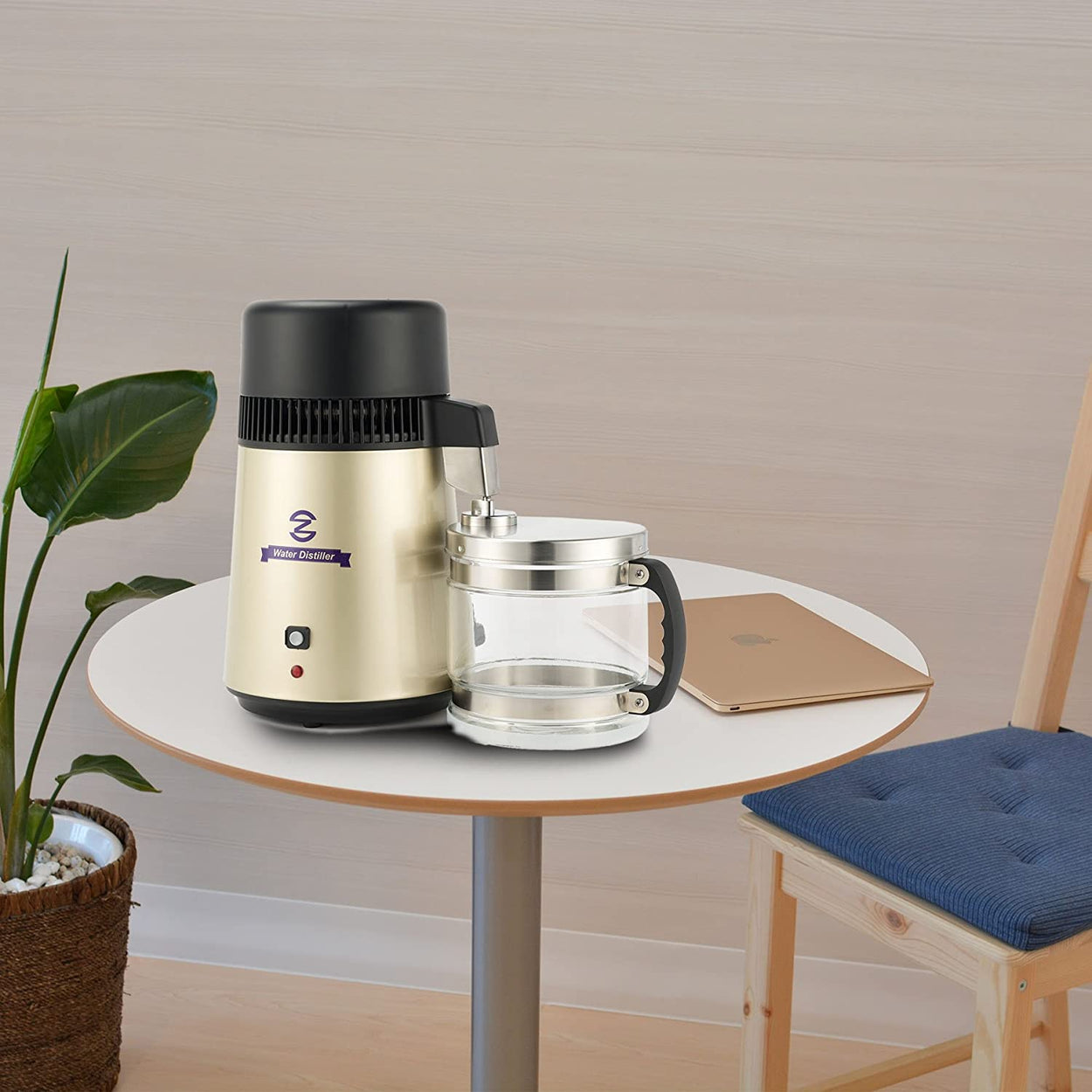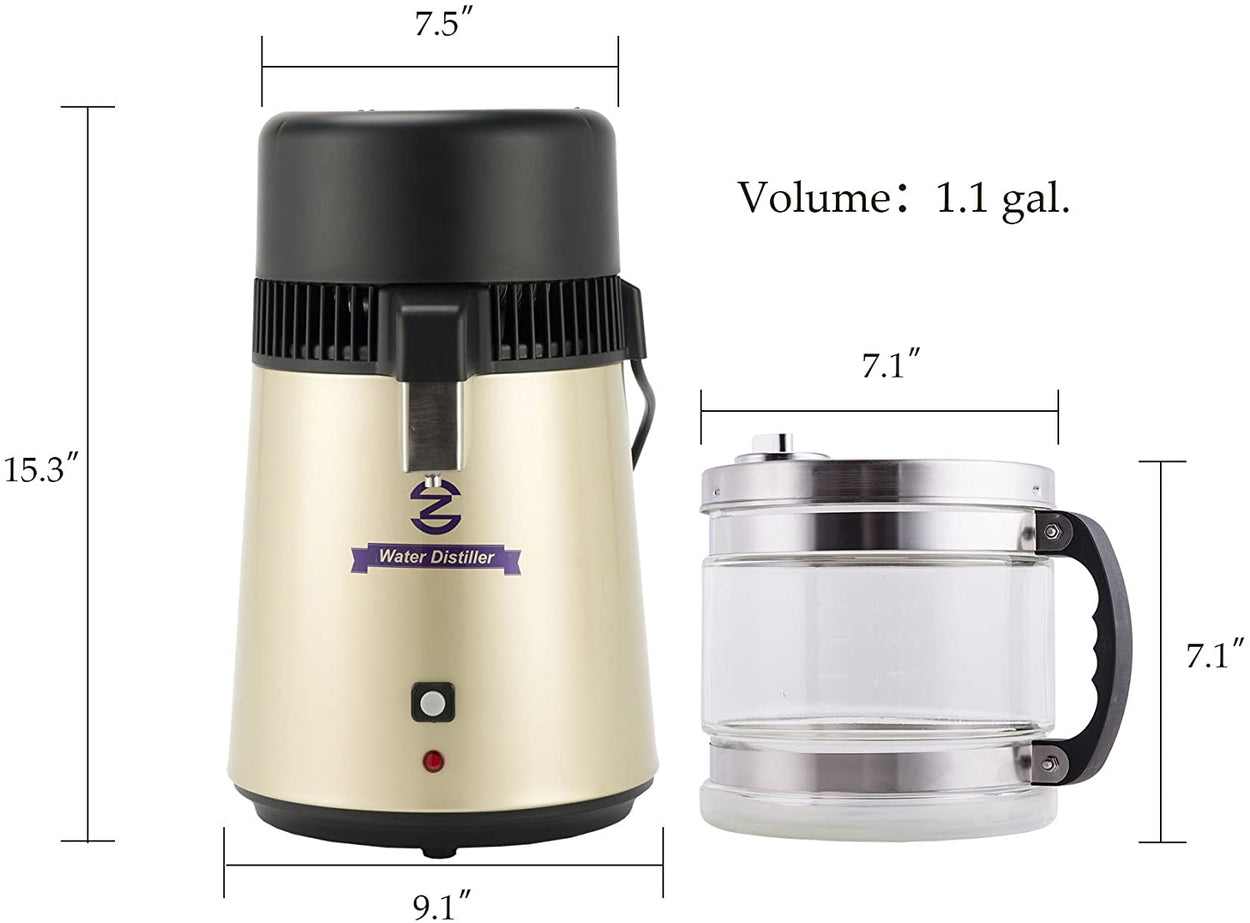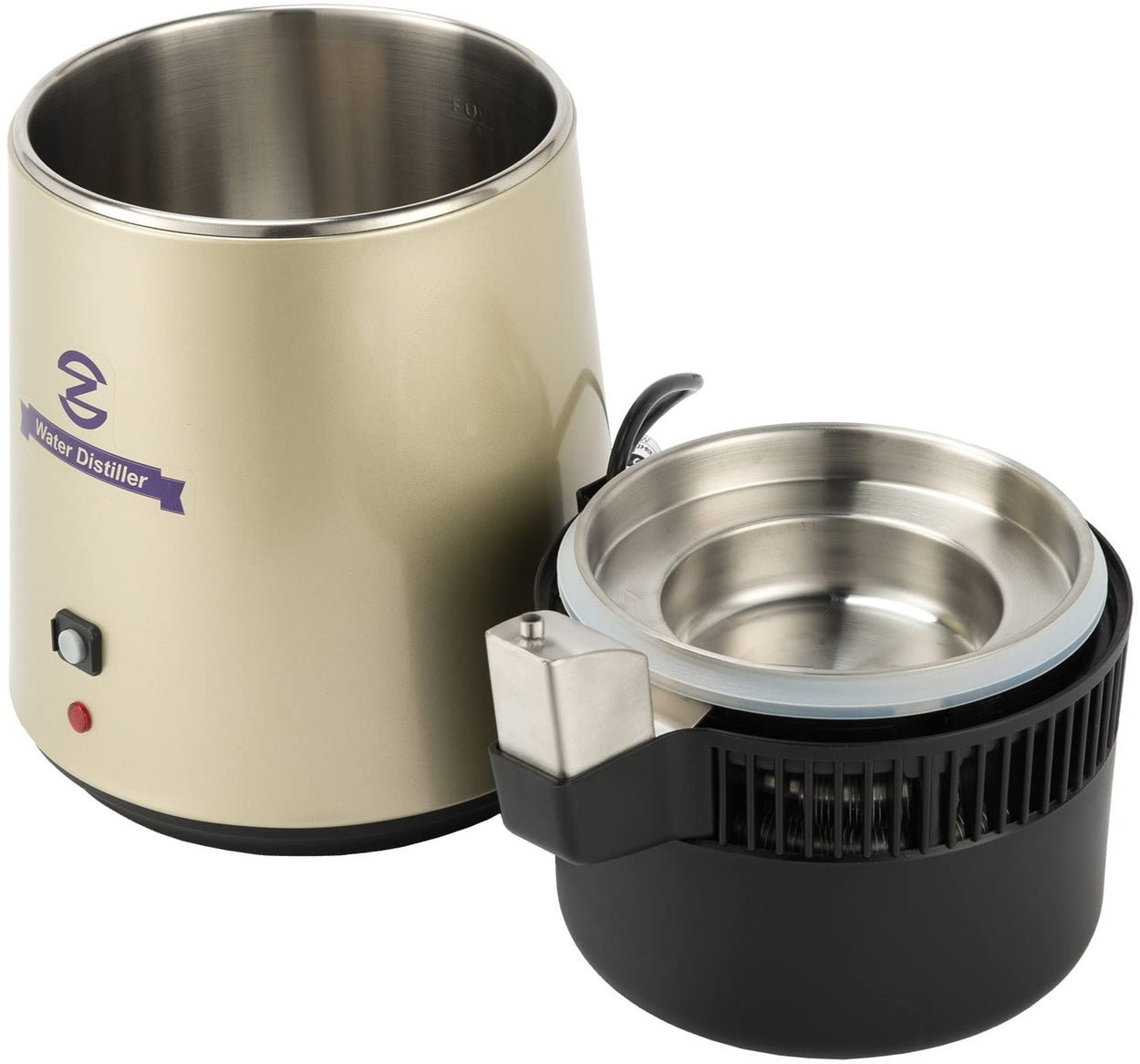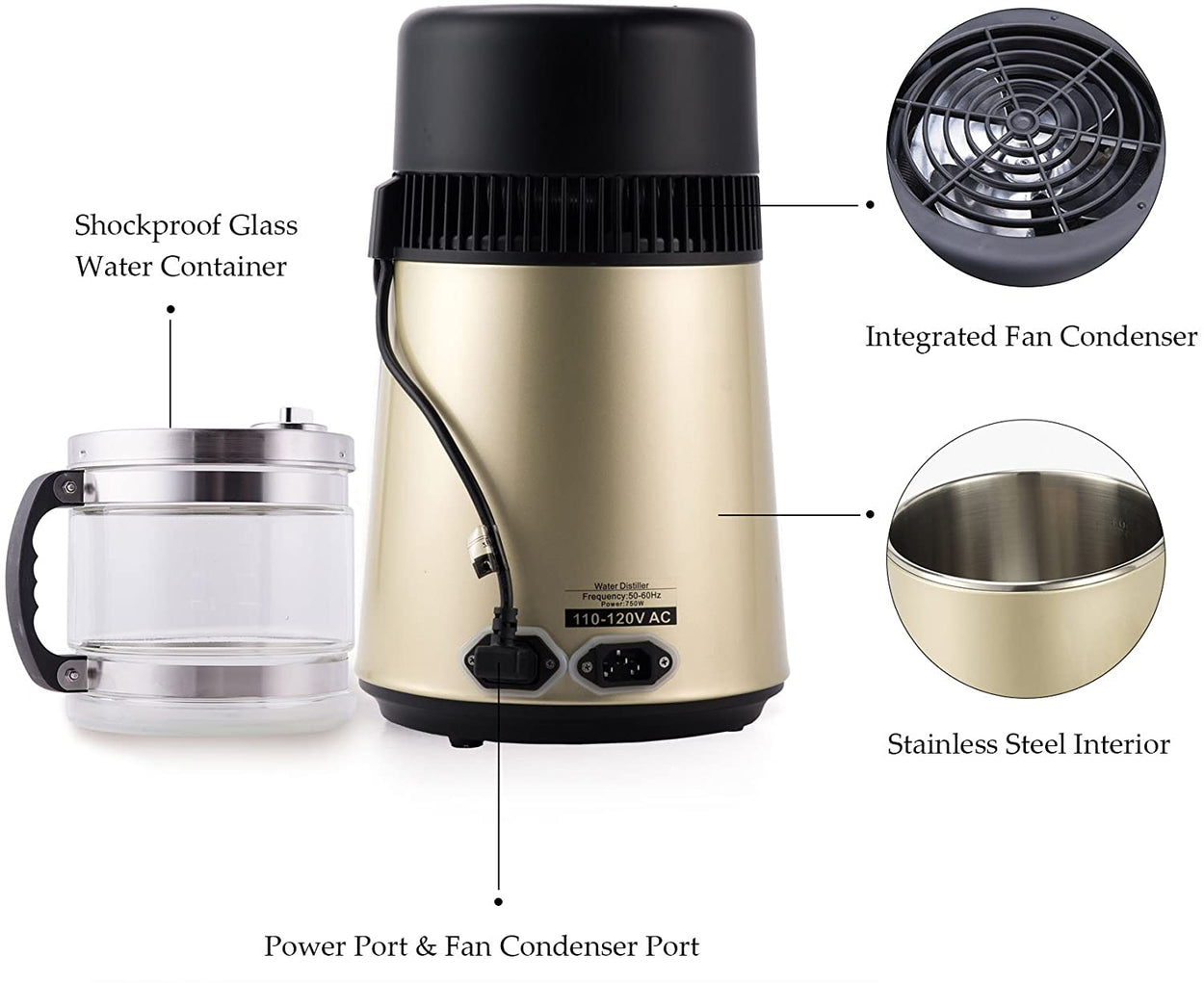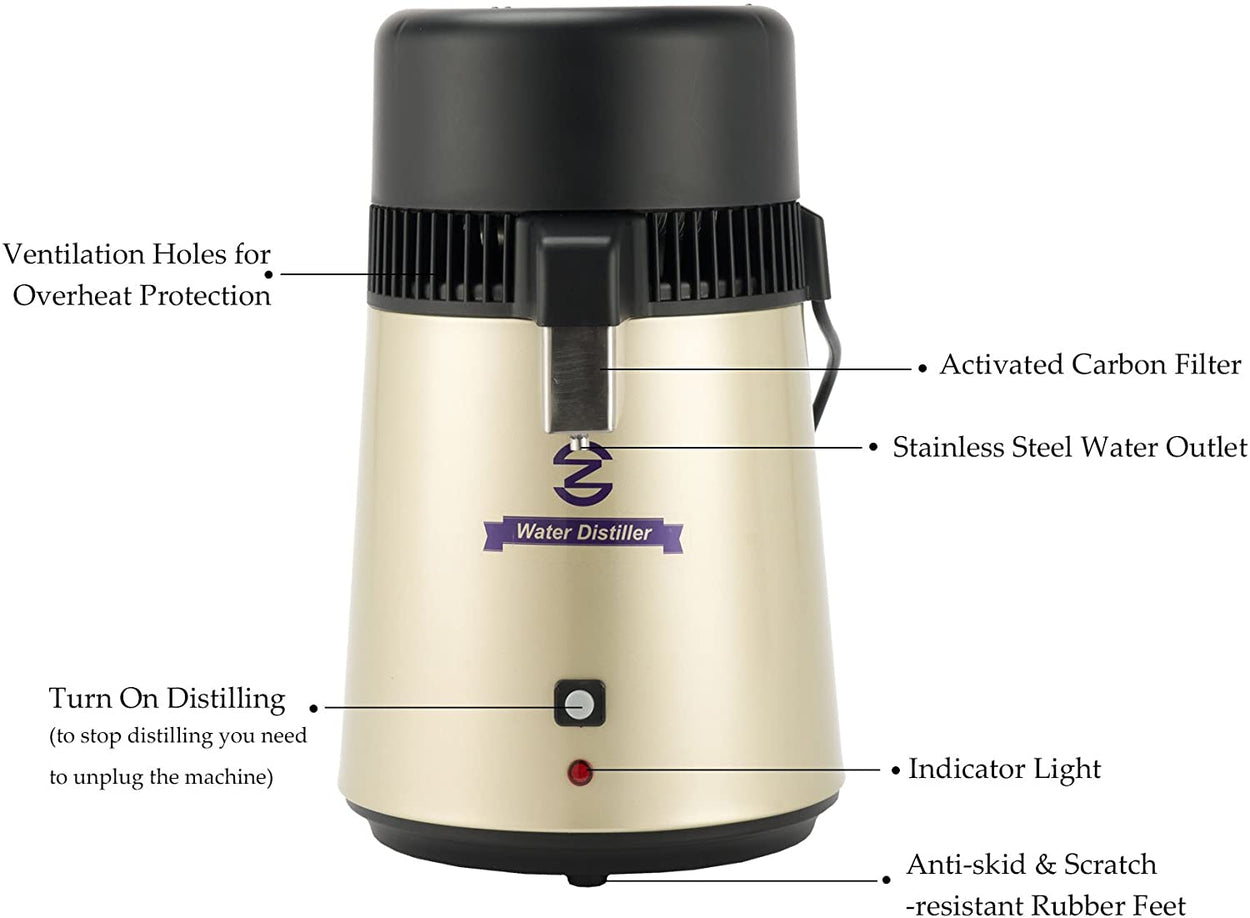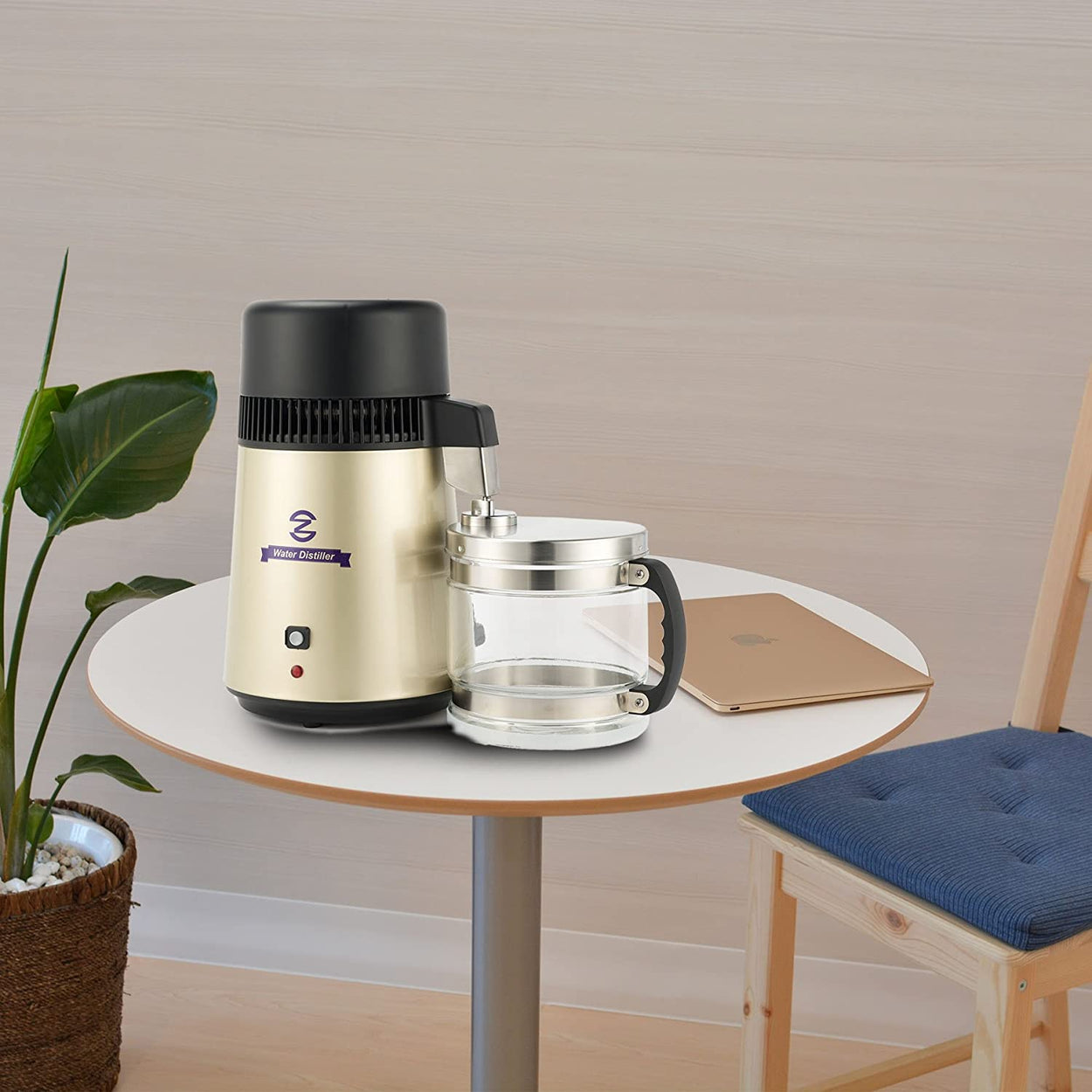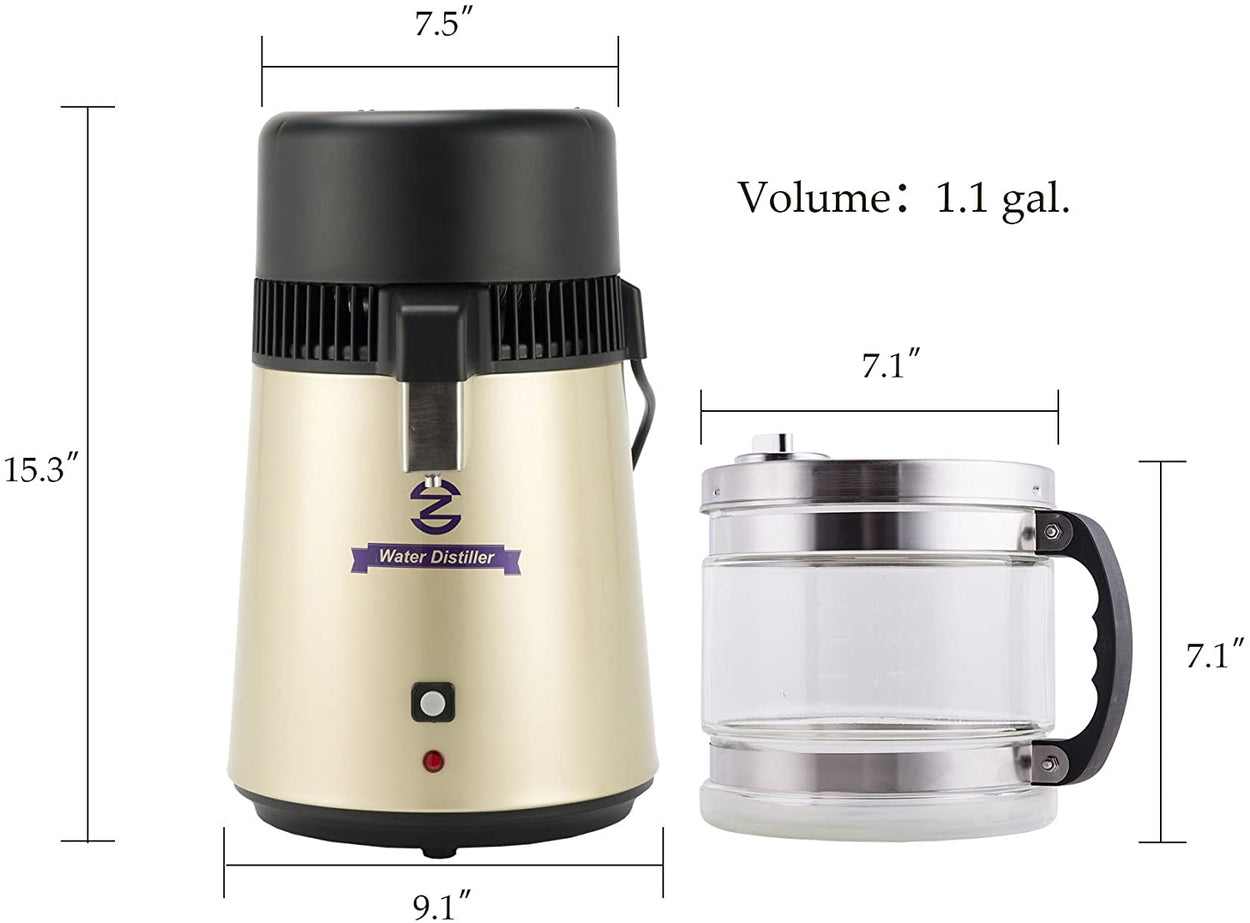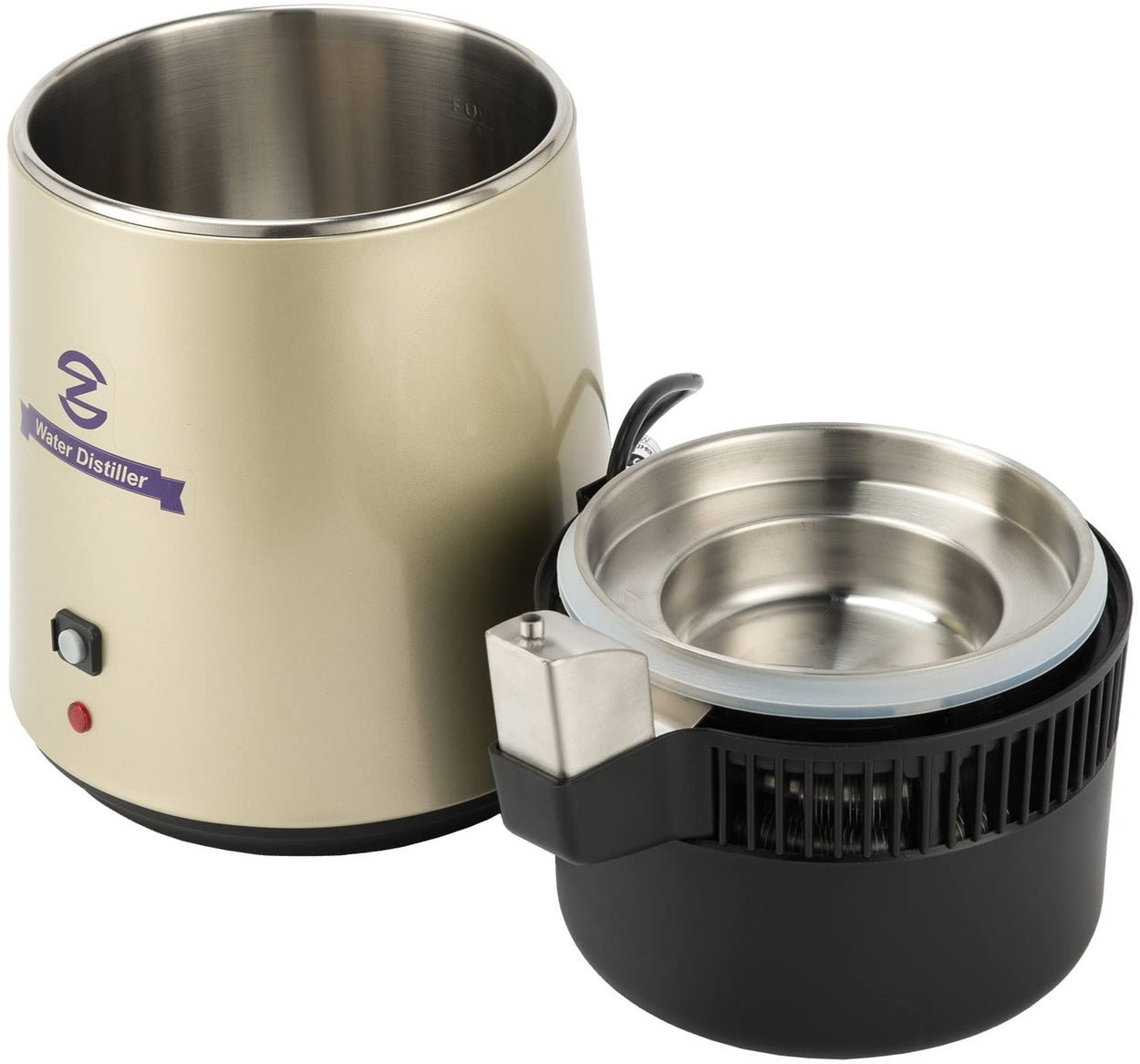 CO-Z
CO-Z Water Distiller, Golden Stainless Steel Distilling Pure Water Machine for Home Countertop Table Desktop
Features:
WATER DISTILLER: This tabletop water purifier by CO-Z purifies water, filters out impurities, and dissolves VOCs at 0.25 gallons per hour to give you easy access to purified water in your kitchen, home office, dental clinic, or lab.
WIDE APPLICATION: Our distilled water maker provides 6 ppm water for home and commercial use; the purified water is great for healthy drinking and for use in coffee machines, humidifiers, engine cooling systems, CPAP machines, cooking, aquariums, and more.
SAFE OPERATION: This water distiller automatically turns off when the temperature reaches 302 F to effectively prevent overheating; the container is made of 304 stainless steel and the outside boasts a stylish golden powder coated finish for long-lasting performance.
EASY MAINTENANCE: The included cleaning powder lets you easily clear away any sediment or limescale build-up, while clear instructions guide you through the cleaning process to ensure you'll have cleaner water for years to come.
1 YEAR WARRANTY: Order this water distiller by CO-Z with peace of mind thanks to its strong one year warranty and friendly 24/7 customer service!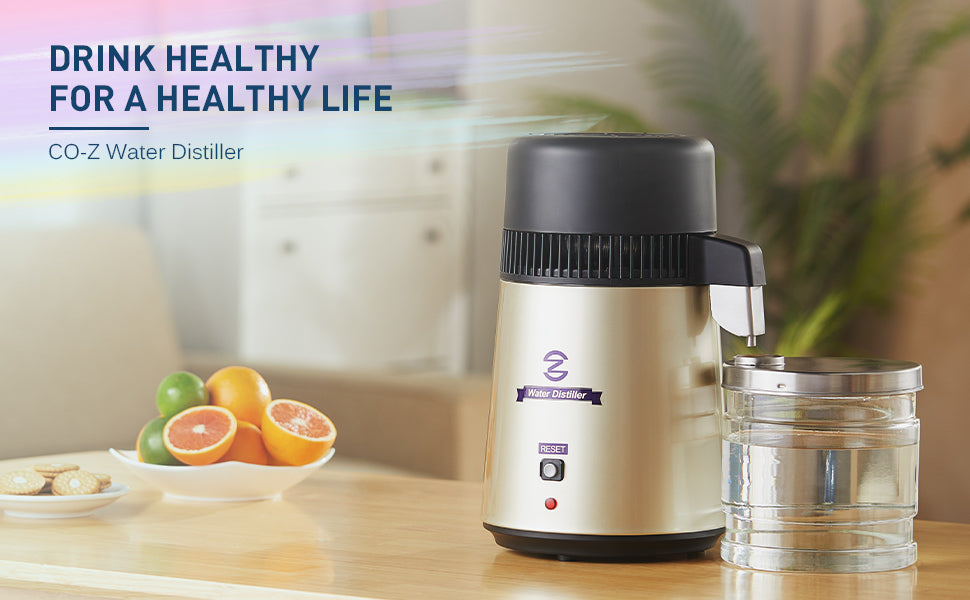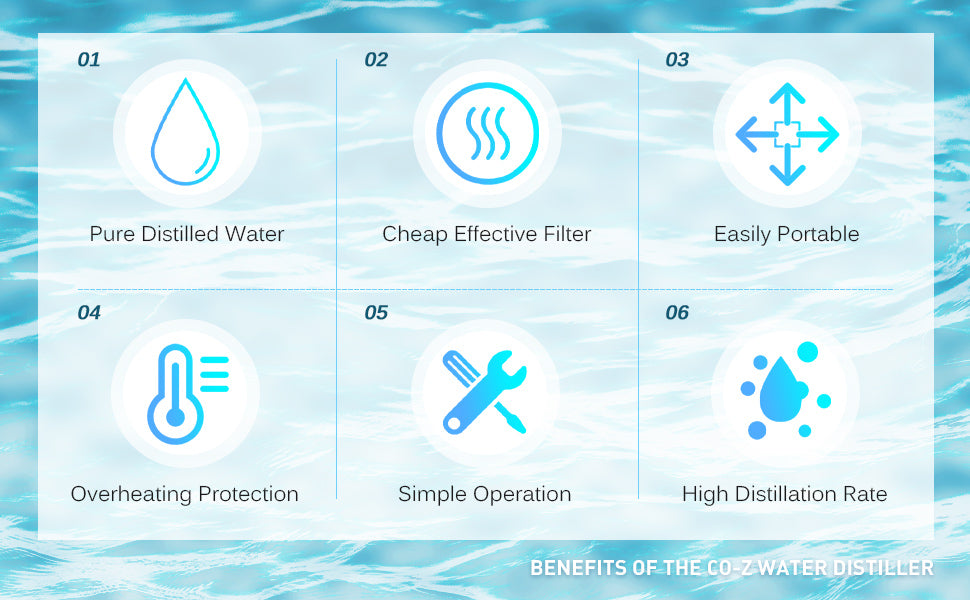 Fan Condenser

 The integrated fan condenser speeds condensation while protecting the machine from overheating, prolonging its service life.




Activated Charcoal Filter

Activated carbon inside the food-grade stainless steel outlet removes any VOCs from your water.




Reset Button

Our water distiller starts working once turned on. When your water is too low, the machine stops automatically. Refill and press the reset button to start again.




Powerful Port

This water distiller runs at American standard voltage (120V). Don't use with incompatible power sources.



Gallon Pot

 This big 1-gallon vessel works as a pot or cup, readily slaking your thirst while its ergonomic handle provides a sure grip.




Stainless Steel Interior

The interior of this water distiller is made of food-grade 304 stainless steel to endure high temperatures, resist corrosion, & clean easily.




No-Slip Base

This water distiller has three nonskid pads to rest securely on your counter, table, desk, or shelf.




Customized DetergentWith the help of our included detergent, you can easily clean the interior when needed.

Package Includes:
1x Distiller
1x Water Bottle
1x Discharge Cap
1x Bottle Cap
1x Filter
1x Main Power Cord
1x Chamber Cleaning Powder
1x User Manual